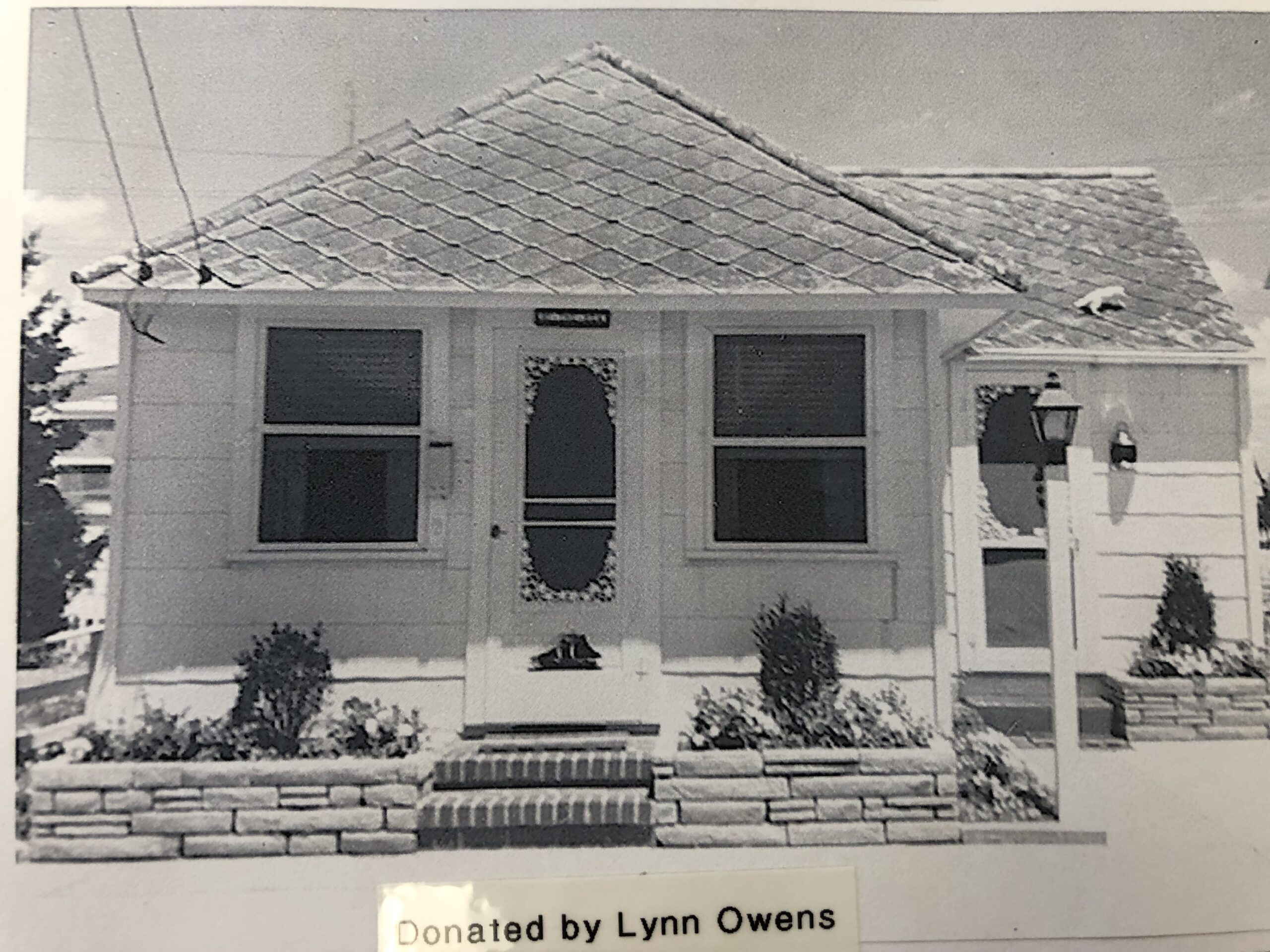 INTRODUCTION:  This is exactly how I remember the cottage we stayed at when my family vacationed at Stone Harbor during the years of the latter 1950s and the early 1960s.  As I look back and reminisce about those times and the marvelous and still vivid memories I have of this place, C-7 Weber Court was the quintessentially most charming cottage one could have the good fortune of staying in at the Jersey shore.
MY STORY:  One of the most marvelous memories I still have of those good times was I remember going to sleep on a sofa-bed in the front living room area on many a warm night, with all the windows open, and being lulled to sleep by the distant and rhythmic sound of the ocean waves hitting the beach with a delightful sea breeze.  What a lasting impression that had for me as a young lad.
As I recall there was no telephone, no television, no heater or furnace, nor was there any air conditioning – only a transistor radio for sports or weather forecasts – and that's exactly the way my parents wanted it.  This was a fair weather cottage that had not yet been winterized.  We read books, played games but primarily enjoyed the beach or went fishing every day that weather permitted.  The only connection we had with the outside world so to speak was buy a newspaper or use the mail and send a post card or two to family and friends back home.
The C-7 cottage was cozy and while not especially roomy by today's standards, the interior walls and ceiling were entirely covered with knotty pine tongue and groove wood paneling.  I remember the oversized framed picture of a three-masted ocean going sailing ship hanging on the wall over the table in the dining area.  With nautically themed place mats on the table and assorted seashells here and there that had been found on the beach, it just seemed so comfortable with just enough space for our family of four.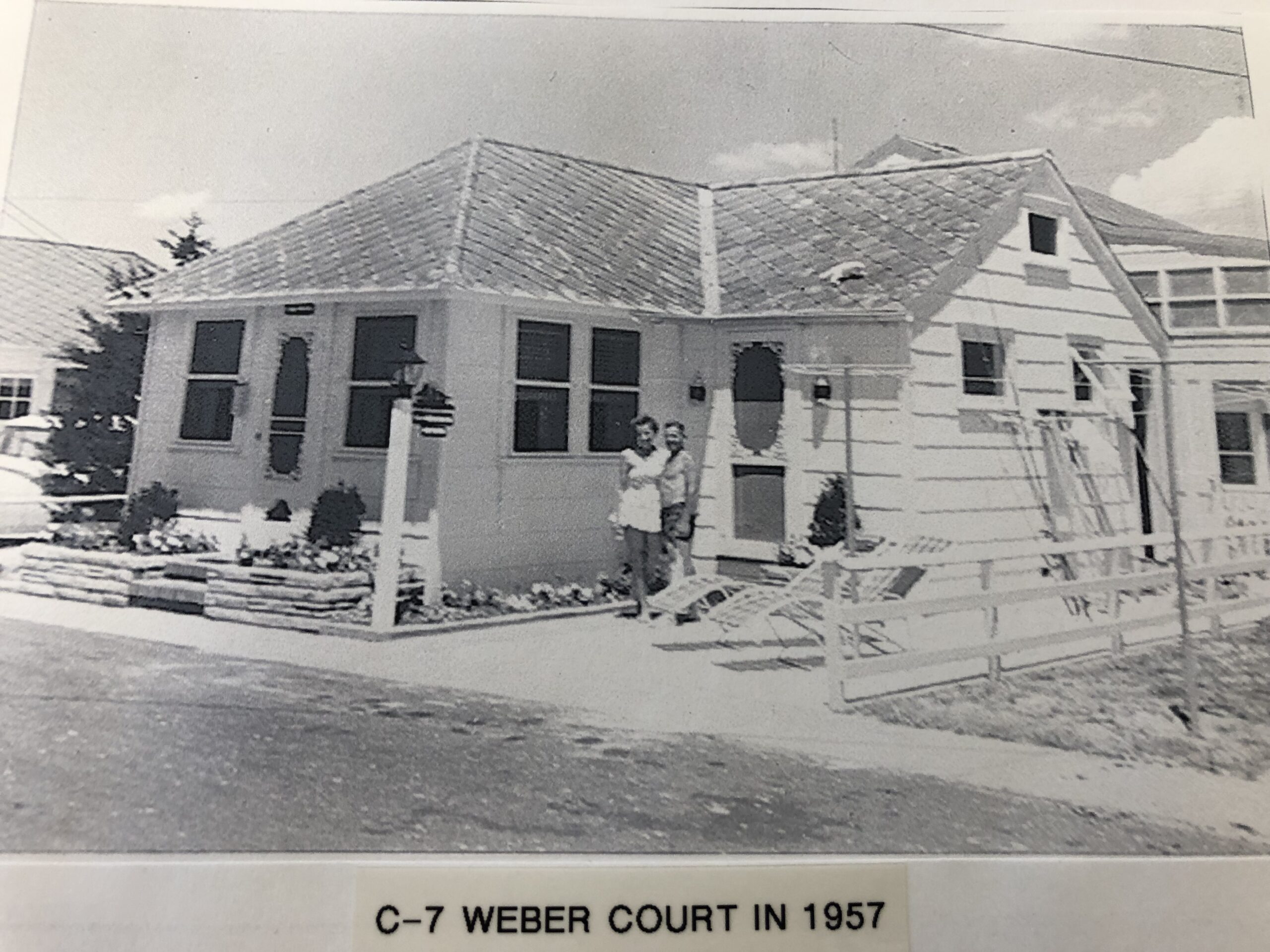 This second photo shows our favorite C-7 Weber Court cottage from a somewhat different vantage point than the previous image.  What is so good about this image is that the persons posing for this photo were the current owners, Ted and Dick Owens.  Actually the Owen's lived in the house just out of view and to the right of this location on Second Avenue.  They were fine people and were among the few who lived in Stone Harbor year- round.  My family rented C-7 from Ted and Dick every summer for a couple of weeks and it was certainly the much anticipated highlight of every summer season.  At some point in time this cottage and most all other cottages on the courts had undergone some renovations, updating and additions.  The first 2 photos show a nice add-on modification to the cottage that included a 6-8 foot extension or an increase in living area that was added to C-7.  The add-on primarily enhanced the kitchen area, provided some outdoor storage space and also an outdoor shower was installed.  You can see an adjoining outdoor area by the side door that offered a place to hang-dry clothes on several clothes lines.  Originally that outdoor space was used for the purpose of parking an automobile so as to not have to park on the court itself.  But as time went on and people starting enlarging and repurposing their cottages and developing some of that outdoor area, cars were then being parked on one side narrow roadway or the court itself.  There was also a small space available with room for a couple of chairs to be placed and to enable my parents to sit outside at the end of the day.  All in all, there was mostly emphasis on ensuring the leisure aspects of our vacations.  In other words, it was basically just about having fun and relaxing.  Not a whole lot got accomplished, but then that's the way a nice vacation with a real change of pace was really supposed to be about.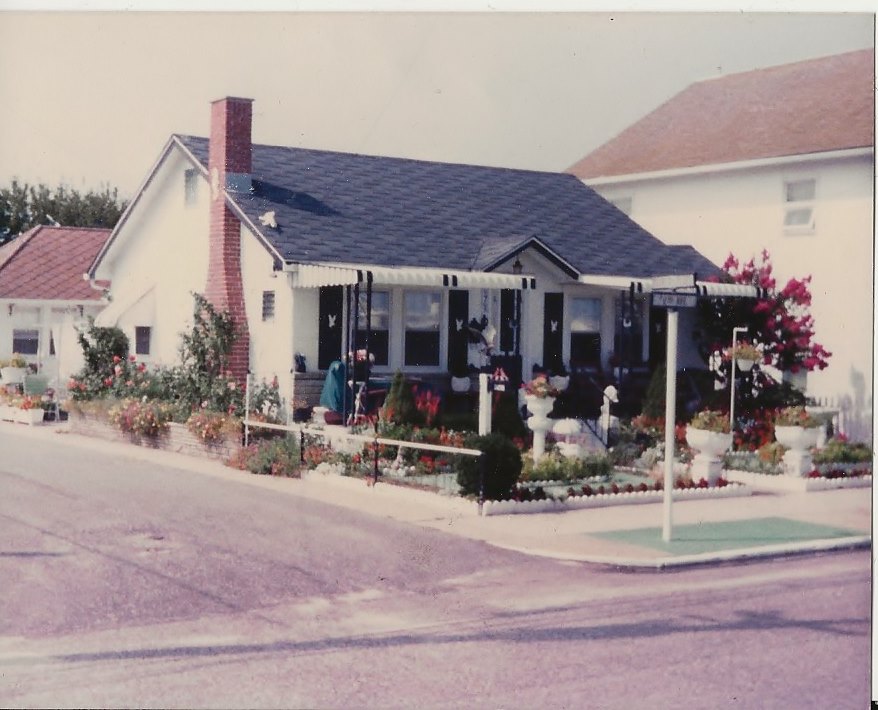 This particular color image depicts the Second Avenue residence that was also owned by Ted and Dick Owens which as you can see was situated at the east end of Weber Court with the C-7 cottage in the left background.  These first 3 photos were donated to the Stone Harbor Museum archives by their daughter named Lynn Owens whom I believe still lives in the Philadelphia area.  I am appreciative of Lynn for providing these remarkable photographs of yesteryear.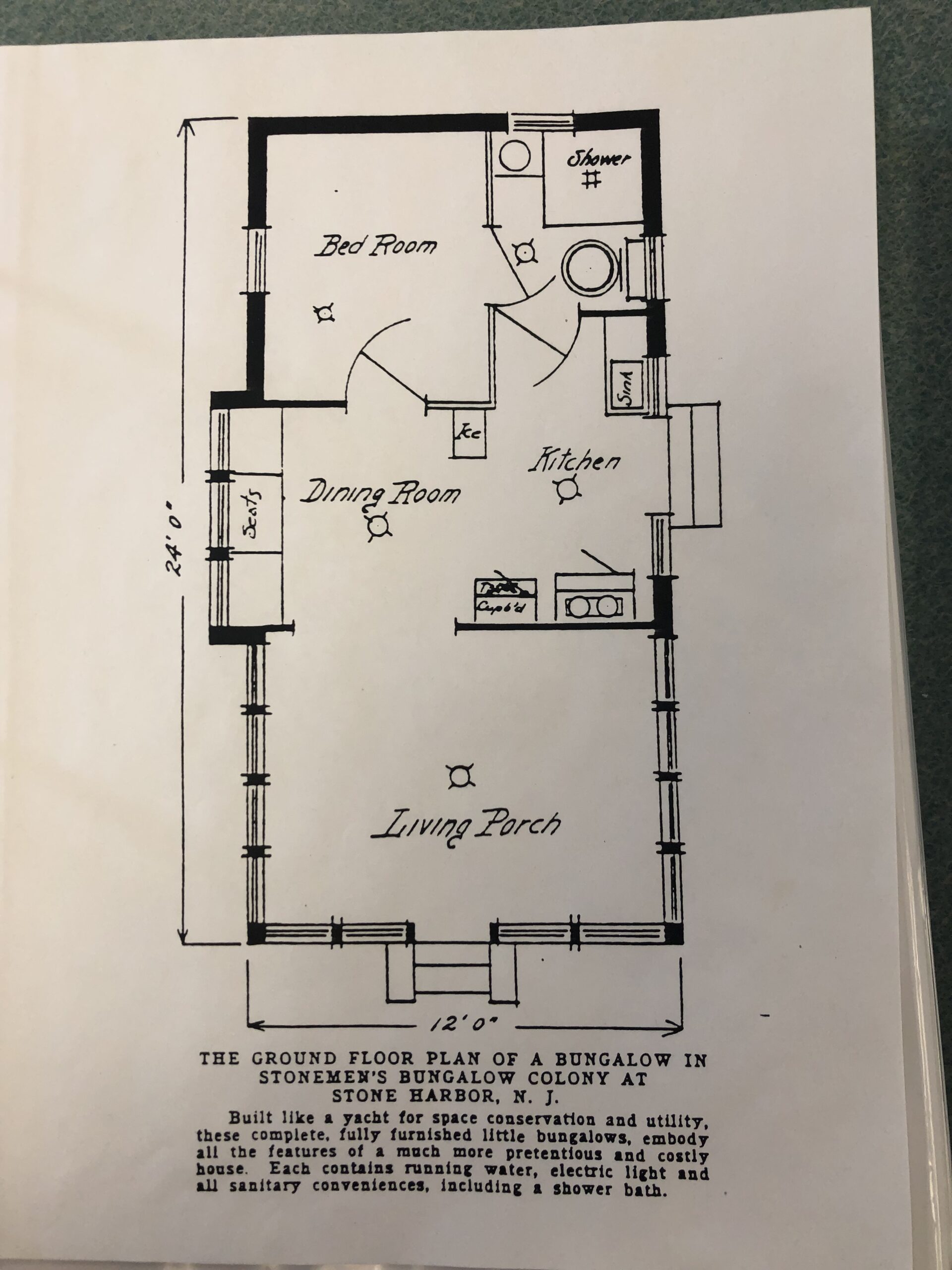 Here is an interesting schematic diagram of the ground floor of a typical bungalow showing what was originally the conventional 12 feet by 24 feet layout of all the cottages built back in 1917 on Bower, Weber and Stone Courts.  This promotional artists rendering used for advertising purposes indicates that these bungalows were "built like a yacht for space conservation and utility".  Additionally, the caption provides more information and goes on to state "these complete, fully furnished little bungalows, embody all the features of a much more pretentious and costly house.  Each contains running water, electric light and all sanitary conveniences, including a shower bath".  These small bungalows were conveniently located within easy walking distance to both the beach and the bay and for that matter were not all that far a walking distance to the downtown business shopping area.  I recall some evenings after supper our family would walk "up town" to browse and window shop, maybe buy a souvenir or post cards, and of course go to Springer's on Third Avenue and enjoy a refreshing ice cream cone.  Sometimes then, like now, the wait took a while as lines of people waiting at Springer's could be rather long.
Look closely at the accompanying diagram and you will observe the entire cottage layout.  One very interesting feature is that about half of each house was rather uniquely devoted to what was termed a "living porch" that was surrounded by windows on 3 sides for good ventilation including a front entry way door for access.  In addition there was a small dinning area which was  accessible to the kitchen with an ice box, cupboards, stove and sink.  Now jokingly, that was what we call now an "open concept" floor plan but on a very compact scale.  The kitchen also had a side entrance that you can readily see as well.  In the rear of the cottage was a tiny bedroom with a bed and a compact bathroom with commode, sink and shower.  The cottages were slightly elevated with 2 or 3 steps provided for easy entry or egress.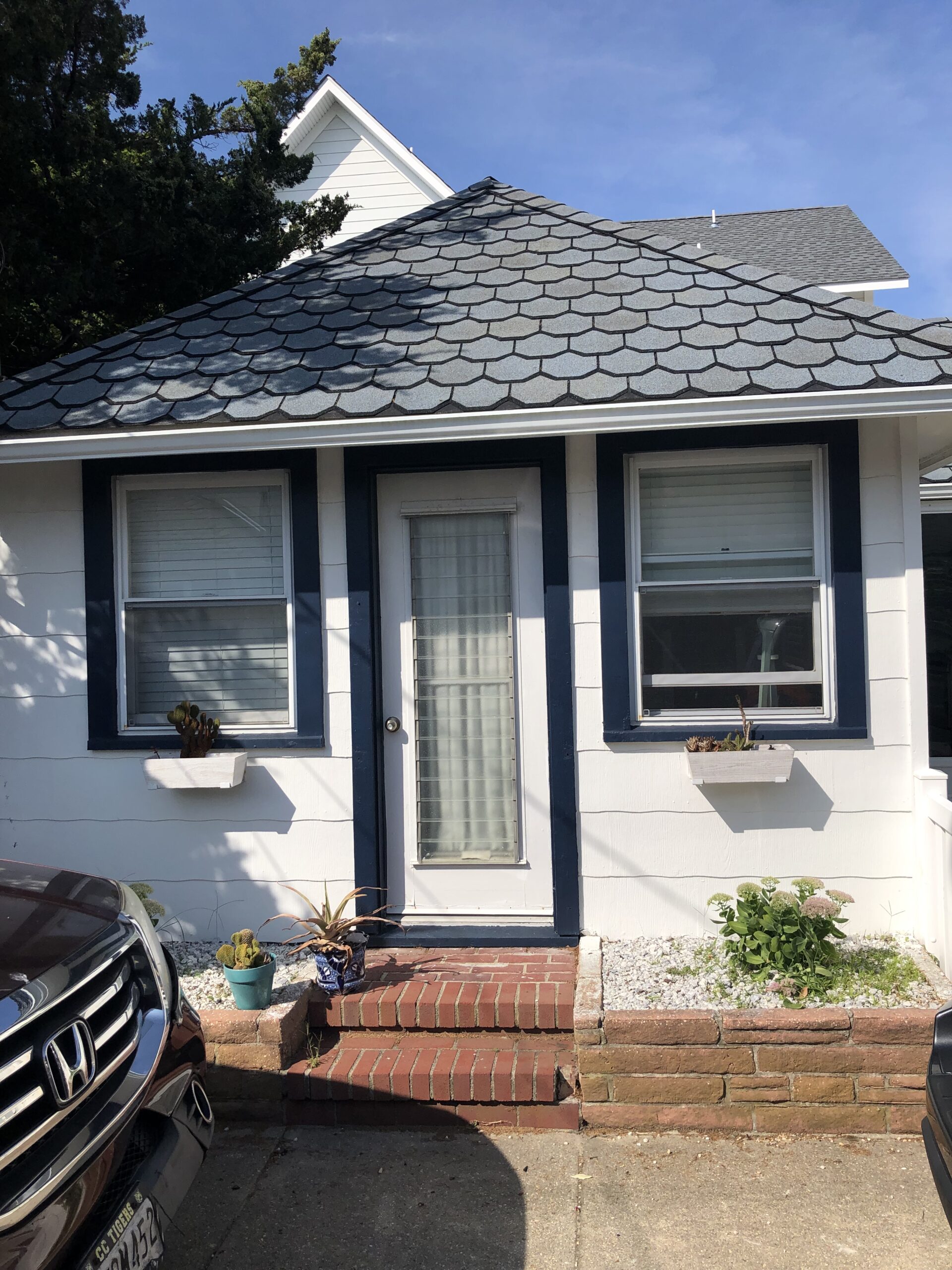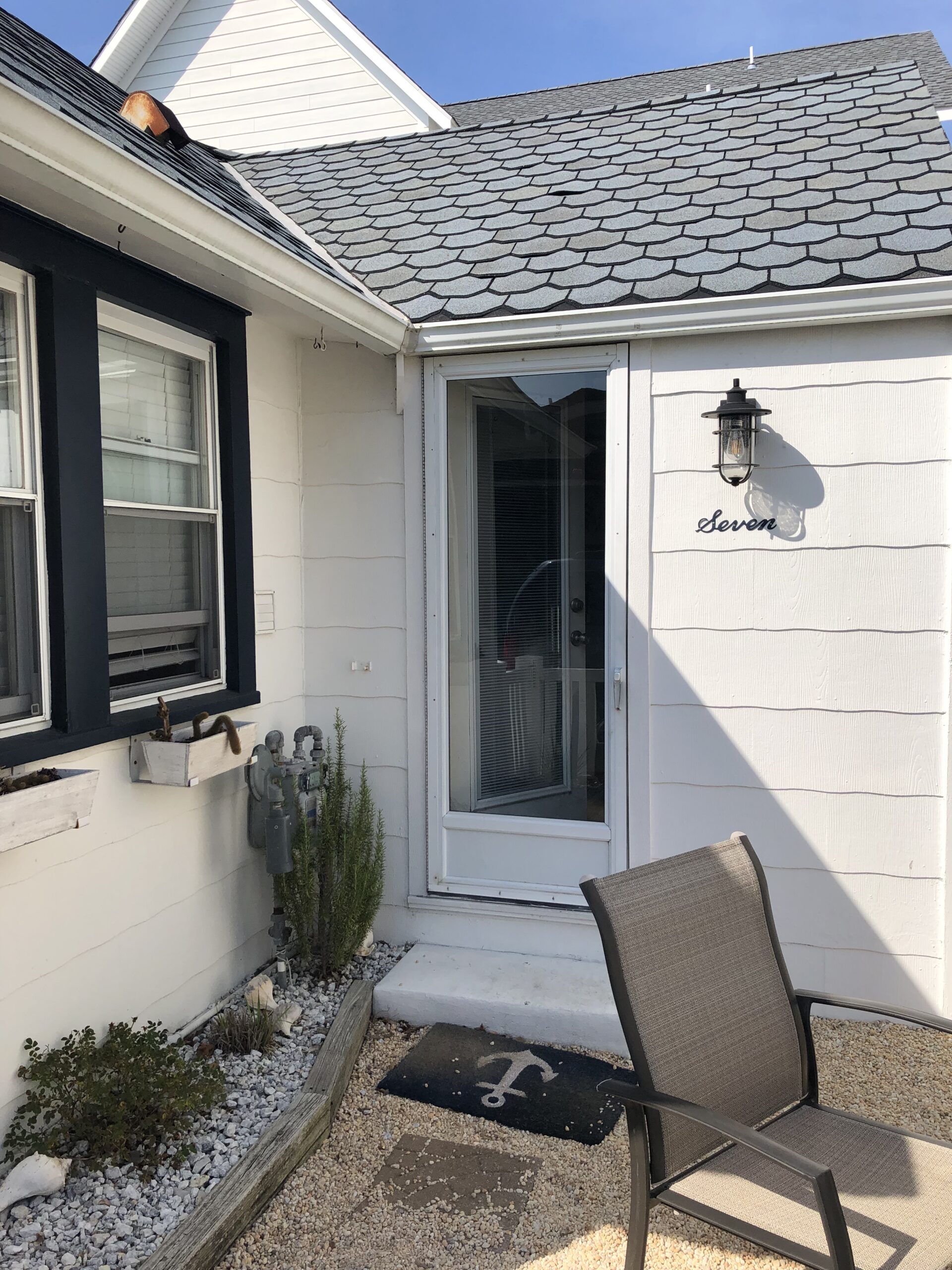 UPDATE:  Upon visiting Stone Harbor in August of 2023, I took some photos myself and here are 2 views of the cottage as it looks now.  No longer is the prefix letter "C" used in conjunction with the postal mailing address.  Now it is just "7" or "Seven" Weber Court.  The letter "D" has also been dropped for the cottages on south side of Weber Court.  And the same is true with the other two courts, Bower and Stone, that have dropped the identifying letters of A and B as well as E and F depending on which side of each court mail is being delivered to.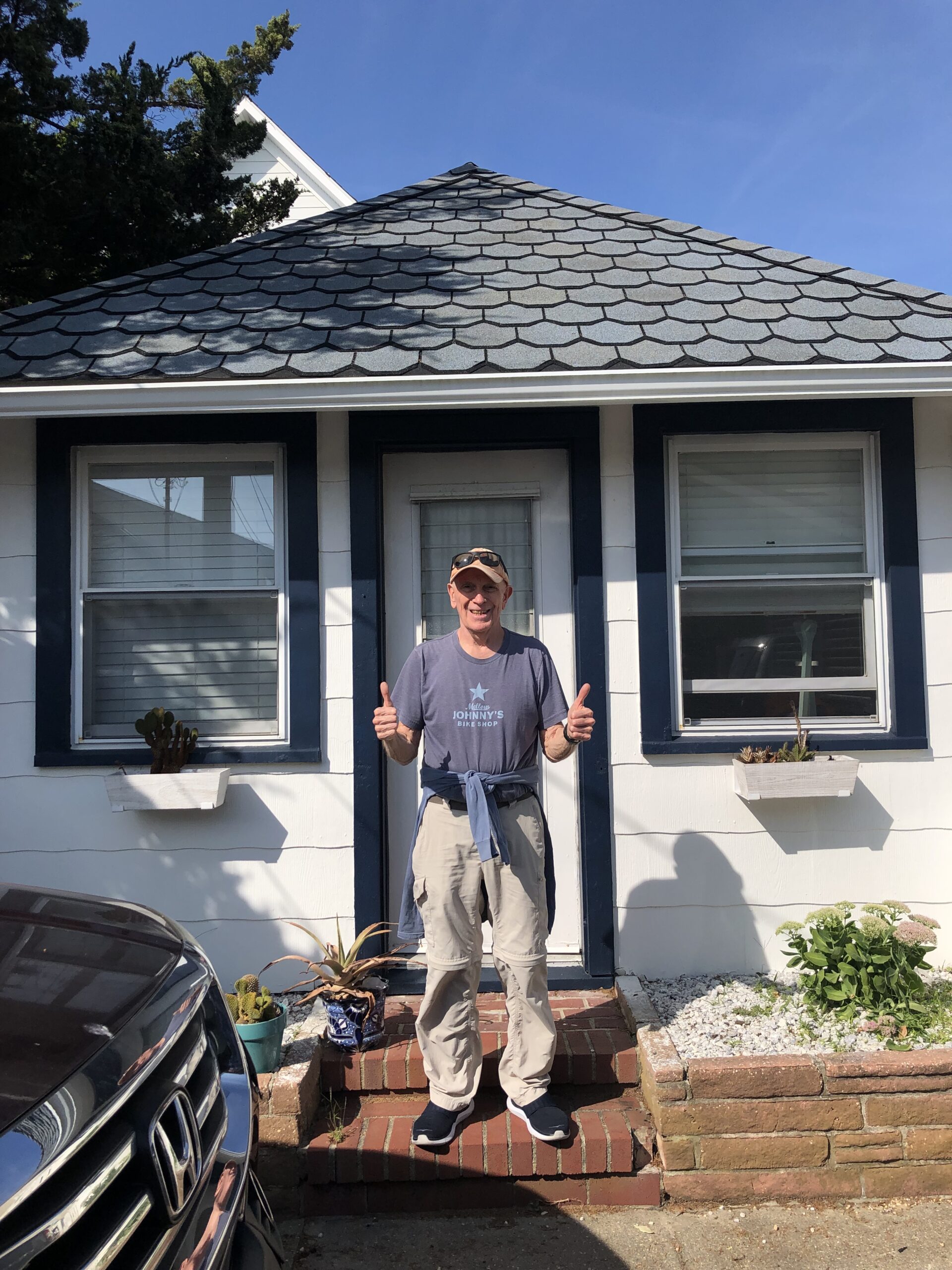 This final photograph shows the author, yours truly at the age of 80, proudly and happily standing on the steps of the front entrance to now Seven Weber Court.  During my recent visit it was truly a delight and a pleasure for me, with permission of the renters at that time, to walk inside, revisit and see the entire bungalow with my own eyes after some 63 years having elapsed since I last stayed there.  All I can say is that things just aren't the same anymore.  But then again, they never are and I'm sure you know that too.  Today it's really all about building family memories.  So I say to you, savor those glorious moments you have shared with your family at Stone Harbor and count your blessings as I certainly do for we all have a story to tell.  That's my story – what's yours?