This particular account is based on an "Advertisement" that appeared in the July 13, 1919 edition of The Philadelphia Inquirer daily newspaper on page 13.  This paid advertisement as you will see is clearly designed to solicit patronage and promote many of the wonderful aspects of just what the seashore resort known as Stone Harbor has to offer.  This ad is all about comfort, convenience and enjoyment that can be had at the Jersey Shore. 
First, let's begin by presenting the advertisement itself.

Next, a hand-typed transcription of this ad, word for word, is provided for viewers of this post to be able to easily read and understand the various amenities that are available at Stone Harbor. 
STONE HARBOR, N.J.
STONE
HARBOR
THE HEALTHFULNESS of Stone Harbor is assured by its artesian water and ice, its sanitary sewer system, its pure milk and its cheap and plentiful supply of sea-food, vegetables, eggs and poultry, fresh from the channel and adjacent fertile shore acres.
TWENTY DEGREES COOLER than Philadelphia.
An ocean strand, smooth, firm and clean, offers safe surf bathing without ropes.  STONE HARBOR'S CHANNEL FRONT is indented with seven artificial harbors, comprising five miles of frontage on the State Island Waterway – an unsurpassed course for motor-boating, yachting and sailing and a fishing ground justly famous.
EXCELLENT HOTEL ACCOMODATIONS.
COTTAGES, BUNGALOWS and APARTMENTS may be rented, furnished, by week, month or season AT REASONABLE PRICES.
For information write today: BOROUGH CLERK, Stone Harbor, New Jersey
SHELTER HAVEN HOTEL – Stone Harbor's largest and finest hotel.  American and European plan.  ROOF GARDEN – Under the personal direction of A. L. Kline, Proprietor  Grill, dancing
ALSO
NEW PRINCETON HOTEL – AVALON, N.J.
STONE HARBOR YACHT CLUB – Under the direction of A. L.  Kline
OCEAN FRONT HOTEL – Directly on Boardwalk, 98th Street.
ROOMS  $1.00  UP.    EUROPEAN PLAN.
Now that you have had a chance to read the entire 1919 advertisement that was placed in the leading Philadelphia newspaper, I wish to present an array of vintage picture post cards to illustrate just 4 of the notable features specifically identified in the ad.  By running this ad the Stone Harbor Borough Clerk has certainly stepped up his game-plan and is keen to promote these particular places: Shelter Haven Hotel, New Princeton Hotel in Avalon, Stone Harbor Yacht Club and Ocean Front Hotel.  All four of these locations can adequately handle the needs of people desiring to visit and experience Stone Harbor and Avalon.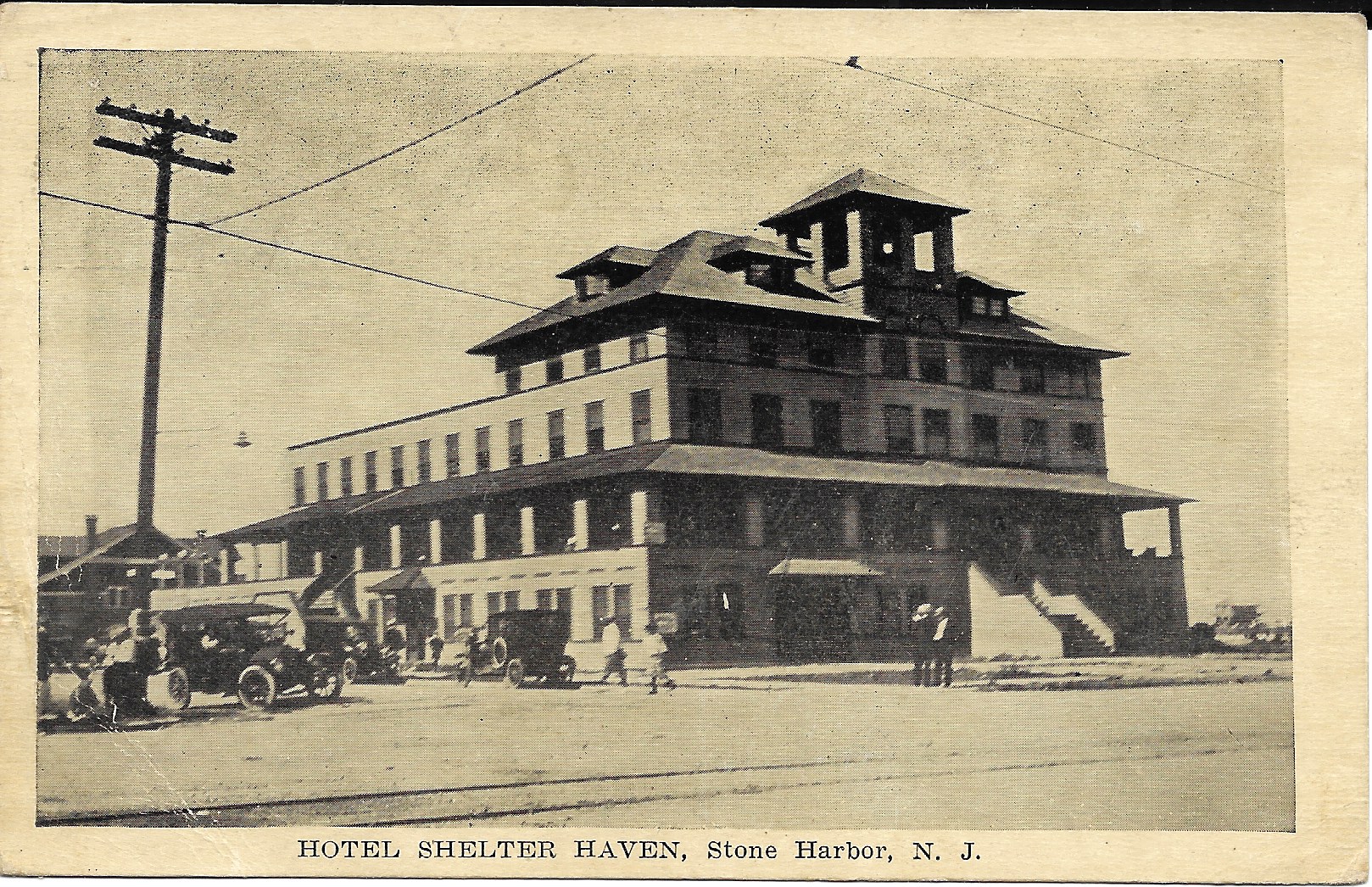 This post card showing the 60 room Hotel Shelter Haven suggests that by the end of the second decade it was becoming a popular destination with considerable activity as evidenced by the numerous vehicles and people in the scene.  Keep in mind the hotel was actually a central arrival and departure point for many vacationers during this particular time.  Remember, the aforementioned ad emphatically stated the Shelter Haven Hotel was Stone Harbor's largest and finest hotel offering both American and European plans of accommodation.  In addition, the ad also points out the hotel had a "Roof Garden" which suggests great views and outdoor entertaining along with dancing.  This very card was mailed and bears an AUG. 15, 1919 Stone Harbor postmark just about at the same time as the release of this ad being highlighted.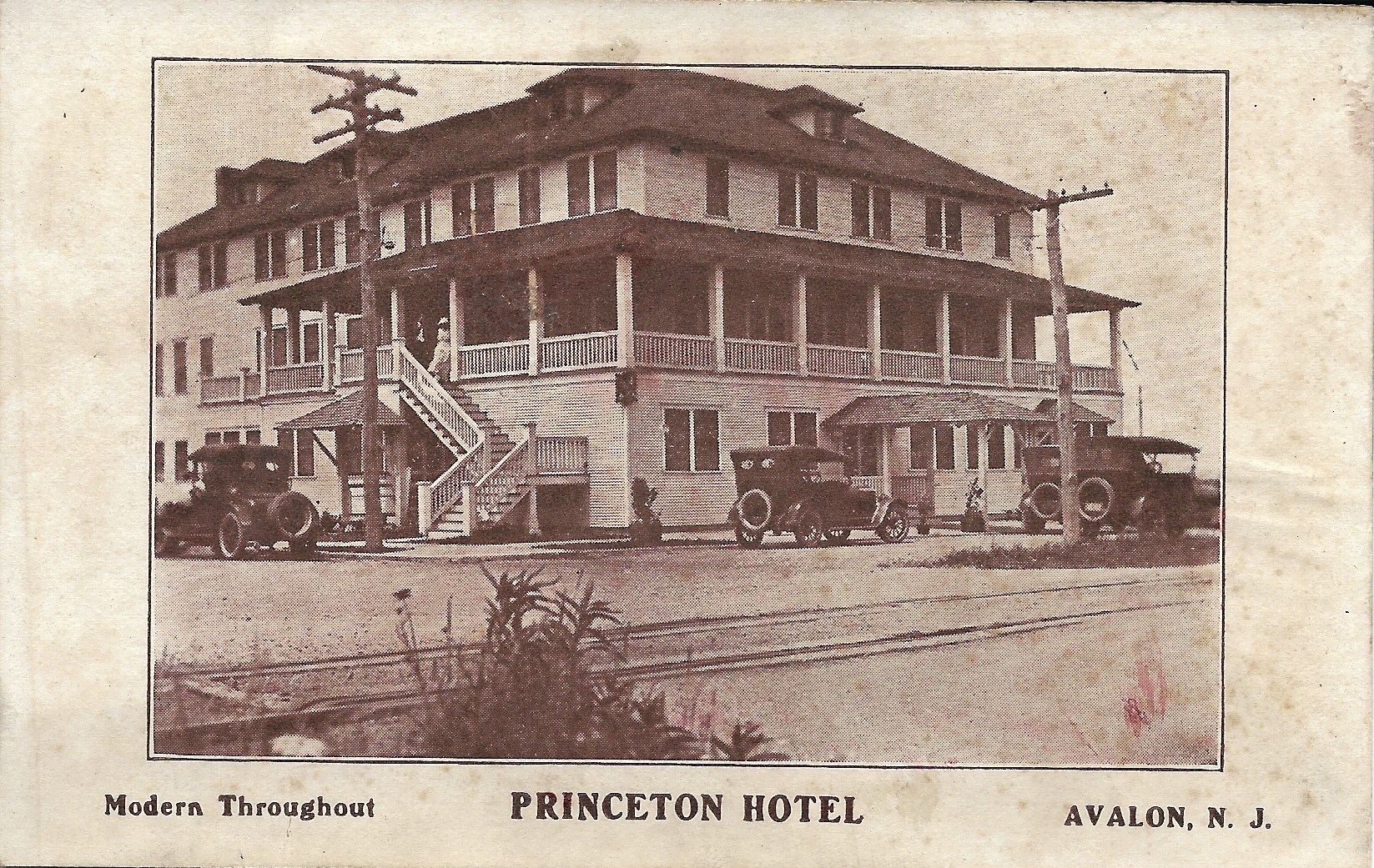 Here is a post card depicting the New Princeton Inn located in Avalon, just north of Stone Harbor and at the north end of the Seven Mile Island.  Notice the set of railroad tracks that are evident in the foreground running alongside the hotel in this scene.  The Pennsylvania Railroad would travel to Stone Harbor by way of Second Avenue until it reached its terminus at 96th Street.  This rail link conveniently served the entire length of the island and would arrive at Avalon from Sea Isle City and an entire network of other points north over the railroad bridge at Townsend's Inlet.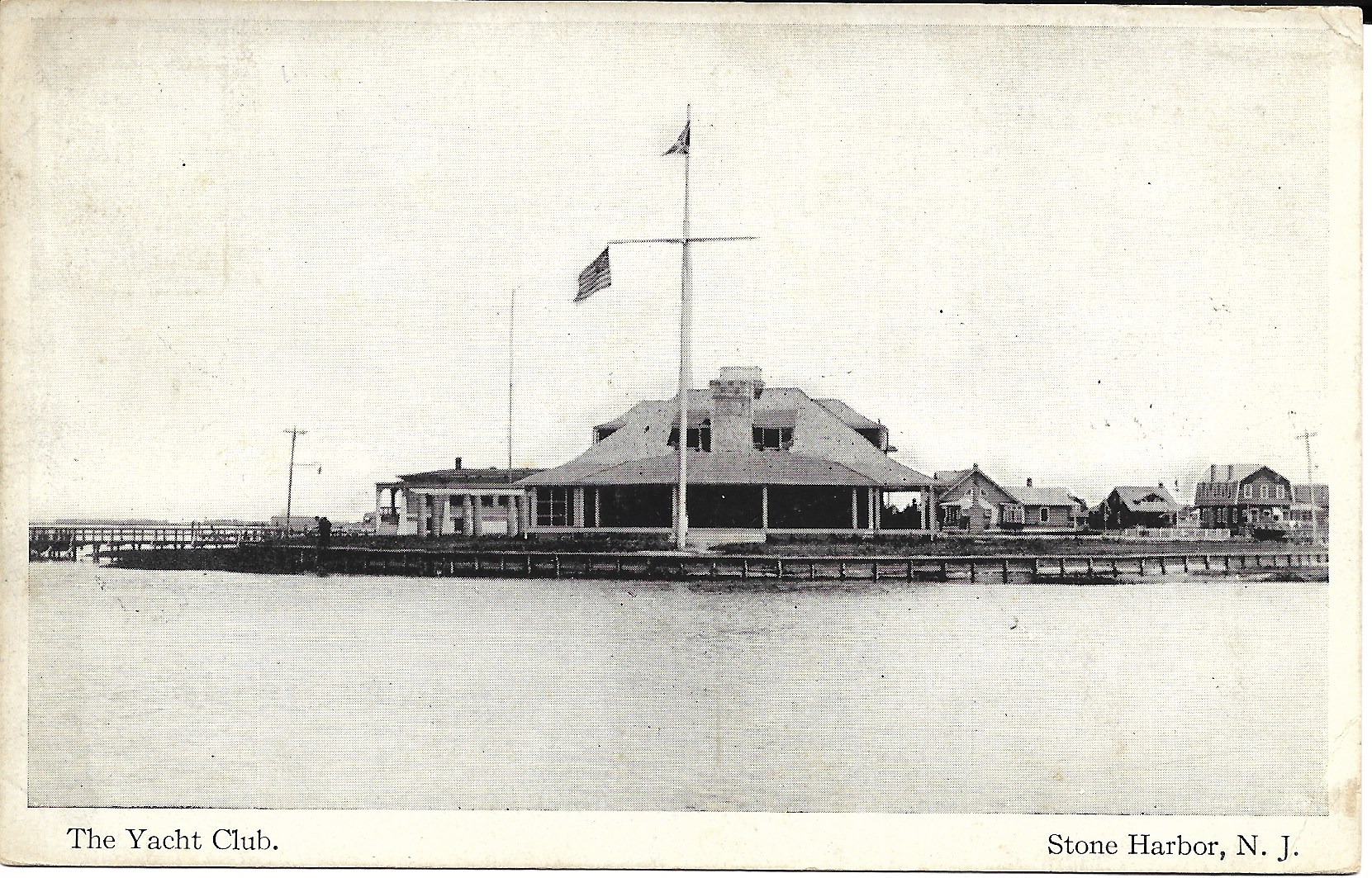 The third post card in this array features the "$20,000 home of the Stone Harbor Yacht Club".  The caption on the reverse side of this card goes on to state that the Yacht Club was "the center of social activities and a very popular rendezvous for lovers of motorboating and aquatic sports."  This very post card was mailed from Stone Harbor on AUG 31, 1918 and contains a most interesting personally penned message which reads as follows: "This is a peach of a place.  I'm picking out our lot today, tell Pa.  I'm staying with the Riter's & having a very nice time.  Paul"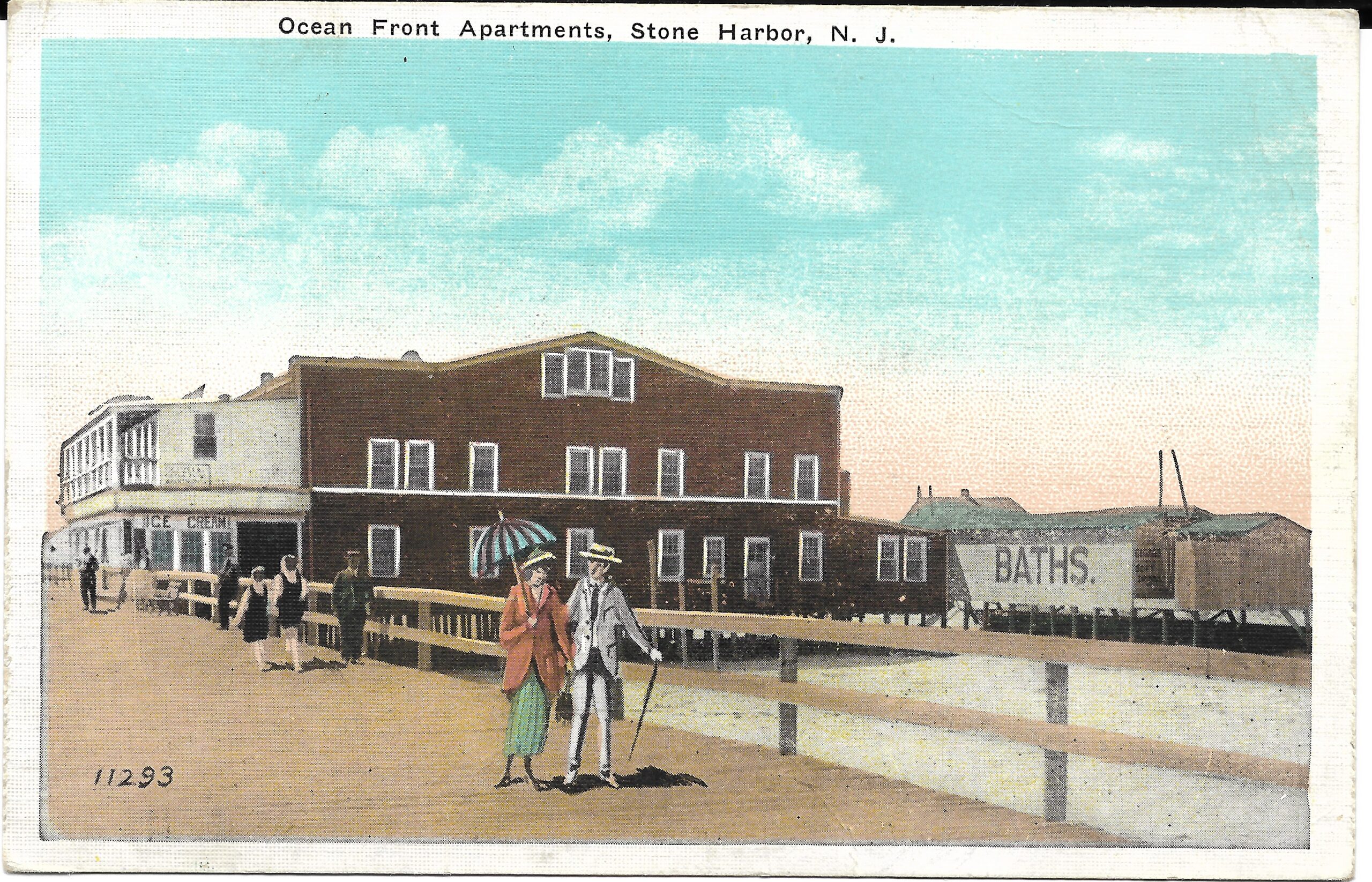 This final post card shown here is a charming view of the Ocean Front Hotel or later known as the Ocean Front Apartments conveniently located directly on the Stone Harbor boardwalk at 98th Street.  It is an intriguing scene with people wearing circa 1920 era attire and swimwear leisurely strolling the boardwalk.  Notice the popular hot and cold salt water bathhouse directly behind the building.
By this time when 1920 was just around the corner so to speak, thousands of visitors and vacationers were flocking to Stone Harbor on an annual basis.  Families in particular were now building those all-important lasting memories.  Given all the fanfare and the marketing efforts directed at promoting Stone Harbor, it is no surprise that the town would really begin to thrive as more and more people began to experience the charm of the "Seashore At It's Best".  In fact, some of the hype as we shall learn in our next article would even proclaim that Stone Harbor was "The Best Family Resort".