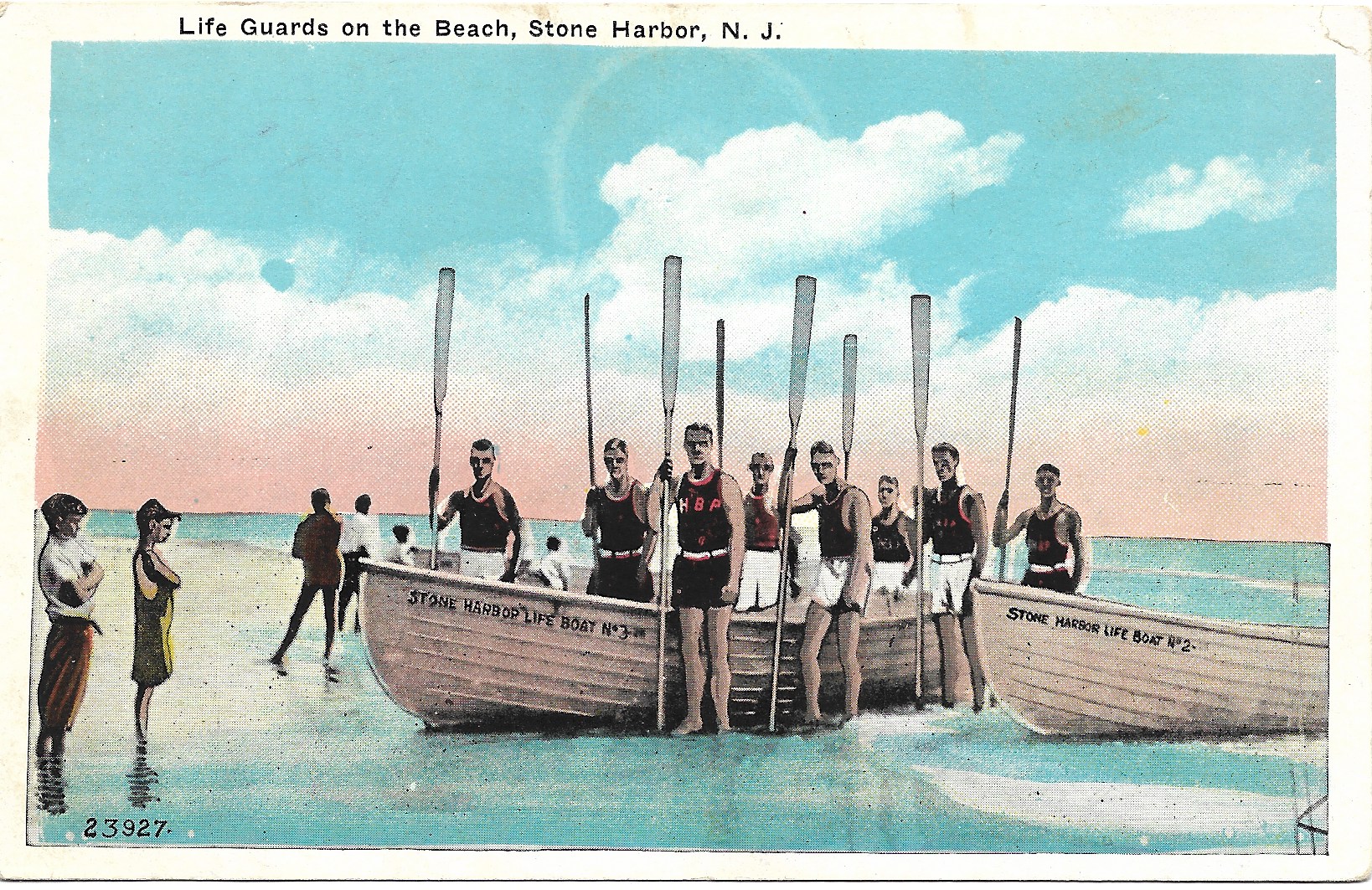 Introduction:  This brief descriptive account will utilize an array of vintage picture post cards to depict the evolution and a bit of history pertaining to the Stone Harbor Beach Patrol (SHBP) and their life saving stations and equipment primarily from about 1920 to 1958.  Accordingly, here is some background information. 
Before you go any further however, please pay particularly close attention to the details that relate to the life guards and their equipment and/or facilities in each of these 10 selected images.  These specific images were selected because they do indeed depict some key aspects pertaining to life guarding at Stone Harbor over many years.  Five of the colorful and distinctively classic appearing post cards were produced and sold by well-known variety store merchant David Troxel of Stone Harbor.  You should also know the 3rd, 4th, 6th, 7th, 8th, 9th and 10th post cards were postally used and bear postmarks dated 1939, 1938, 1927, 1930, 1947 and 1957, and 1958 respectively.  Most interestingly, five of these ten images, as you will see, actually portray portions of Stone Harbor's once popular mile and a quarter long boardwalk that was destroyed in the 1944 Great Atlantic Hurricane at Stone Harbor.   
Providing protection over the years for all those who most assuredly would come to Stone Harbor to enjoy the ocean bathing and swimming was first initiated by the South Jersey Realty Company shortly after the time when the much heralded Gala Week Festivities occurred July 1-5, 1911 when the Risley brothers launched their grand promotional activities at Stone Harbor.  The record shows that the first life guard, who originally comprised a one-man Beach Patrol at Stone Harbor by 1912, was a young 16-year old lad by the name of Cleon Krouse who was stationed at 94th Street.  It was during the two year period prior to the town becoming incorporated that young Krouse worked as a volunteer and only received tips as any compensation for his life guarding services.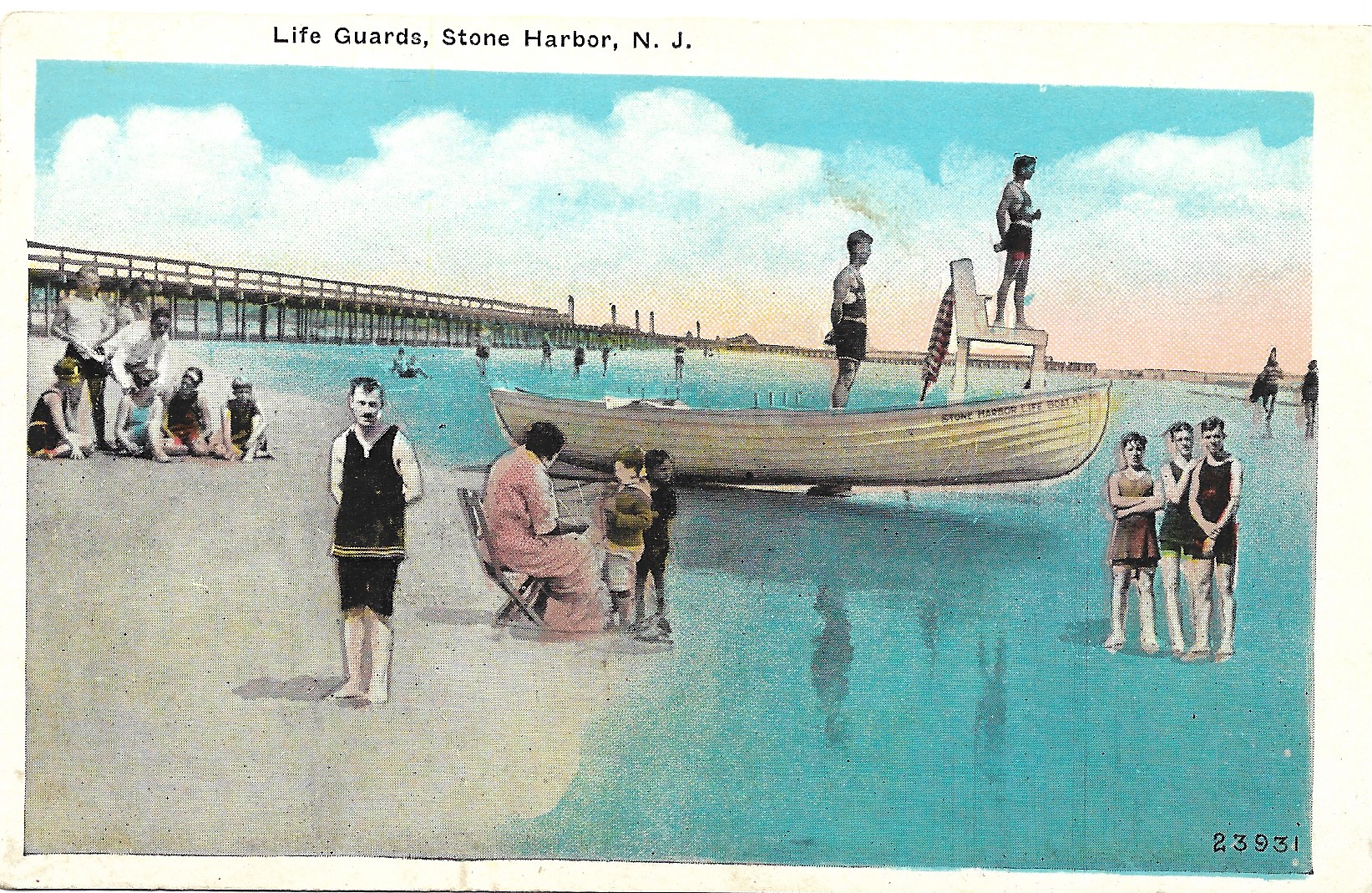 However, in 1914 when Stone Harbor became a full-fledged governmental municipality and was officially incorporated as a borough, the life guards then came directly under the jurisdiction of the town itself.  In the year 1920, there was just one life guard, a Hervey Gash who was the only "surfman" on the borough's payroll.  With increasing numbers of people arriving at Stone Harbor during the summer months, it wouldn't be long that by 1922 the Stone Harbor Beach Patrol would be expanded to 4 life guards with a degree of formal organization, some minimal facilities and even special equipment were made available.  Before long, First Aid services would be provided with a medical student at first and then later a doctor at the smallish SHBP "Emergency Hospital" as it was then called located on the beach at 94th Street.  In addition, the 1920s saw the advent and use of sturdy wooden life boats along with life guards being required to train rigorously and satisfy the American Red Cross standards for lifesaving and water safety.  For example, it was especially important both then as well as today for life guards to know and be able to provide means of resuscitation to unconscious or non-breathing victims and to be able to carry out a multitude of other vitally important life saving techniques and practices.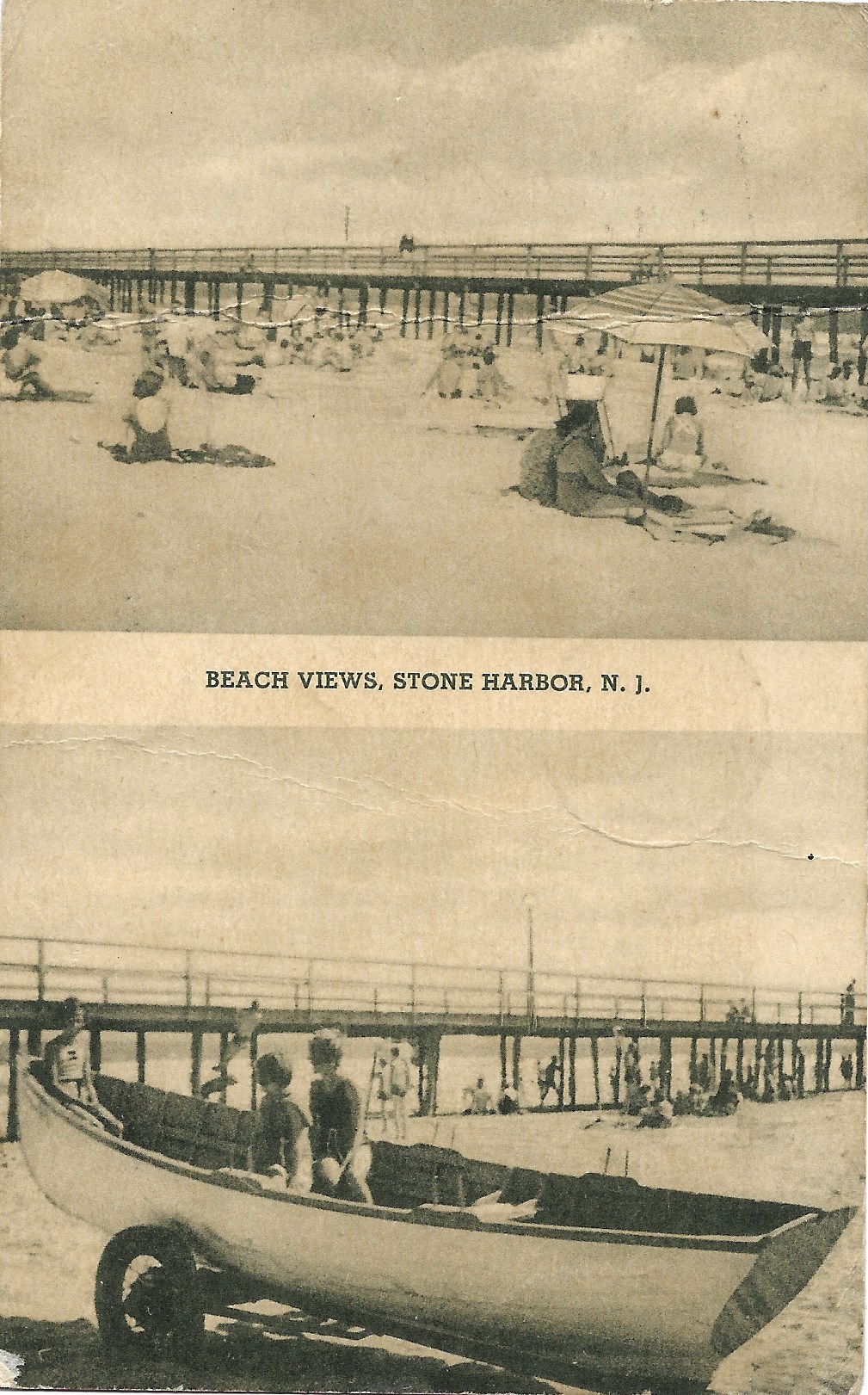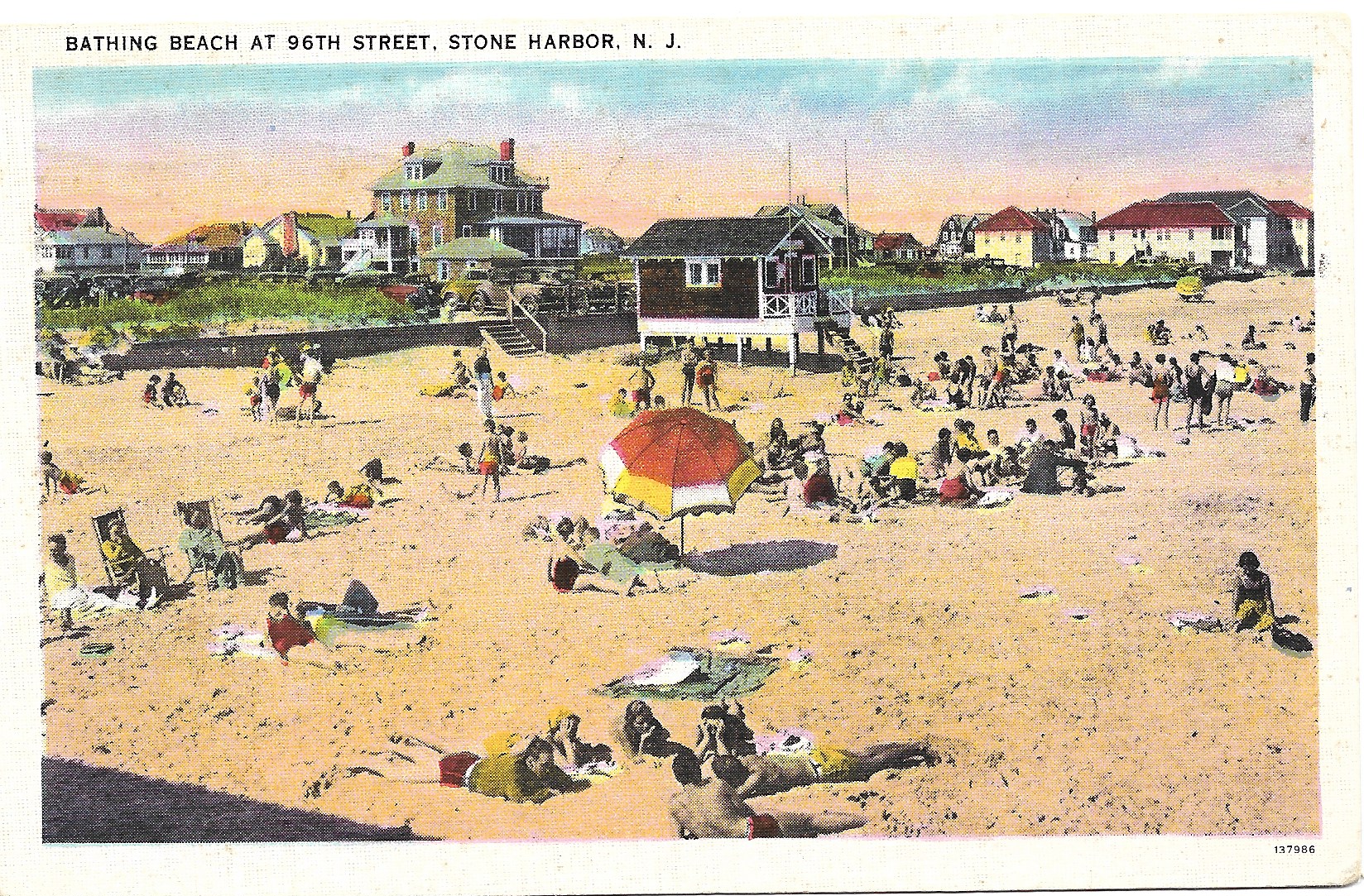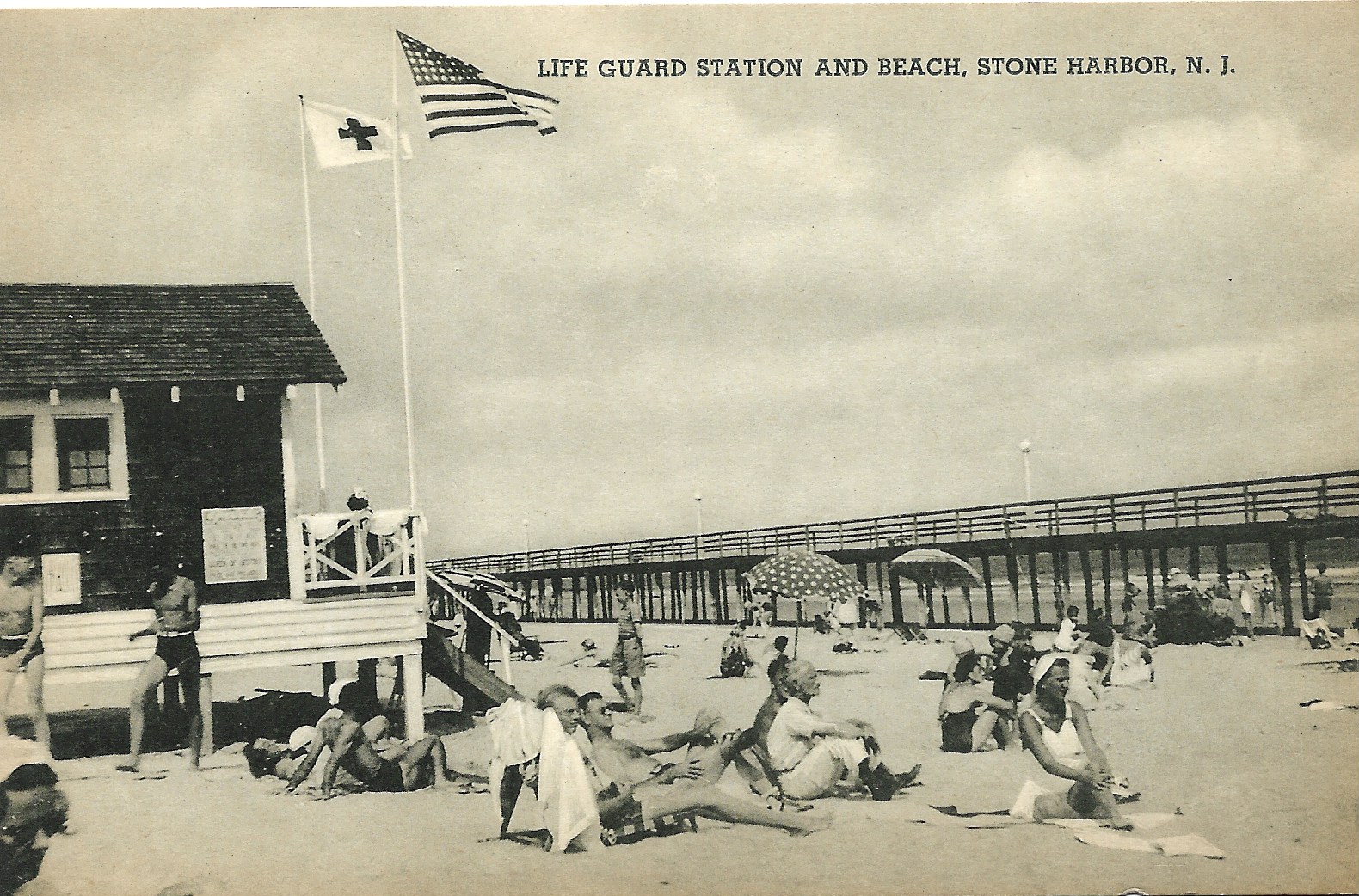 As Stone Harbor continued growing and especially expanding southward, the highly trained life guards were assigned to various beaches.  In time and over the years, as many as 16 different beaches would offer daily life guard protection during the summer season with two life guards and a life boat assigned to each designated beach.  Because of the considerable damage to the life guard headquarters incurred by the historic 1962 storm, it became necessary to provide a replacement and build a larger and improved life saving station that was constructed behind the bulkhead at 96th Street.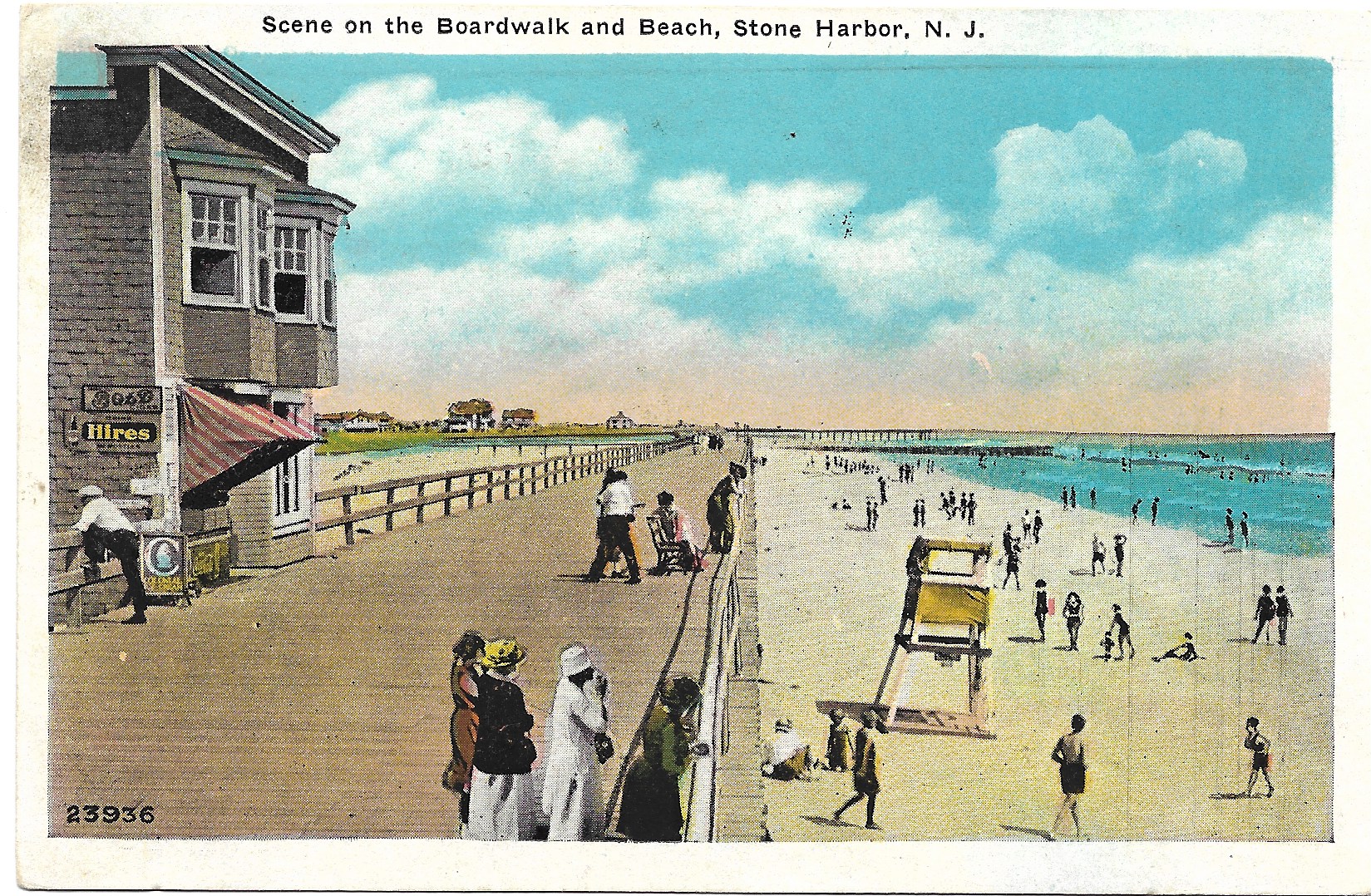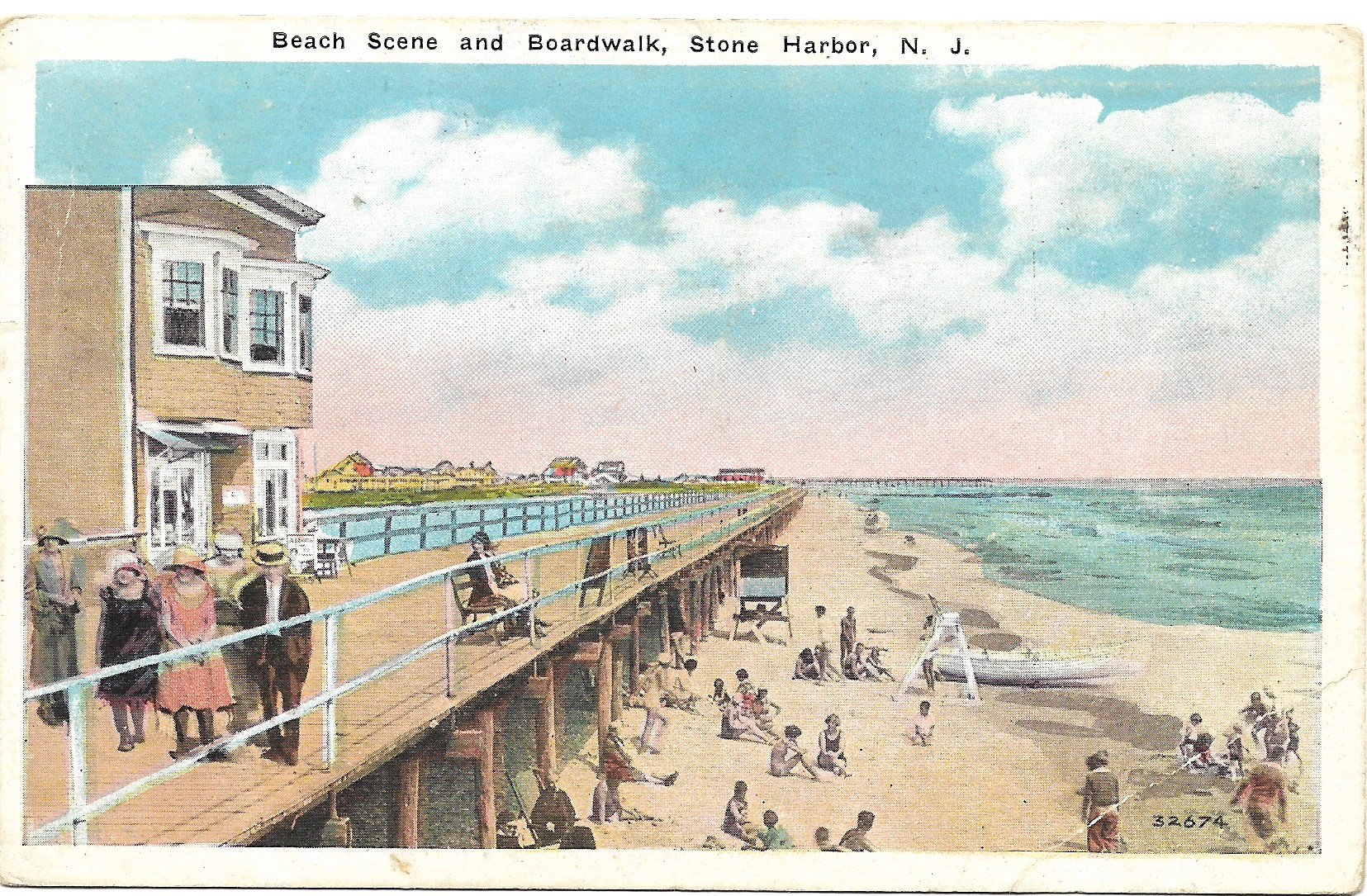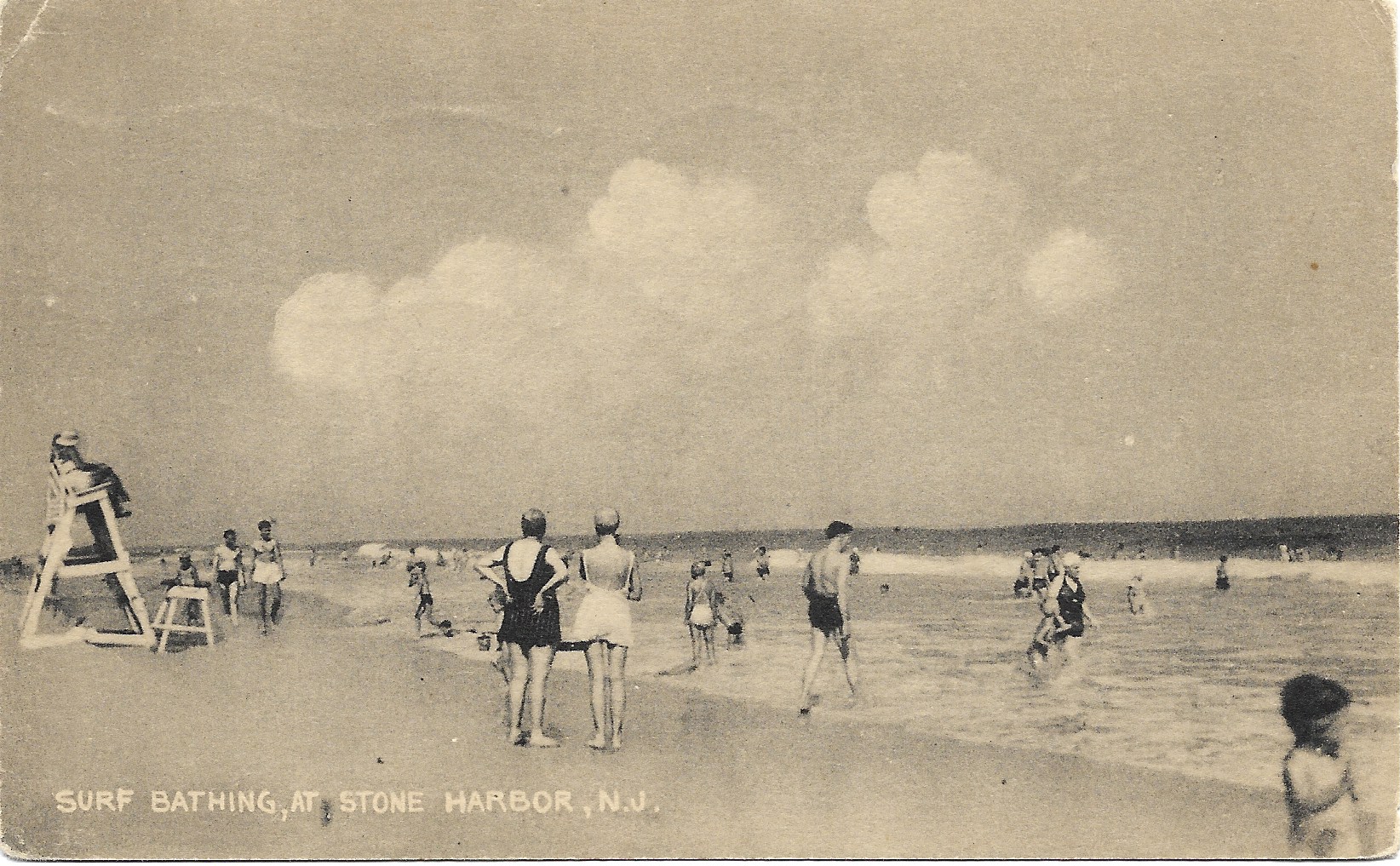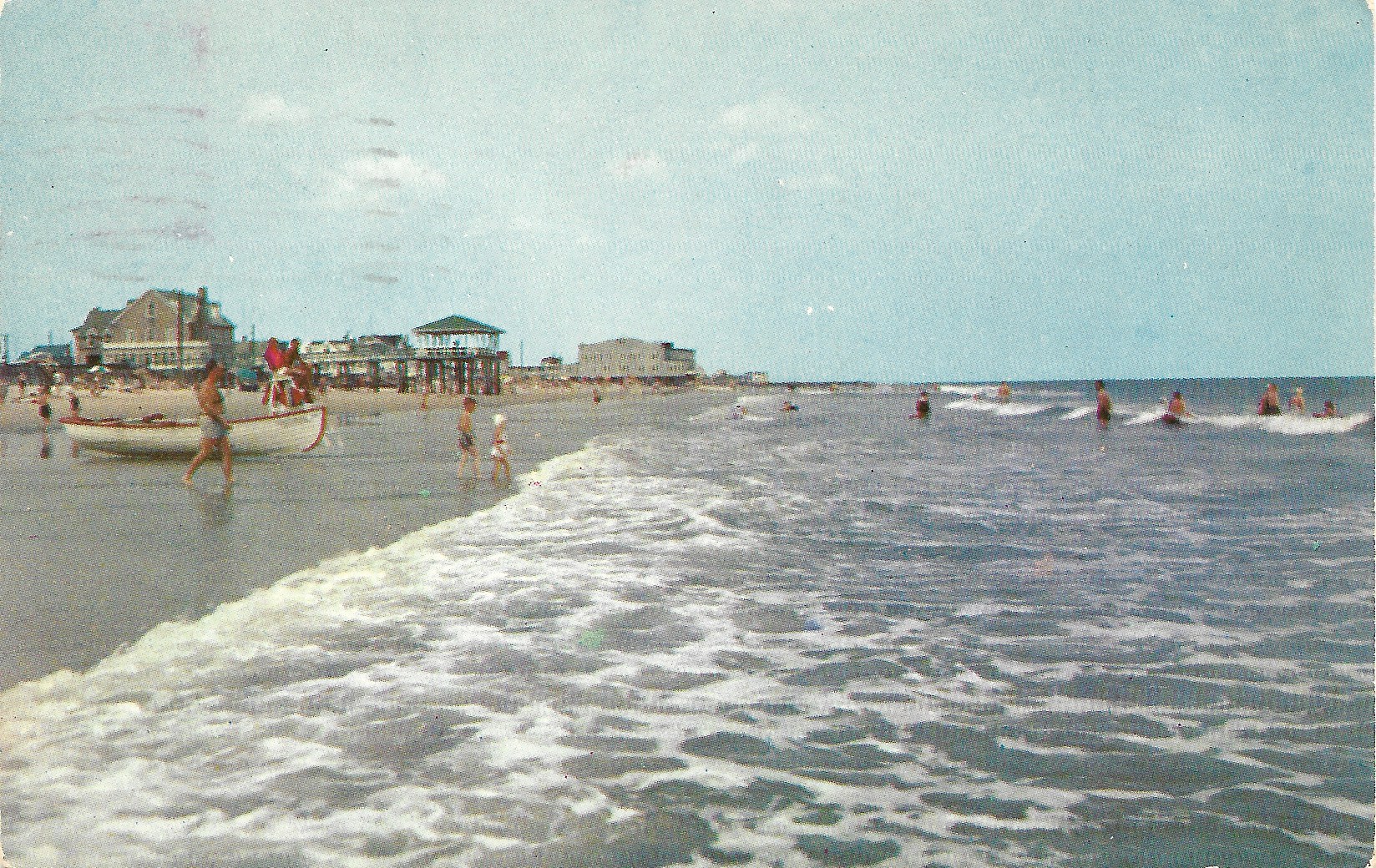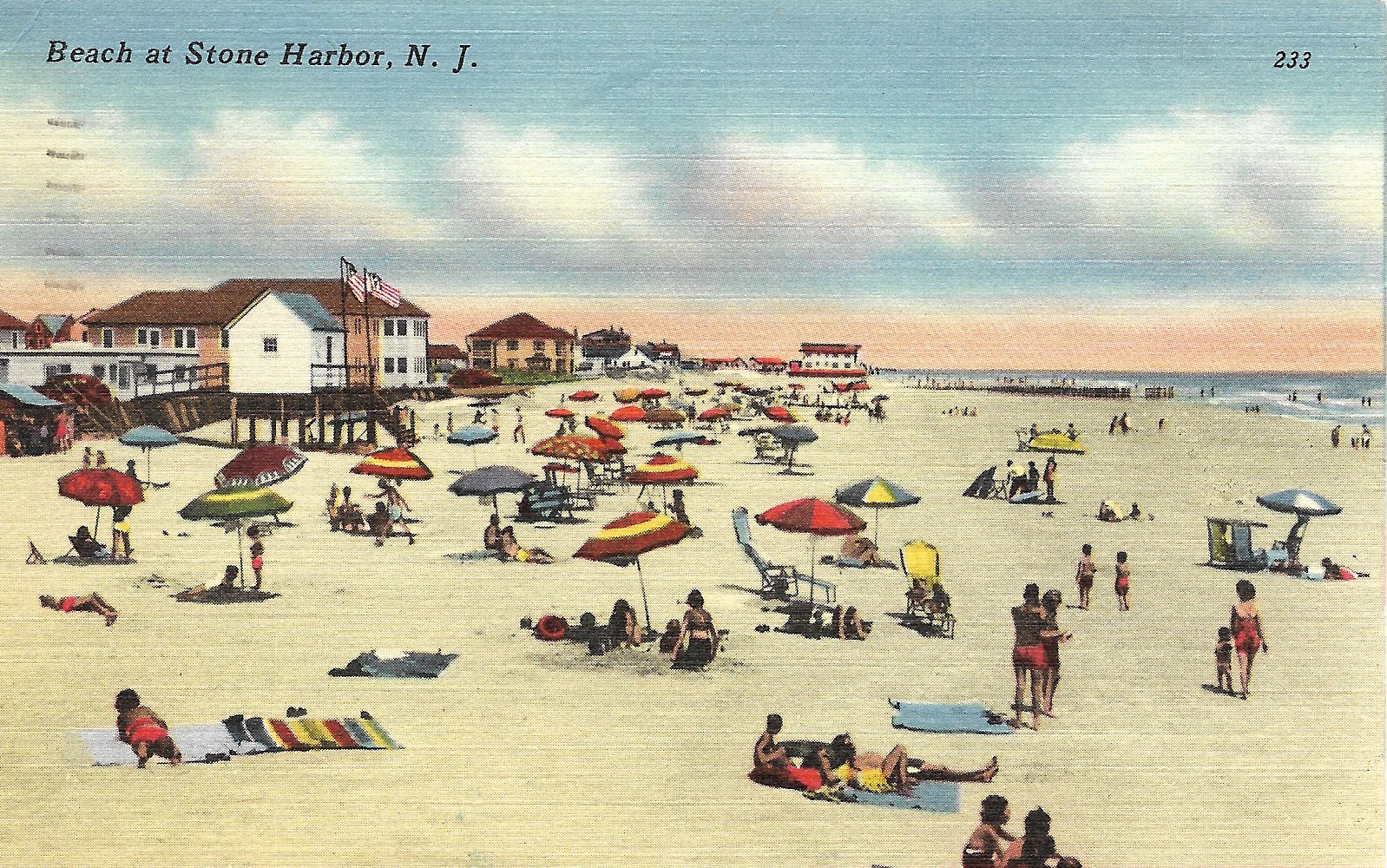 The post cards shown here depict how the SHBP life guards over time would also be provided with movable life guard stands or chairs that would give them an elevated view overlooking the beach and the ocean areas they were responsible for protecting.  The life guards at each beach or station were issued various devices over the years that were called by many different names.  Whether they were ring buoys, metal torpedo buoys or canvas clad diamond buoys of many years ago, or the more current types of rescue tubes or buoys and other apparatus in use today, most life saving equipment has been attached to a rope or line that could be hand-carried into the water through the ocean surf by the life guard and given to a victim as a floatation device to aid in the rescue.  With improved communications the SHBP also instituted a system whereby no beach or life guard stand/station was left unattended during a rescue.  In this manner, no bathers on any beach were left vulnerable and unprotected.  So you can readily understand that life guarding at Stone Harbor or for that matter at any other seashore location was indeed considered a very serious matter. 
At the present time we understand that some 60 to 70 life guards and other supplementary personnel are hired and provide protection to the throngs of persons who enjoy the wonderful beaches at Stone Harbor.  It is our understanding that as recently as 2021, the SHBP headquarters building of over 60 years at 95th Street was demolished and has been replaced with a modern and spacious $2.8 million two-story structure and was opened and operational beginning on Memorial Day and the start of the 2022 summer season.  Due to the time and the limitations associated with the COVID pandemic, it appears right now that life guard recruitment as well as life guard retention have become problematic and life guard staffing needs continue to pose a real challenge going forward.
In conclusion, the Stone Harbor Beach Patrol has enjoyed a long and storied history over 110 years of providing the public with water safety protection.  Kudos as well as great appreciation go out to all those trained and dedicated men and women who have proudly served and who will continue to serve as life guards at the seashore resort known as Stone Harbor, New Jersey!  
Postscript:  As an additional bonus to this article, the author is presenting 8 more modern or contemporary continental size post card images that were made available and sold between 2000 and 2017.  All of these particular scenes are showing a highly recognizable and a very common and emblematic scene portraying picturesque views of not only Stone Harbor's fine beaches but the very important and iconic life guard rescue/row boats along with the life guard's elevated and movable stands.  I hope you enjoyed this narrative account along with all these featured post cards.