As the emerging "New Stone Harbor" took shape, a need arose for hotels and apartment houses.  They helped create a resort community that continues to this day being called "The Seashore At Its Best."  The Harbor Inn, formerly named the Abbotsford Inn and opened in 1892, and the Shelter Haven Hotel built in 1912, were open for business and accommodating potential investors as well as a growing number of vacationers.
At this time the Risleys or the so-called "founding brothers" of Philadelphia and their forward-thinking plans essentially set things into motion and tangible development of a town called Stone Harbor began in earnest.  Also at this time S. Walter Humphrey began building an apartment house in 1912 that was to be called the Channel Apartments and that officially opened on March 13, 1913.  These construction efforts indeed marked the beginning of a period of significant development and increased interest in Stone Harbor. 
As we have seen in all of my other previous articles, picture post cards are being used to tell yet another interesting story.  We know that in the early 1900s post cards that had a picture or a photograph on one side were becoming immensely popular.  These very post cards were not only considered as souvenirs or keepsakes but also served as a means of providing both personal greetings as well as direct advertising for marketing purposes.  Therefore these little couriers served useful in not only showing the progress being carried out at Stone Harbor but were also used as a means to attract others to venture to the seashore resort to see for themselves what all the excitement was about.  The picture post card thus became a useful and remarkable means of documenting as well as chronicling the life and times of a given place like Stone Harbor.  We are indeed indebted to all those who contributed to the commissioning and publishing of post cards featuring the seashore resort Stone Harbor.  
This brief article will incorporate 7 different post card views that were printed over a span of 50 years showing the well-known and long enduring Channel Apartments.  Included also here will be a few present-day photographs of the building that currently sits on the site of the former Channel Apartments.  The basic similarity between the former and today's current structure's footprint or placement appears to be essentially the same.  However, the difference in cost or the sale price for this property between yesteryear and today is of course astronomically worlds apart.  But most importantly we need to be reminded that the common denominator here is one of people generally wanting to leave the city and their work to go to a quieter and very pleasant place that offers a vacation opportunity and a desired change of pace.  Stone Harbor has long been a very family oriented community from the start and has historically been a destination for relaxing and enjoying the summer's warmth and sunshine, the beautiful sandy beaches along with swimming in the ocean just to mention a few of the notable highlights.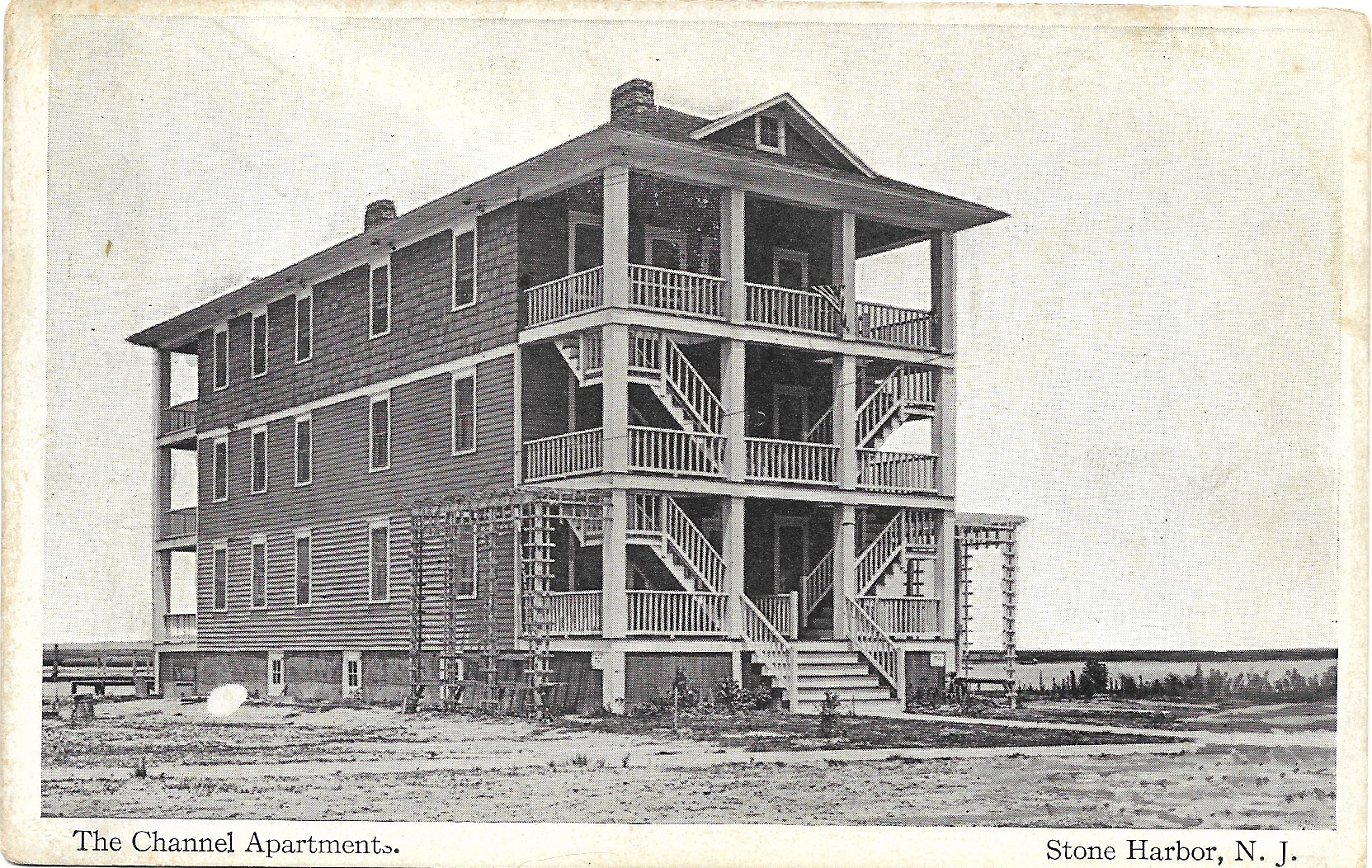 Here we see what may very well be the earliest known post card (circa 1913) featuring the 3-story Channel Apartments located on the bay at Stone Harbor.  In fact, judging from this image, it appears that this apartment house has just been completed and the trellises or frames of latticework in the front on each side of the first floor porch do not yet show evidence of any planted vines or climbing plants.  The caption provided on the reverse side of this postally unused card states: "Channel Apartment, Ninety-fourth Street and Sunset Drive, Stone Harbor: its large rear porches overlooking the Great Channel.  Each suite contains five rooms and bath, fully furnished."  It can be said that Stone Harbor was at this time in a period of considerable growth and expansion.  Can you see the American Flag fluttering in the breeze and on display from the third floor porch railing?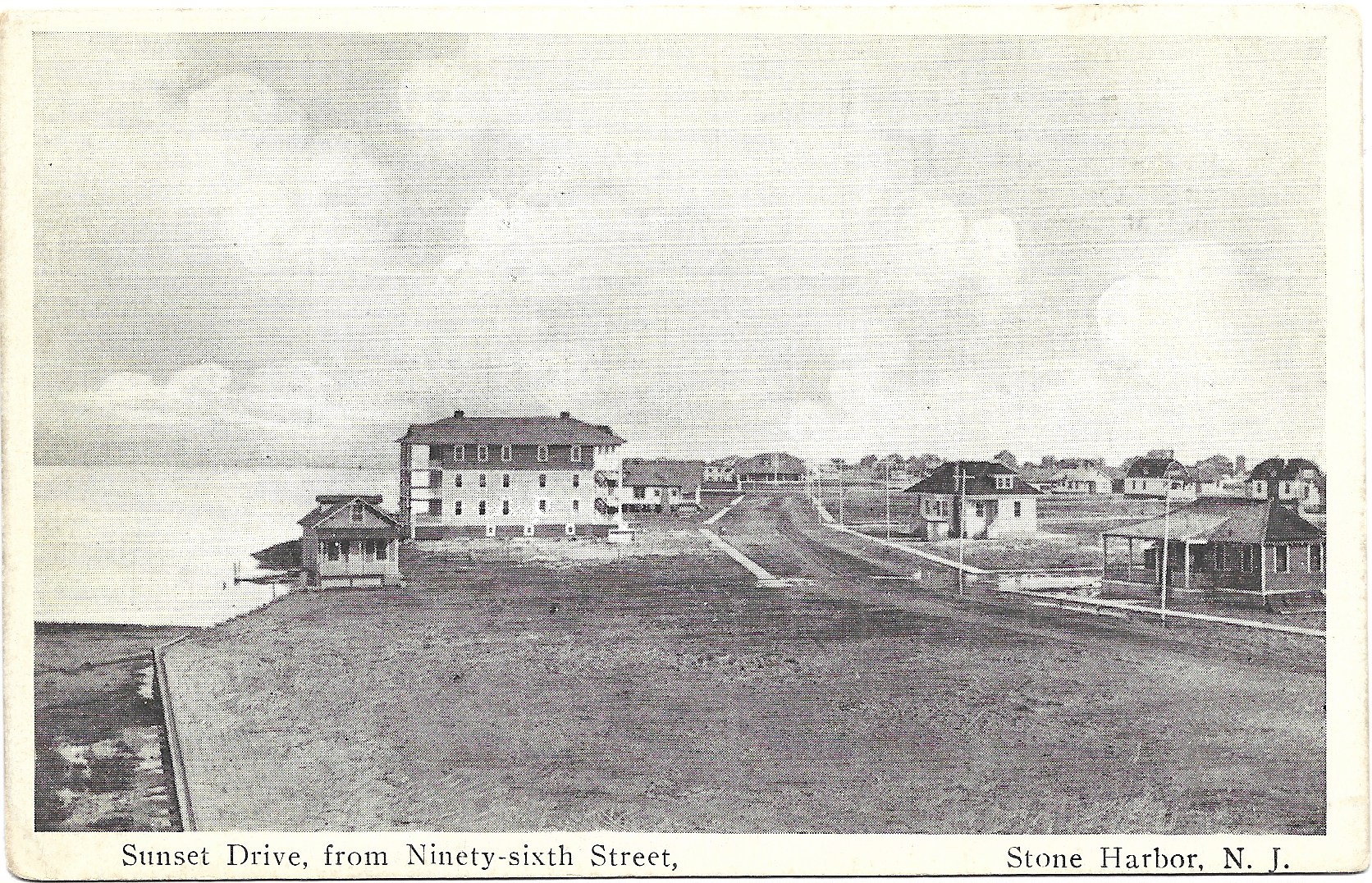 This second post card image, also one of the earliest published and showing the Channel Apartments, is titled "Sunset Drive, from Ninety-sixth Street."  The caption on the back of this postally unused card states: "Sunset Drive, following the contour of the State Inland Waterway and the Seven Yacht Basins, through the wonderful bungalow colony at Stone Harbor."  Imagine the many wonderful sunsets that were particularly enjoyed by residents especially with southwest views of the bay back then.  In addition, residents also undoubtedly enjoyed the various boating activities (including sailing, fishing, motor boating and even occasional boat races) that occurred on the Great Channel.  This and the previous post card were in all likelihood published by the owner of the Channel Apartments on a complimentary basis for promotional purposes.  Generally, such post cards were available at no cost to the renters or residents for the convenience of corresponding and keeping in touch with friends and family.  Actually, providing such post cards in this manner was not entirely new and was in fact similar to the advertising and promotional practices of the Risley brothers when they too just a few years earlier had used post cards to herald the growth and development of their Stone Harbor enterprise known as the South Jersey Realty Company.   
In a real estate flyer dated 1916 we learn that first floor suites, as the were called, consisted of 5 rooms and a bath along with 2 bedrooms.  We learn that seasonal rates were available at the Channel Apartments and the flyer goes on to state that rent for these first floor fully furnished suites from June 1 to October 1 was set at $185.  The second and third floor furnished suites consisted of 4 rooms and a bath including 2 bedrooms.  The 1916 advertisement goes on to state that there were large front and rear porches of which the latter could even be used as dining rooms.  The rent for these two upper story level suites for the entire season was fixed at $175.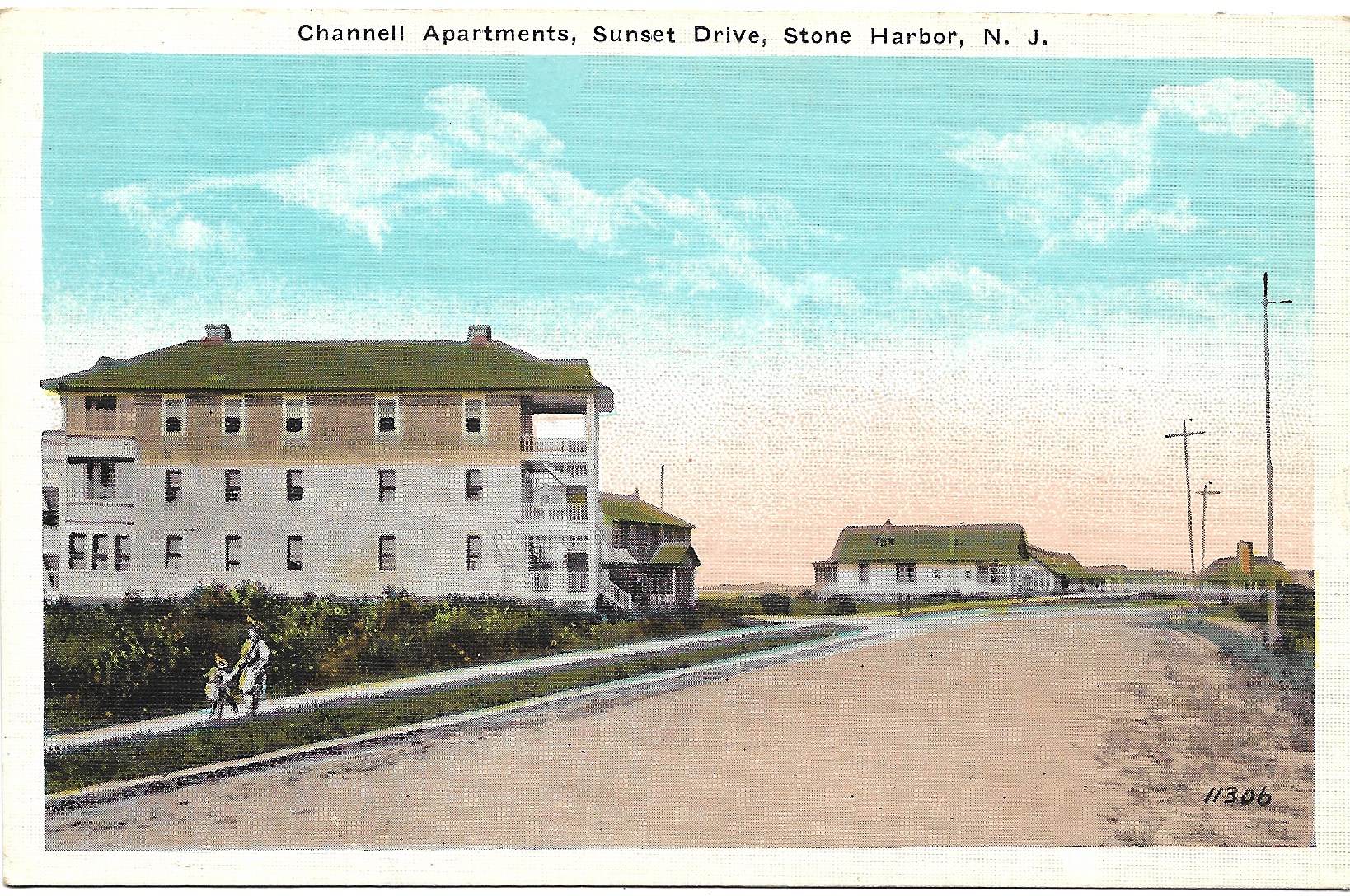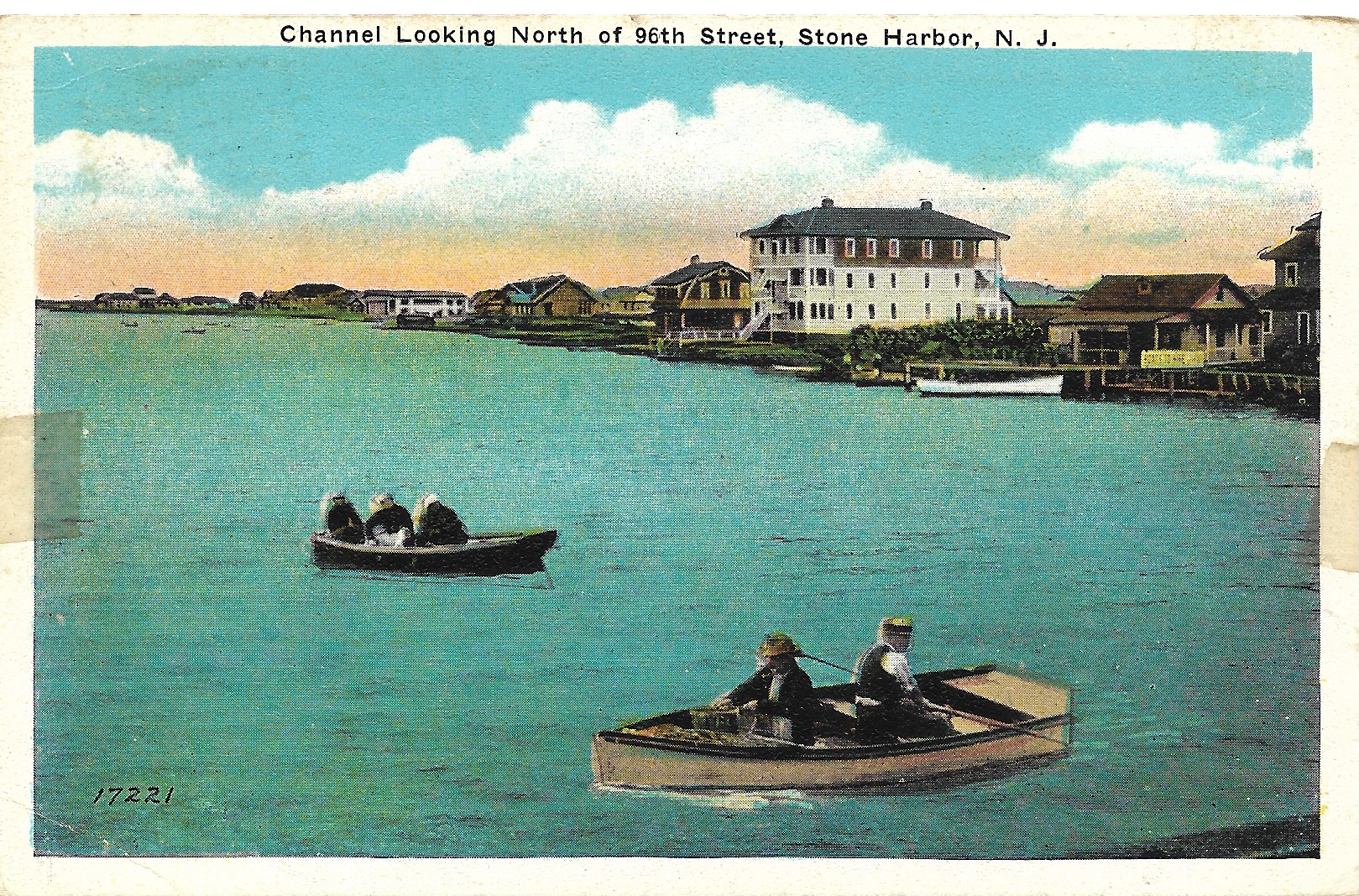 These next 2 post cards were published in the early 1920s by well-known local variety store owner David Troxel and these eye-catching color renditions depicting views of the front and the back of the Channel Apartments certainly are most pleasing.  This distinctive two-toned shingled building, with the upper third floor sided with stained shingles in natural or brownish color and the lower two floors painted white, would be characteristic over the many years to follow.  Both these images portray the roof to be covered with green shingles which will be a different color when examining the last 3 post cards in this array.  In addition, it is interesting to note that some more construction work had been conducted since 1912-1913 as evidenced by both these images showing all the back porches on all 3 floors having been fully enclosed for year-round use.  Those improvements seem to be a very nice added feature to this lovely apartment house by actually providing more usable interior living space.  One more thing might be pointed out and that also has to do with the rear portion of this property.  Look carefully at the 2nd of these color views and notice that there are stairs descending from the 3 rear porch landings to an outdoor platform or deck suitable for entertaining or just taking in the bay scenery.  Magnification of this image also reveals that there is a small dock area or pier that was also built and used as a landing place and moorage for a boat.  Postmarked in the summer of 1924 at Stone Harbor, we get to enjoy once more both post card views shown here: the Sunset Drive view and the Channel view looking North of 96th Street.  Lastly, notice that the word Channel on the "Sunset Drive" version is misspelled and appears in the upper border caption as "Channell."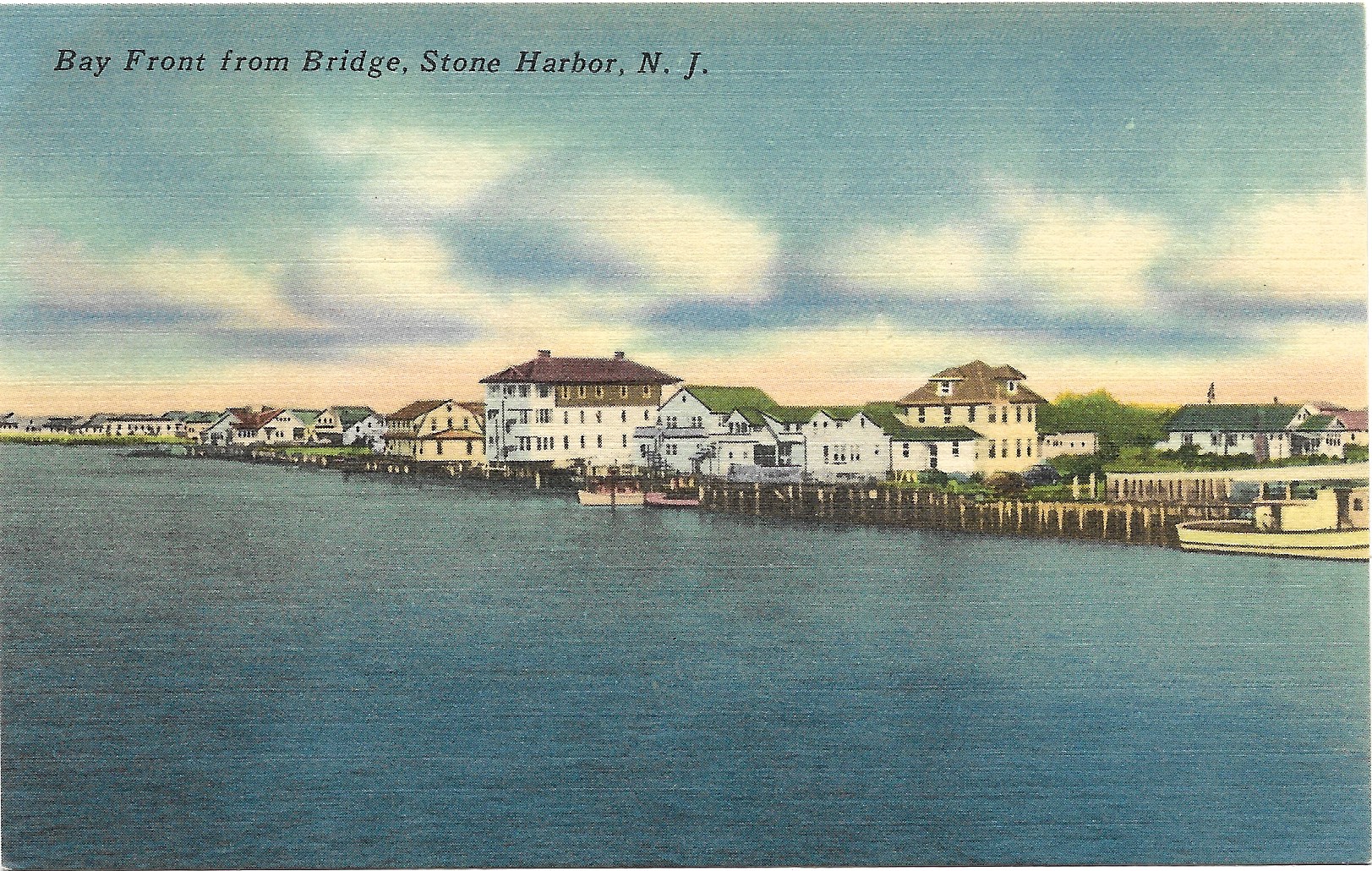 Moving on in time, this linen era circa 1955 color post card entitled "Bay Front from Bridge" offers an image that is looking north from the 96th Street bridge that enters Stone Harbor.  At this point you should be able to easily identify the now familiar two-toned exterior of the Channel Apartments in the center of this image.  However, one observable difference is that 40 years later we can see that the apartment has been re-roofed and the color of the roof for this and both the next 2 post card images has changed. During this time in the 1950s the color of the roof has been changed to brown as you will see.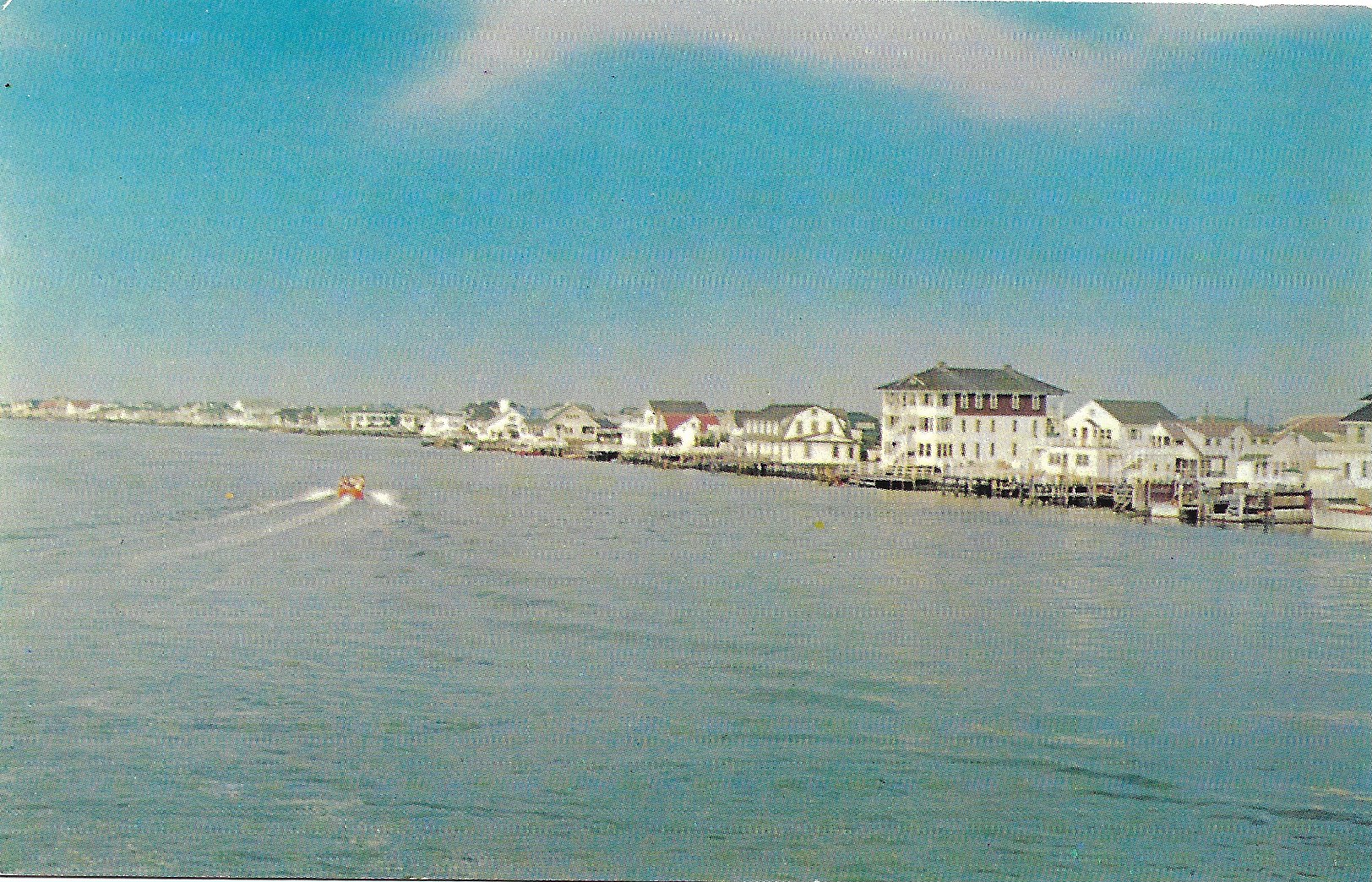 This latter 1950s post card view shows the "Inland Water Front from 96th St. Bridge."  Once more the Channel Apartments appear on the right hand portion of this particular image.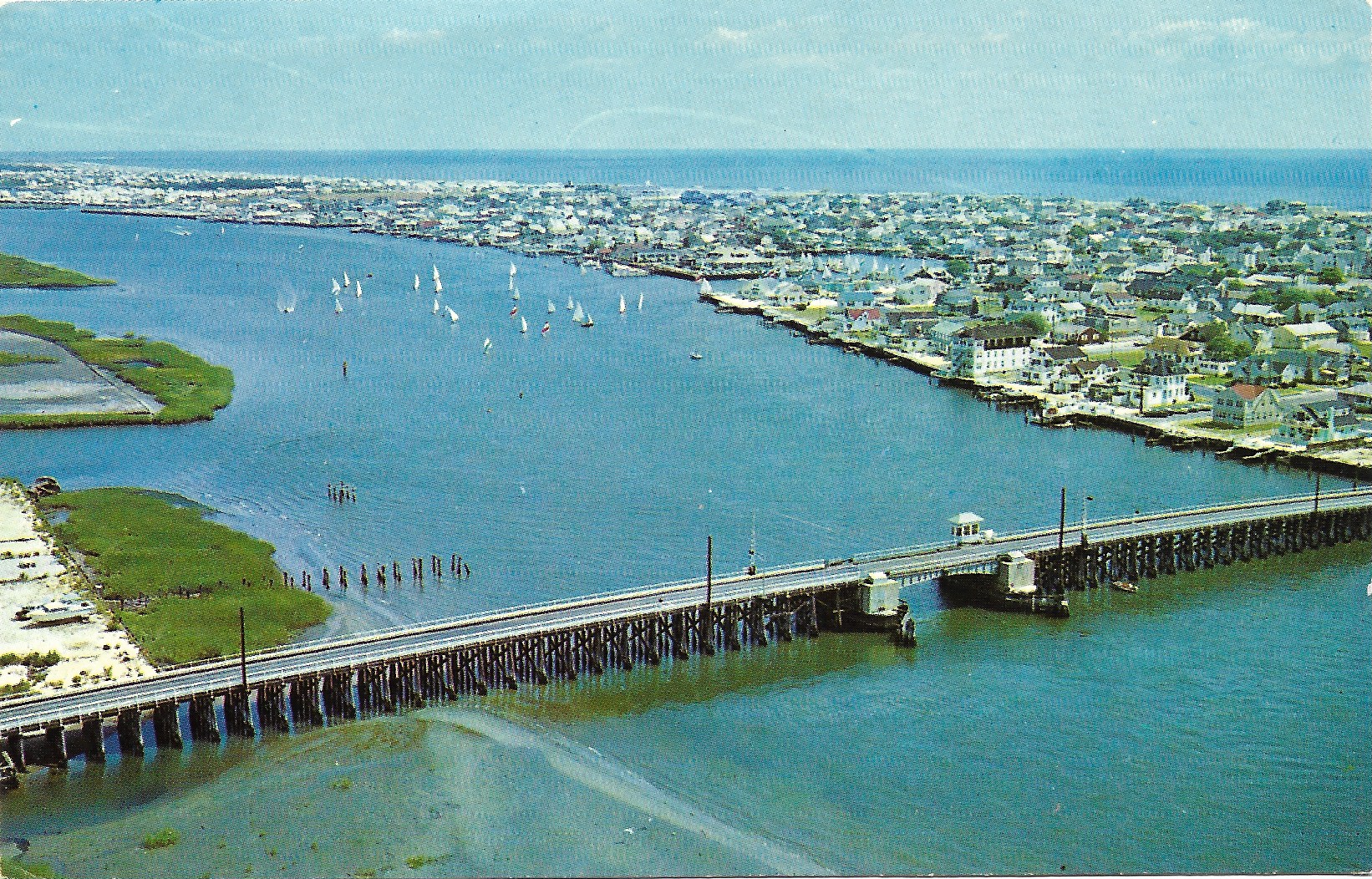 Finally, this last post card image contains a printed inscription on the reverse side and states: "The Great Channel Bridge is the entrance to Stone Harbor at 96th Street.  In the background, part of the comet sailing fleet can be seen in the channel."  This particular card was published and sold by "J. G. Wood 5 & 10 Cent Store" on 96th Street in Stone Harbor.  Again, the prominent Channel Apartment building is clearly recognizable in this rather expansive view taken in the 1960s. 
Current long-time Stone Harbor resident Graham Huber informs me that the apartment building which is the focal point of this article has endured the test of time and still stands today or at least a rebuilt version has occurred and is situated on the very same conveniently located corner lot.  The structure which is still located at 9401 Sunset Drive presently consists of 6 stunning bayfront condominium/townhouse units that have been completely modernized and fully updated.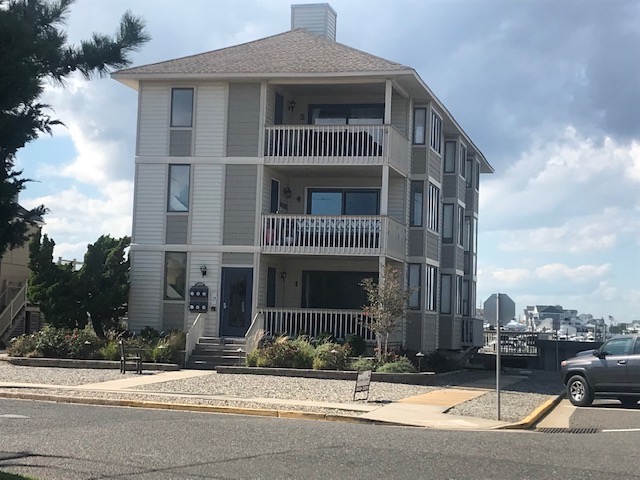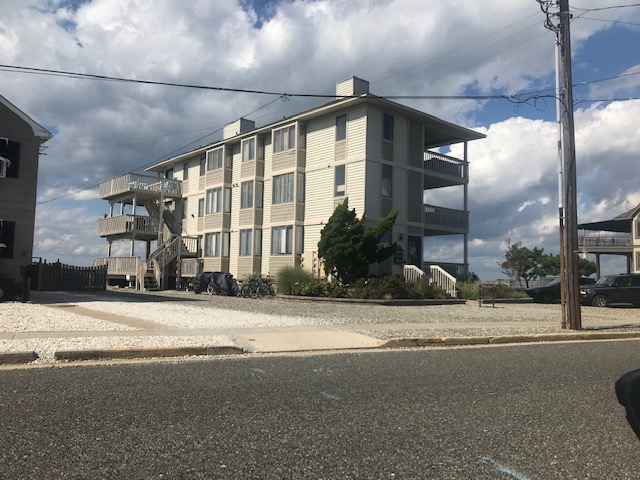 Here are 2 photographs, both taken by my good friend Jim Talone on September 26, 2022, that depict the incredible structural and exterior changes that have occurred over the last 109 years since the 1913 opening of what was originally the Channel Apartments.  We also  know that each unit today has a total of 5 rooms including a living room, a somewhat smallish kitchen area, 2 full baths and 2 bedrooms.  Built or reconstructed about 1987, 3 of the units have both an open-air covered front porch as well as a small open-air covered deck or porch area in the rear facing the bay.  The other 3 units on the south part of the building while they lack a front porch, do have a covered porch area in the back facing the bay as well as direct access to the wrap-around uncovered porch facing the south to give them unfettered views in 2 directions and giving them full benefit of evening sunsets.  The actual living spaces of these units varies between 663 and 800 square feet.  Today there is a boat slip with a floating dock capable of accommodating several boats, perhaps as many as 6 or space for 1 boat for each unit.  
If anyone should have additional information, photographs and/or even personal recollections about the former Channel Apartment building, kindly respond by using the comment option associated with this posting.