In the foreword to my No. 42 article on the subject of Fishing at Stone Harbor, I mentioned the following:  "If it weren't for picture post cards, think of all the local history that would be lost forever."  That very notion continues to echo especially with the subject of this particular post where once again I have selected another group of post cards that have preserved and speak to some more important aspects regarding the history of Stone Harbor, N. J. 
This account will feature 11 post cards that pertain directly to the fairly well-known person by the name of David Troxel, his long-standing business venture with a variety store in Stone Harbor and the legacy that he left to us via his many post card images.  These 11 cards are basically arranged in a chronological order so specific changes can be observed as they occurred along the 96th Street business district starting with 1920 and proceeding to 1960.
There are perhaps only a small number of buildings, features or landmarks that convey a status of having been long-remembered "iconic" places relating to Stone Harbor over the years.  Post cards, much like photographs or snapshots, have certainly served to solidify and perpetuate the mental images that people often have when they think about what those few outstanding places really were.  Notably, the short list of iconic places most assuredly might include the Harbor Inn, certainly the Shelter Haven Hotel, the splendid boardwalk, possibly Springers Ice Cream Shop,  the U. S. Life Saving Station and I personally might even add Troxel's Variety Store to this group.  I base my opinion on the fact that each of these 6 specific named places are what I would term indelible and definitely stand out in our memory banks.  Without question, each of these places saw the issuance of many different post cards for sale over years of time.     
In order to prepare for this article, I personally  conducted a census of just those specific post cards in my own collection that were commissioned and sold by David Troxel and I discovered that I currently possess a whopping 152 different Stone Harbor post cards, all exclusively and solely published by David Troxel over a span of some 30-40 years.  His name and address appear on the back of every one of those 152 post cards.  He certainly was prolific in this regard, more than anyone else, and Troxel has offered us many glimpses into Stone Harbor's past.  That being said, we are indebted to him indeed for this so-called treasure trove of 150+ images and for playing an instrumental role in preserving Stone Harbor history.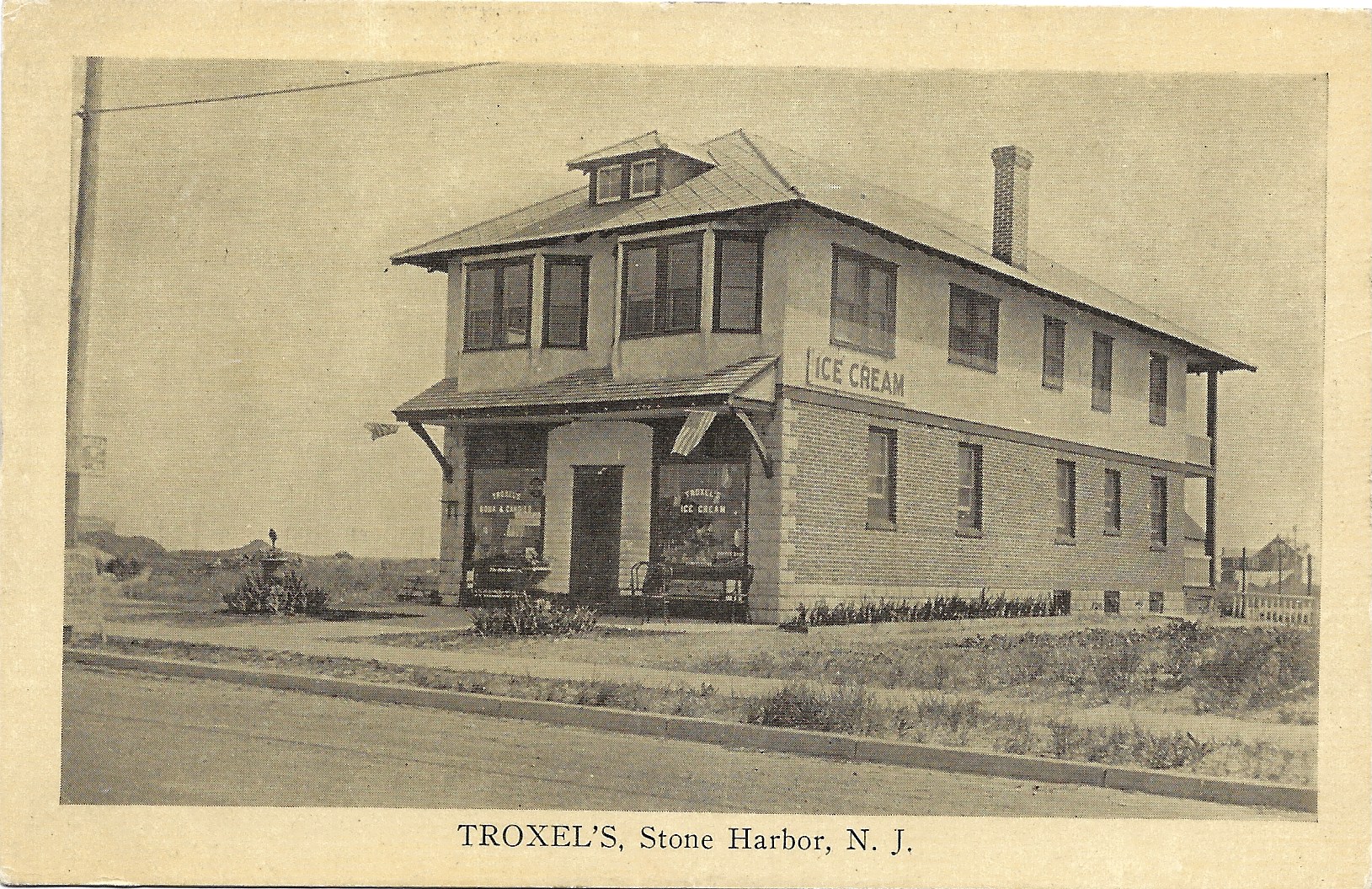 First, here is an S. K. Simon of New York published post card view showing Troxel's store.  This two-story building located very near the corner of Second Avenue on 96th Street is one of those frequently remembered and documented structures in Stone Harbor history.  Aside from bearing a SEP 10, 1921 Stone Harbor postmark, what is really noteworthy about this particular card is what's on the reverse address/message side.  Now let's take a look at the flip side of this card and see what all the excitement is about.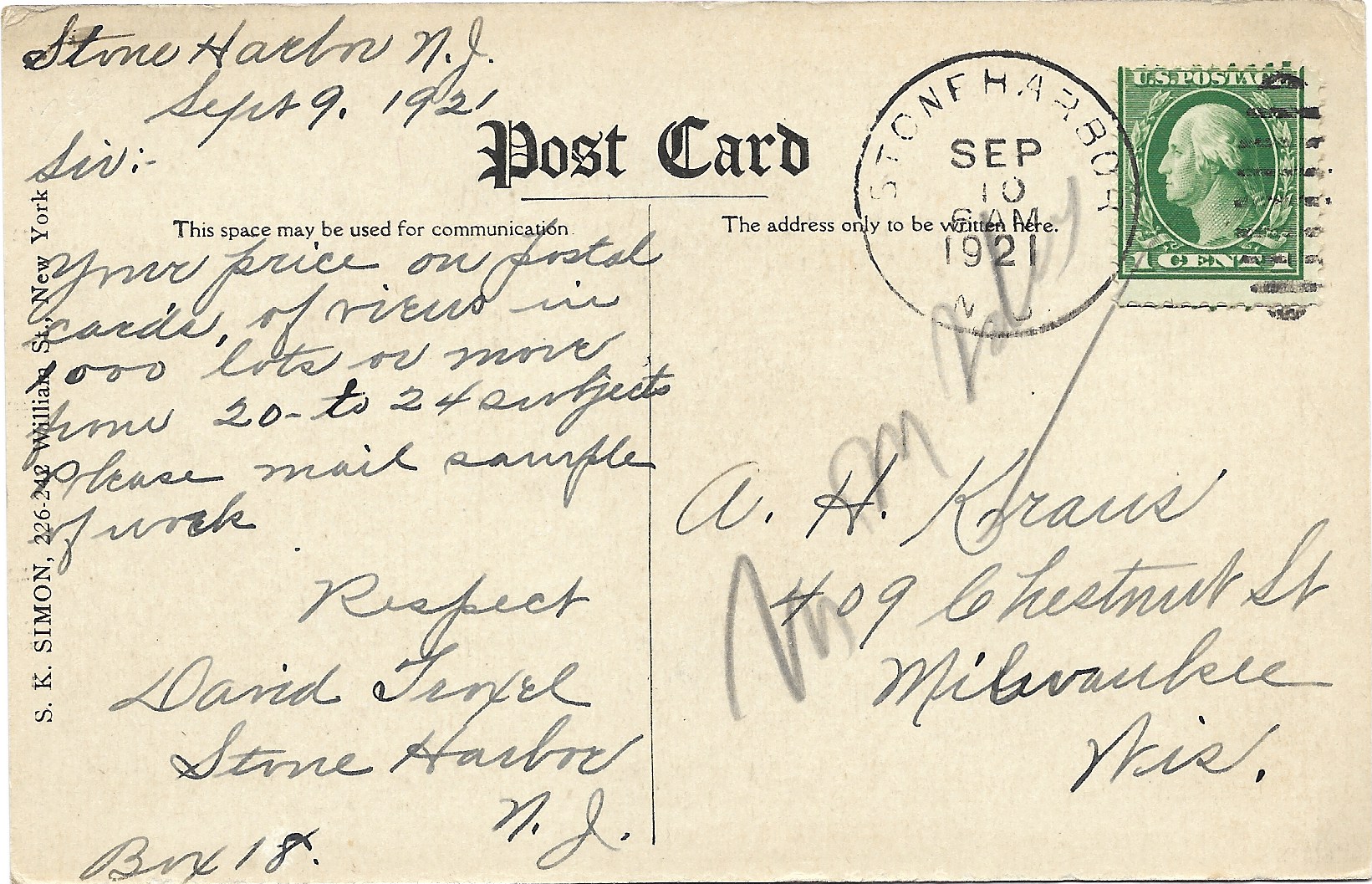 Looking for an item like this at countless collectible post card shows and the notable internet auction platform searches over the years was like looking for a needle in a haystack.  It took me some 60+ years of searching and collecting post cards to be able to garner this very special find.  That is why it is always advisable to examine both sides of a post card as one just never knows what is to be found.  What is remarkable here is that Stone Harbor resident and merchant David Troxel himself actually penned, signed, stamped and mailed this very post card dated Sept. 9, 1921, addressing it to a producer and printer of post cards located in Milwaukee, Wisconsin.  We can readily see viewing this second image that Troxel requested a "price list on postal cards in 1,000 lots or more from 20 to 24 subjects" and asks to also receive samples of work be mailed to him for his consideration.  Troxel's mailing address at that time was given as "Box 18, Stone Harbor, N. J".  In my view this particular post card is very important and serves as a milestone because it marks the exact time when David Troxel became interested in producing and selling picture post cards of various Stone Harbor scenes in his own store.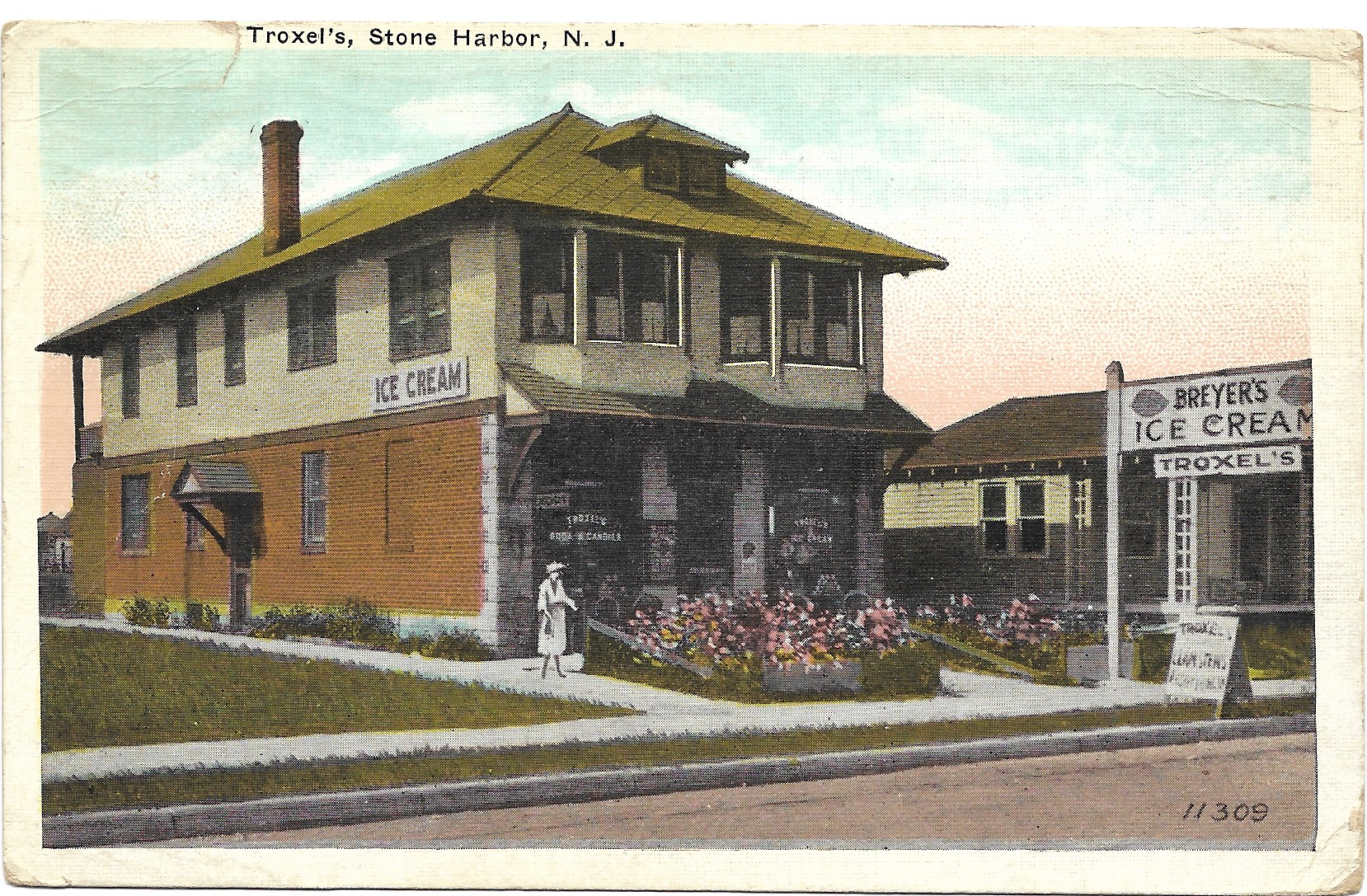 The second post card depicted here also has an interesting connection between its sender and Troxel's store.  But we'll get to that shortly.  This nice color view shows Troxel's store with prominent Breyer's Ice Cream signage out front as well as on the side of the building.   Now that we know about Troxel's inquiry for information and details regarding his expressed interest to sell picture post cards on September 9, 1921 (referring to the previous image), we can see evidence that David Troxel has in just 10 months time set his new sales plan into action.  By the time this second post card was mailed as the JUL 13, 1922 postmark attests, we can see that David Troxel at this point was now in the business of selling post cards as well as promoting his very own business establishment by featuring his own store as shown in the picture on this particular post card.  And I might add, it won't be the last time that his store appears centrally featured on some of his later published post cards.  In fact, this article will even present several more such examples of Troxel's store being prominently featured on Troxel printed post cards, so be on the lookout for them.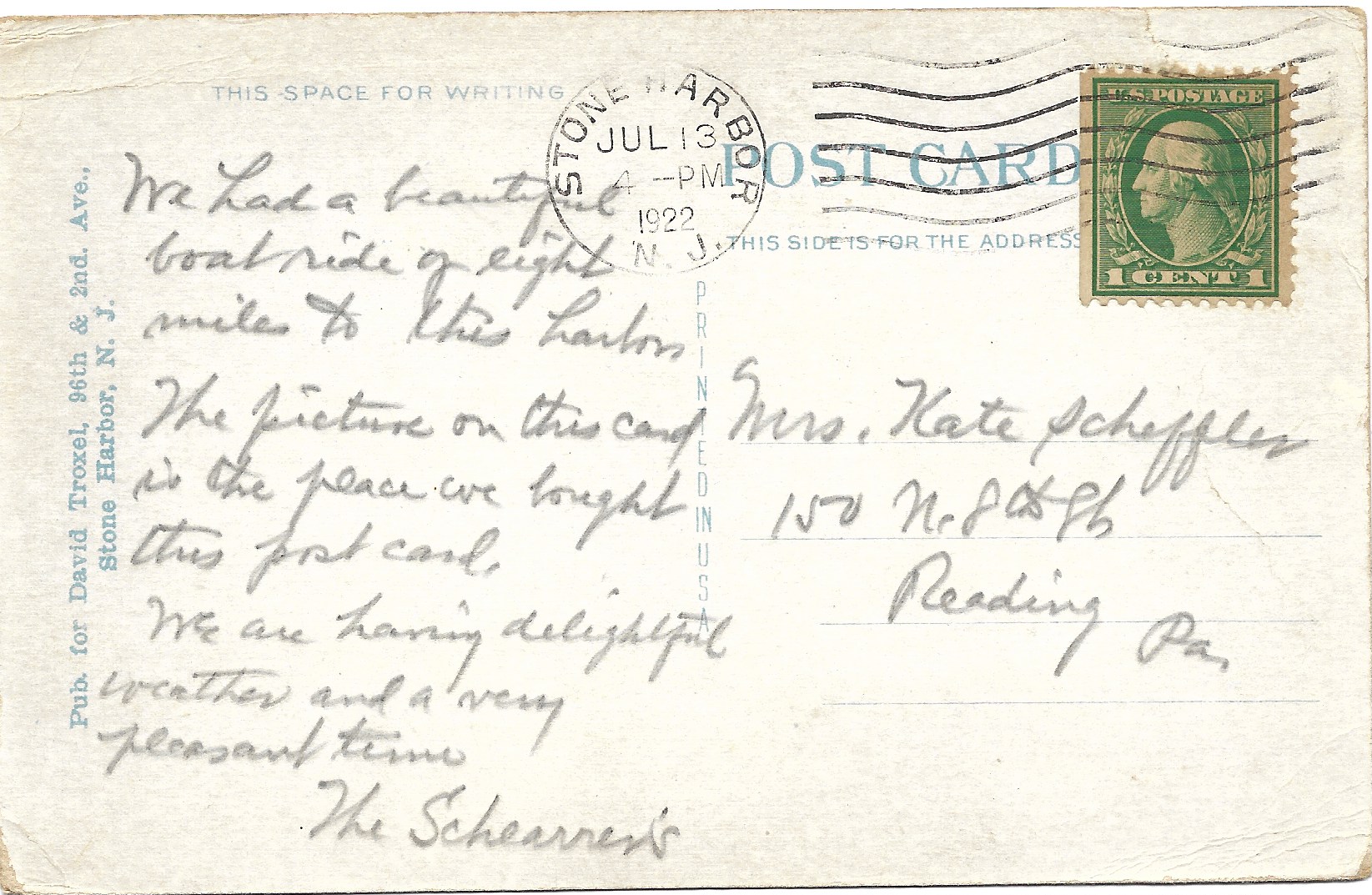 Now that we have flipped the second post card over, we can initially see 2 things that are important as a basis for crafting this very article.  First, we notice on the far left side of the back of this card the following inscription in blue ink: "Pub. for David Troxel, 96th & 2nd Ave., Stone Harbor, N. J."  What's more, we also see the sender's hand-penciled message is also relevant as it states the following:  "We had a beautiful boat ride of eight miles to this harbor.  (Perhaps this might suggest the family arrived in Stone Harbor by means of the popular Anglesea to Stone Harbor Ferry Service or by some other motor boat service such as that from Cape May Court House to Stone Harbor.)  THE PICTURE ON THIS CARD IS THE PLACE WE BOUGHT THIS POST CARD.  We are having delightful weather and a very pleasant time."  Here we have an instance where the writer indicates that this post card was actually purchased at Troxel's store.  Thus this item has another direct tie-in or relationship with the overall theme of this article about David Troxel.  Furthermore, I might point out that you should bear in mind that this building housing Troxel's store is about to undergo somewhat of a transformation: a two-story addition in the front will be built as we shall see in the next post card images.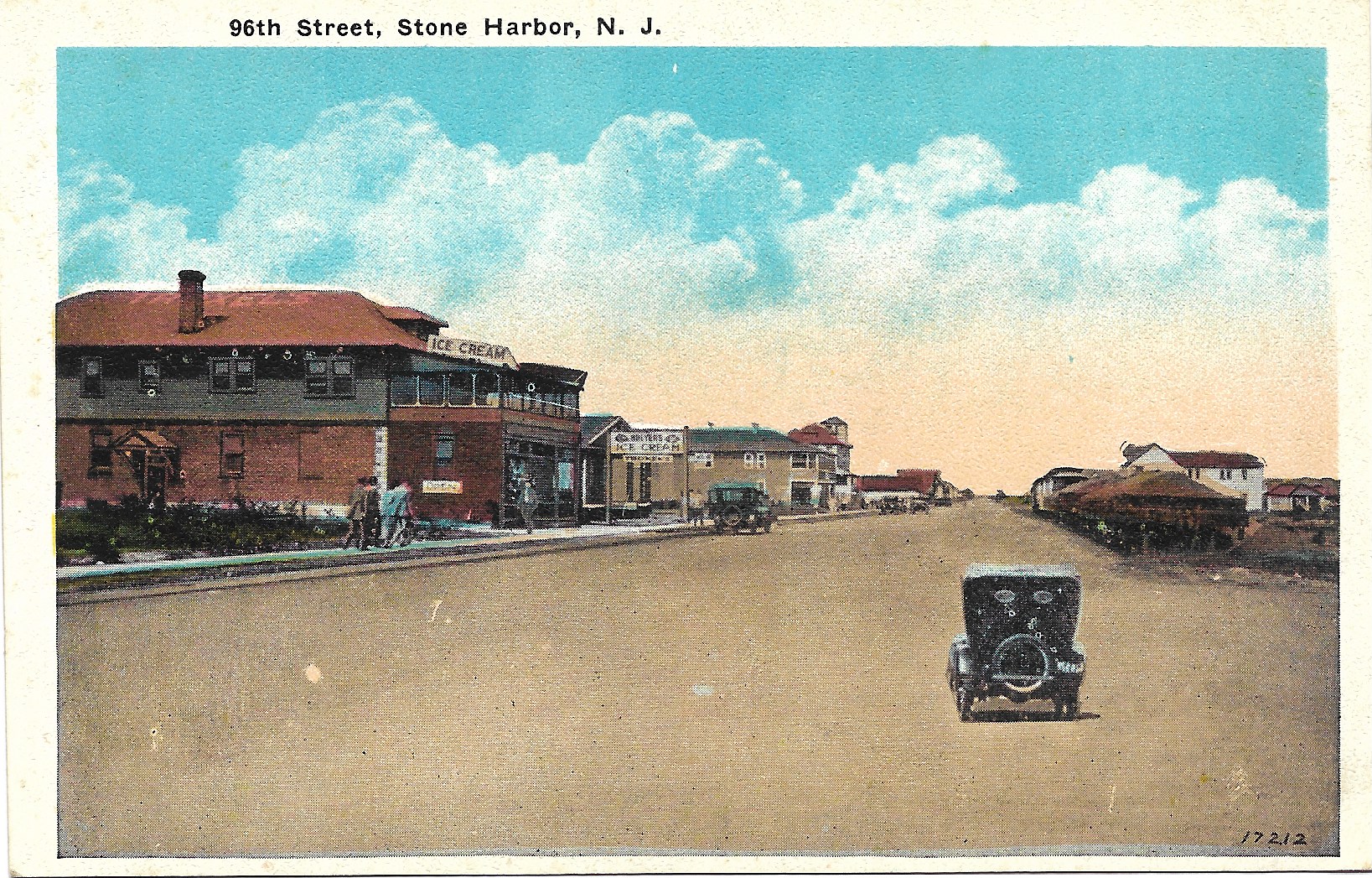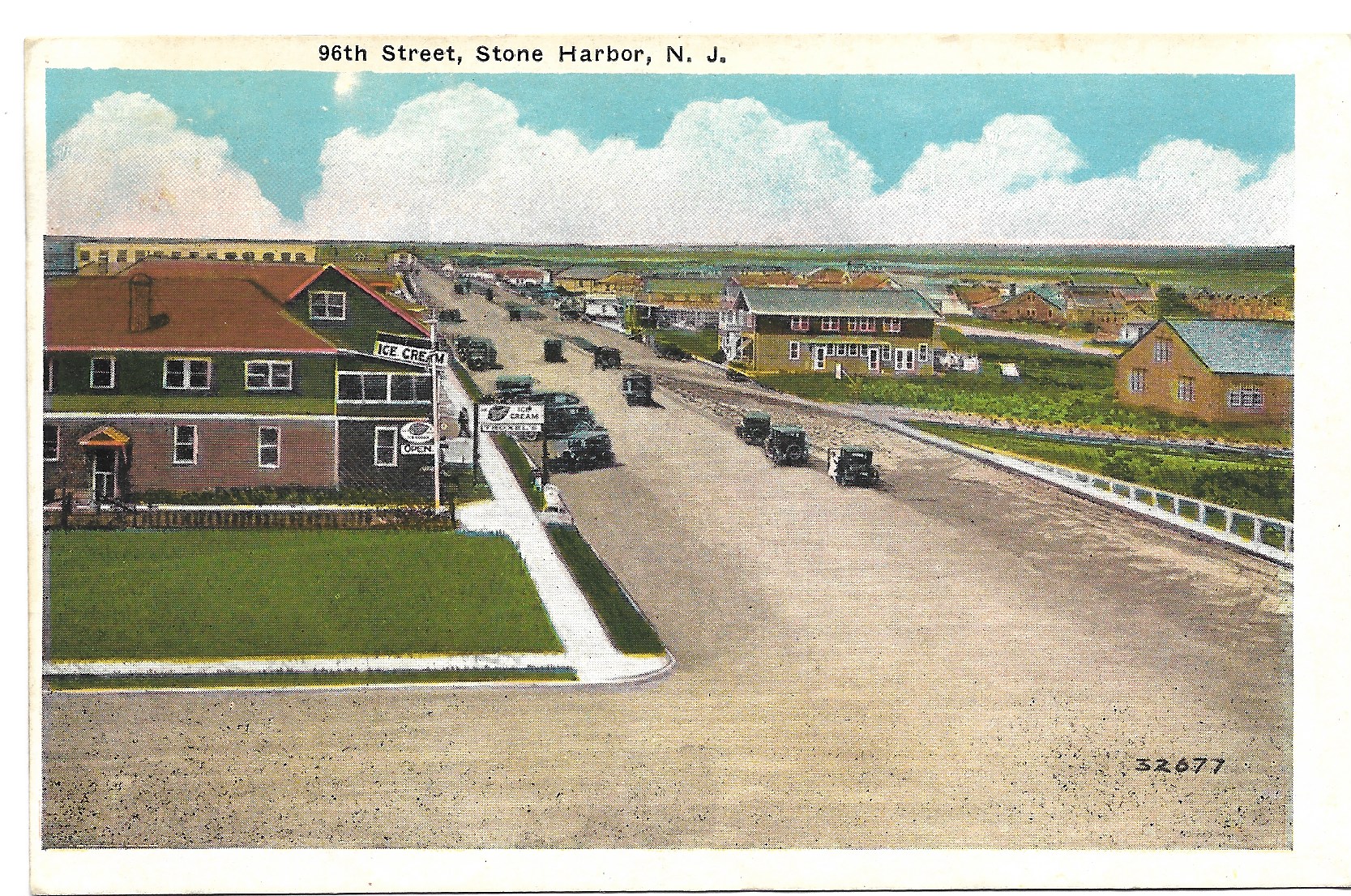 These next two charming post cards, again bearing the publisher David Troxel's name and address on the back, reveal that some significant construction work has been going on at the Troxel variety store.  These views taken around the early to mid-1920s clearly show us both first and second floor additions.  The building has been expanded and extended out much closer to the sidewalk and street (perhaps jokingly we might conclude that Troxel needed more space for all those post cards that he was now offering for sale) for added capacity and a second story enclosed porch has also been added.  The 96th Street business district is now starting to show more signs of development.  Before moving on, please be sure to notice the towering Shelter Haven Hotel in the background at Third Avenue.  Do you also see several railroad cars including a couple of flat cars parked on the tracks on the right or the north side of 96th Street?  In due course and by the 1930s, all train service would be discontinued and those railroad tracks running down 96th Street from the mainland would be removed marking the end of train and trolley service into Stone Harbor.  Of course, there are the vintage automobiles which were starting to make their appearance and becoming more common on the streets during the decade of the 1920s.  Finally, locate the empty lot of land with green grass on the corner directly next to Troxel's.  That very site would not be developed until the current Post Office was built there in 1957.  Without a doubt, these two scenes are classic!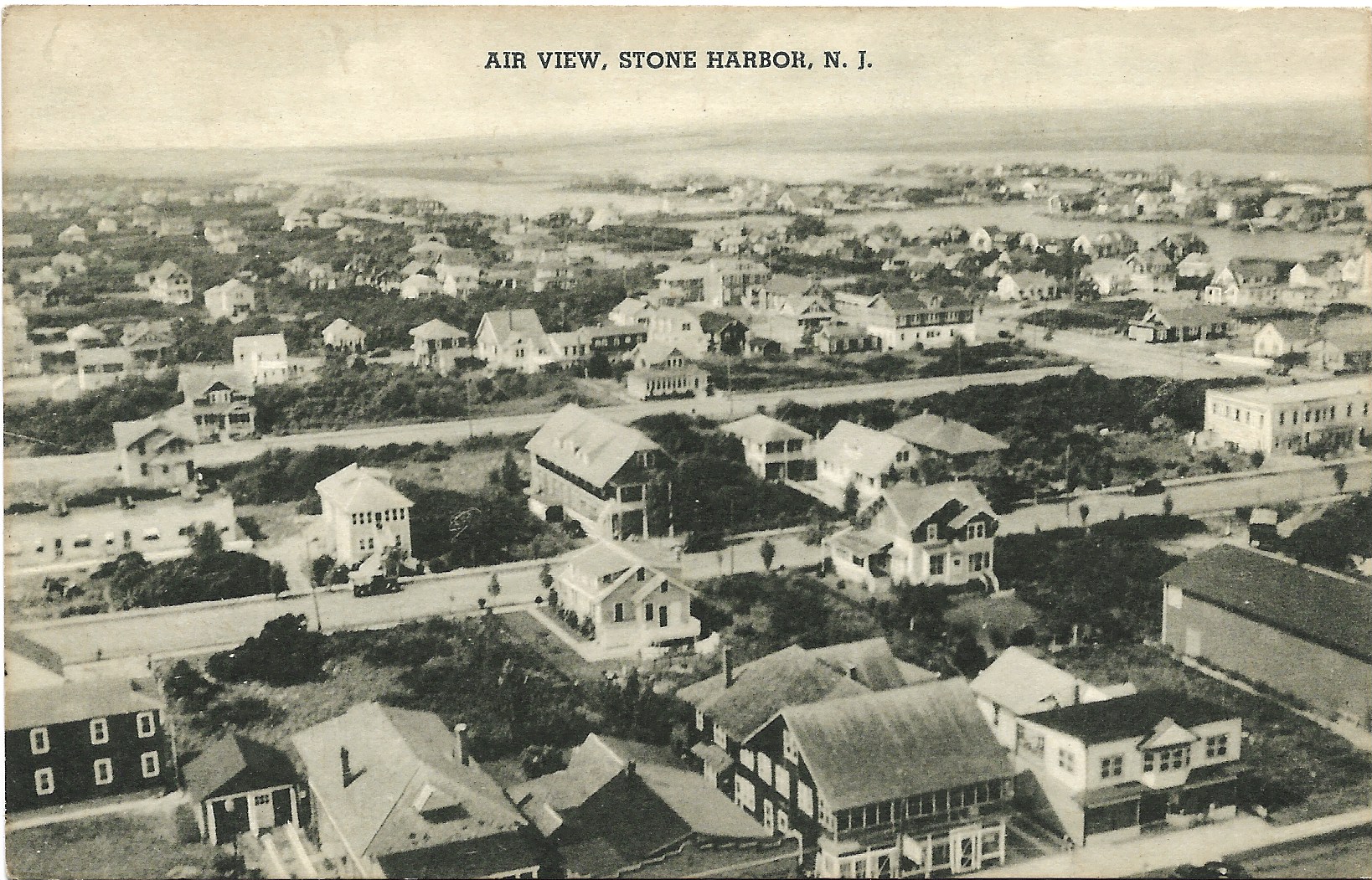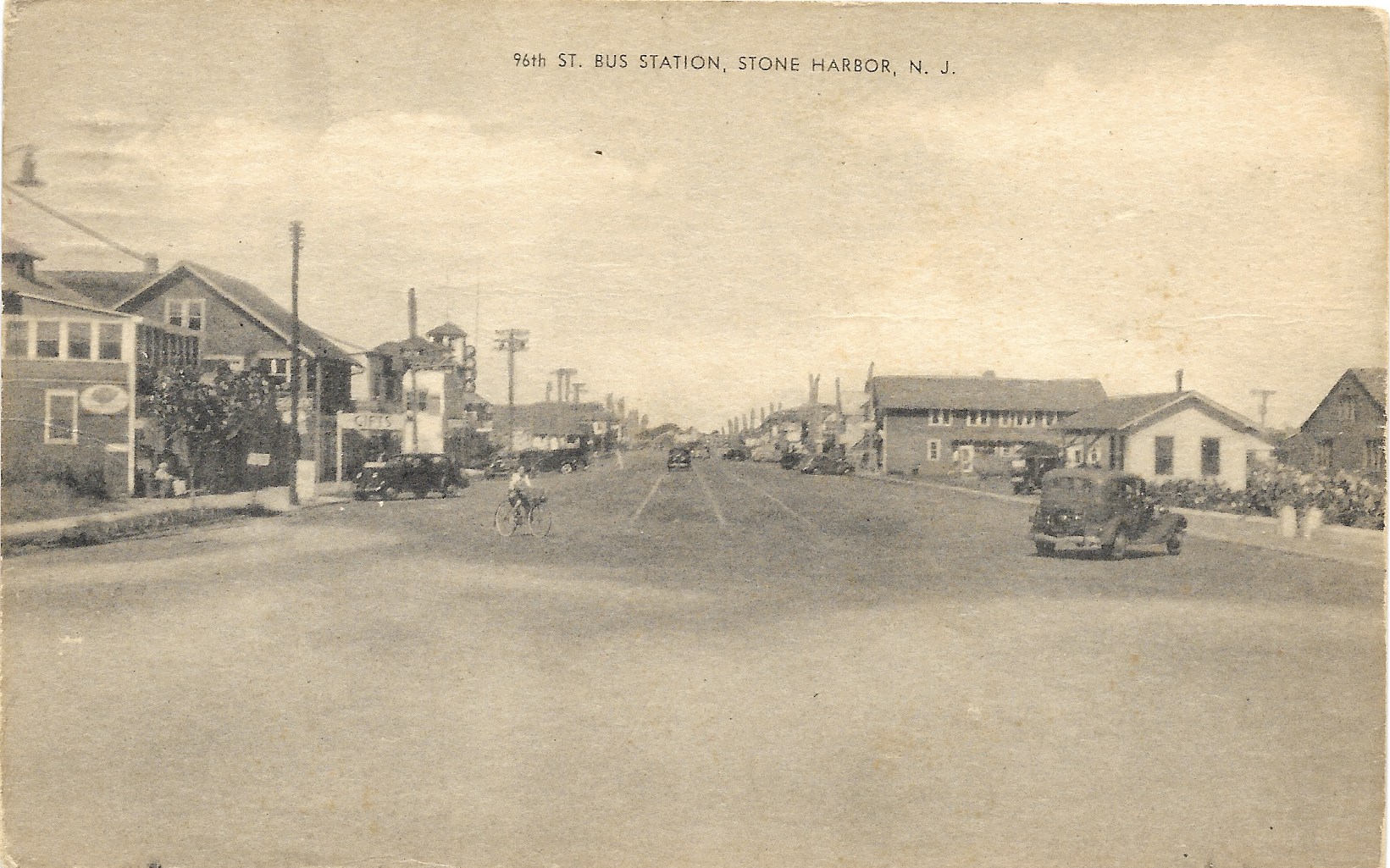 These next 2 circa 1940 post cards in black and white show just portions of Troxel's store.  Can you now locate that store in both these scenes?  The aerial or air view,  taken from the water tower across the street and postmarked JUL 26, 1942, shows not only Troxel's garage in the rear of his property as well as fewer green spaces generally speaking as more people were building homes, apartment houses and business establishments in the post-economic depression era of the 1930s.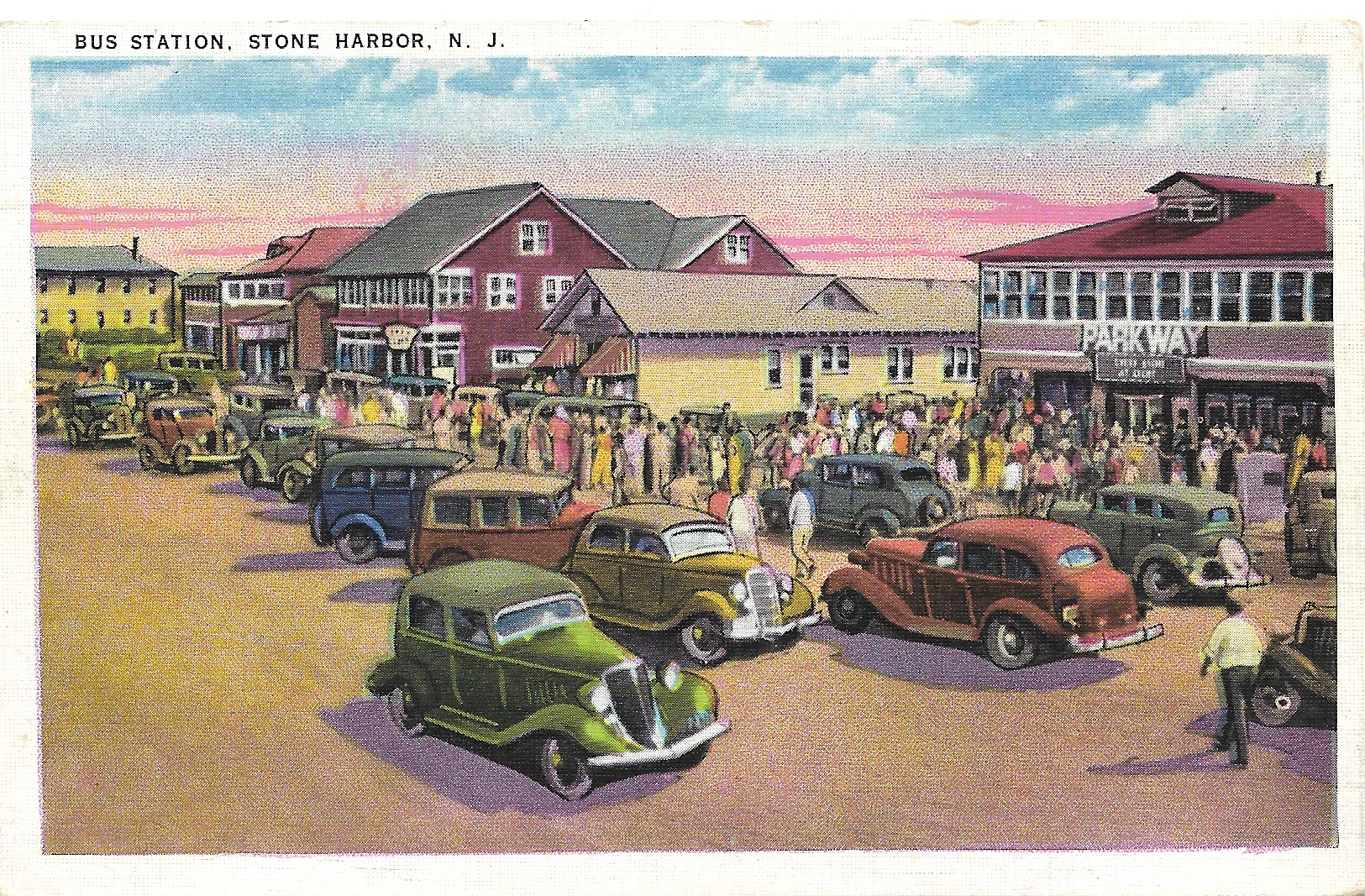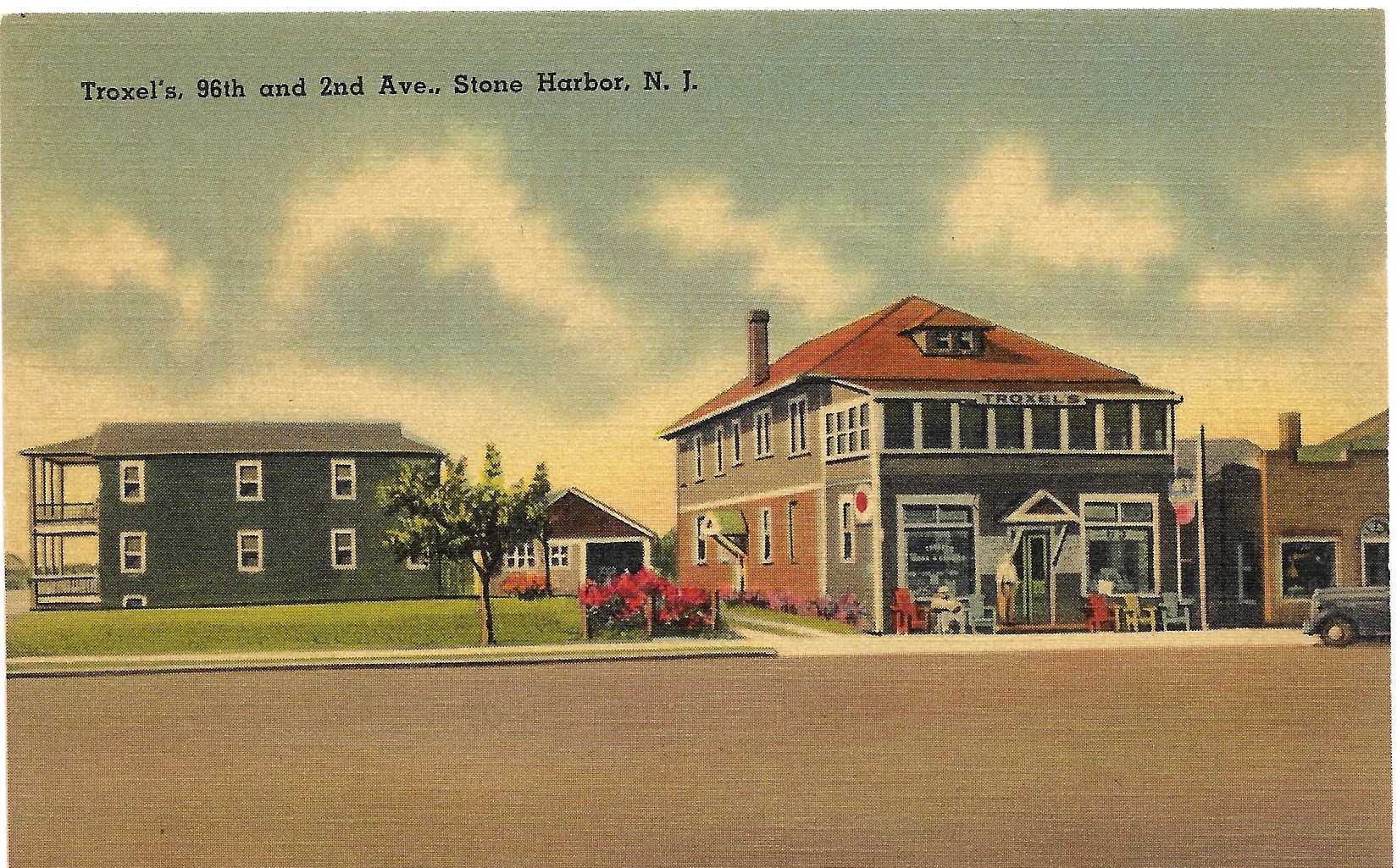 As we enter the age of what were termed linen or textured post cards, these 2 images in vivid color show a portion of 96th Street between Second and Third Avenues.  Both these cards bear the name of the publisher, David Troxel on the back and were printed around 1940 and 1950 respectively.  Looking at the second image here, could it be that David Troxel, store proprietor himself, just might be one of the two men either standing on the raised porch near the entrance or seated in front of Troxel's store?  I for one am thinking that David Troxel may be the gentleman standing.  Notice also the garage belonging to Troxel and once more that vacant lot of land immediately next door.  As we shall see next, that prime piece of property may not be vacant for much longer.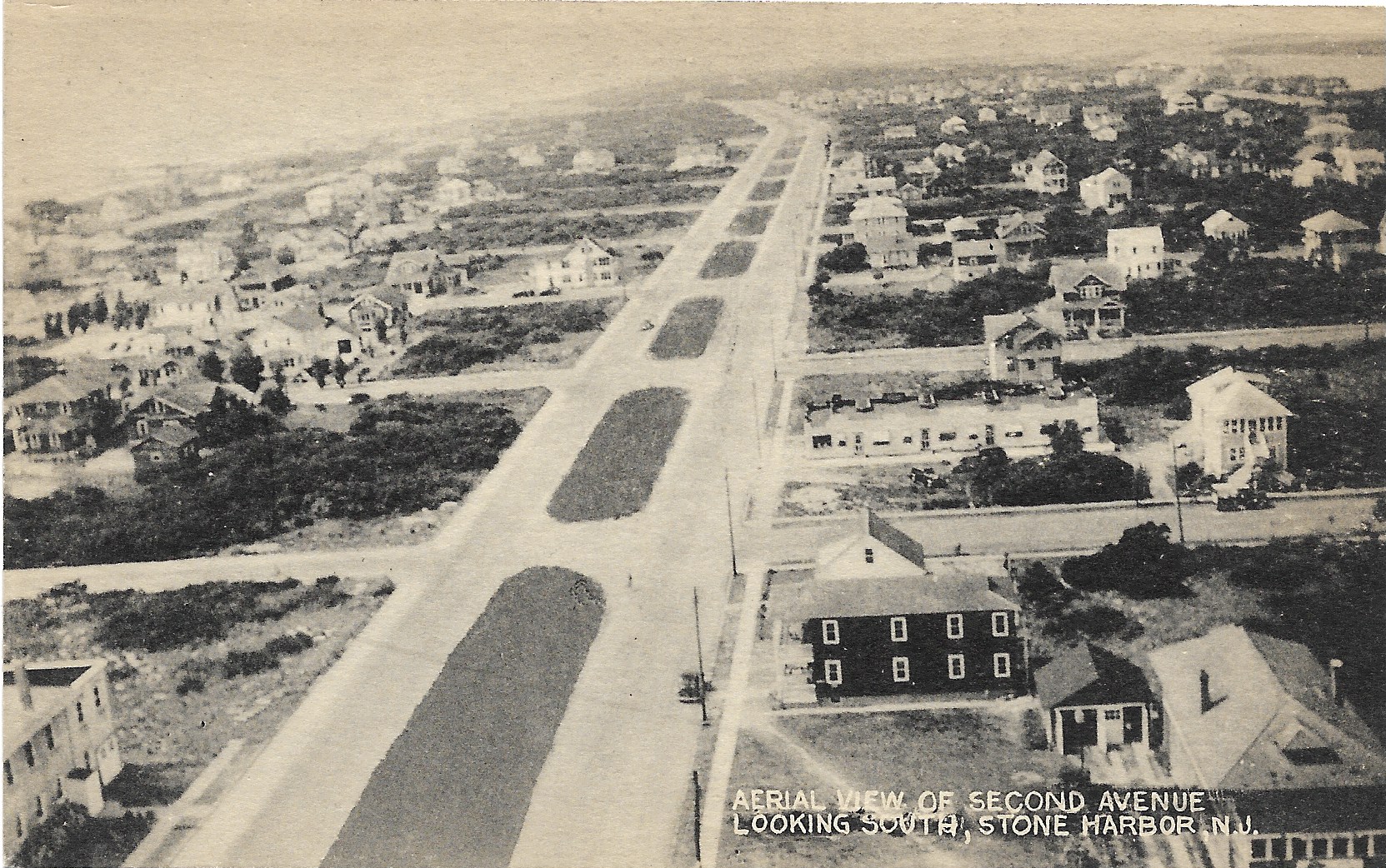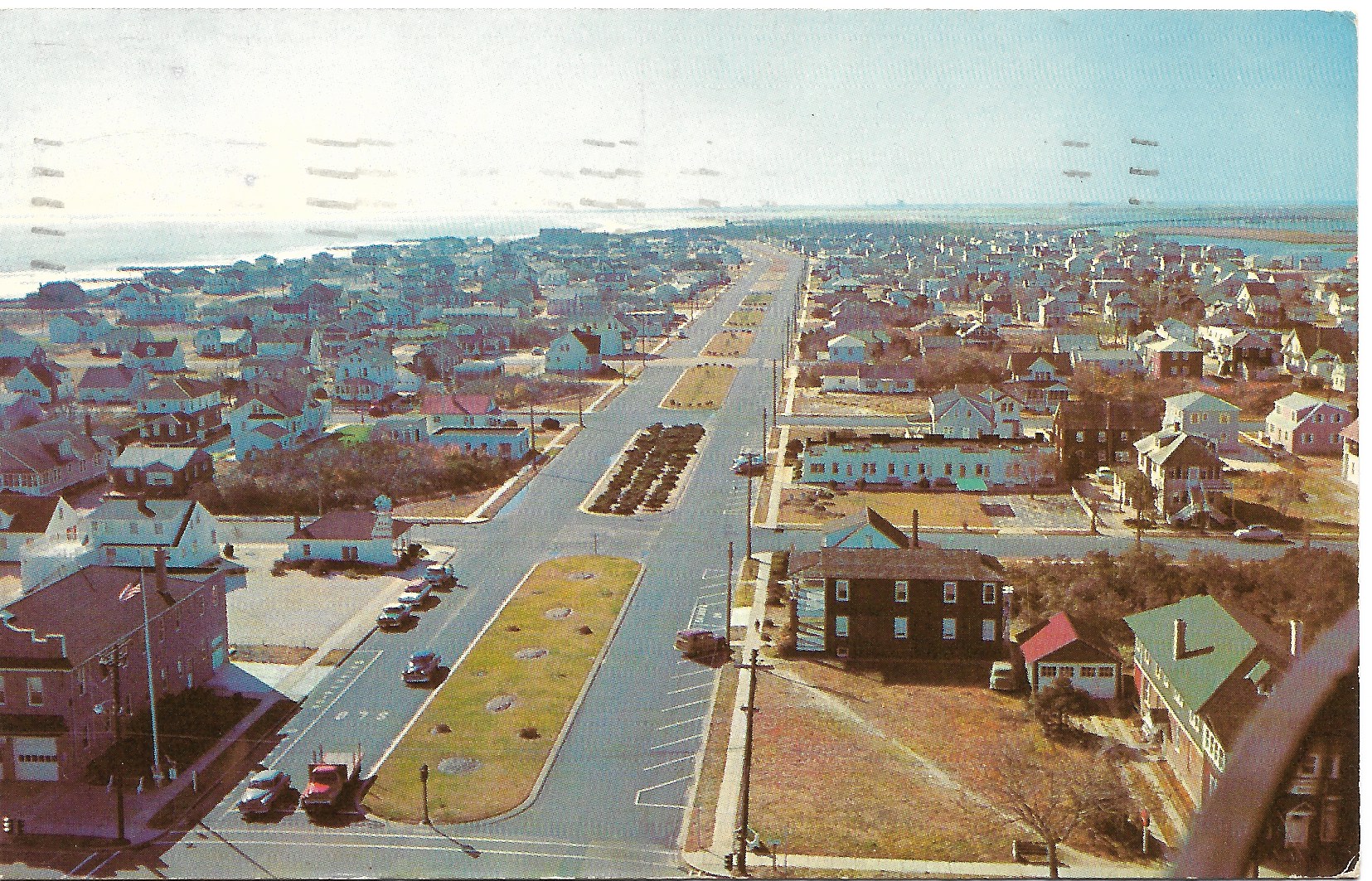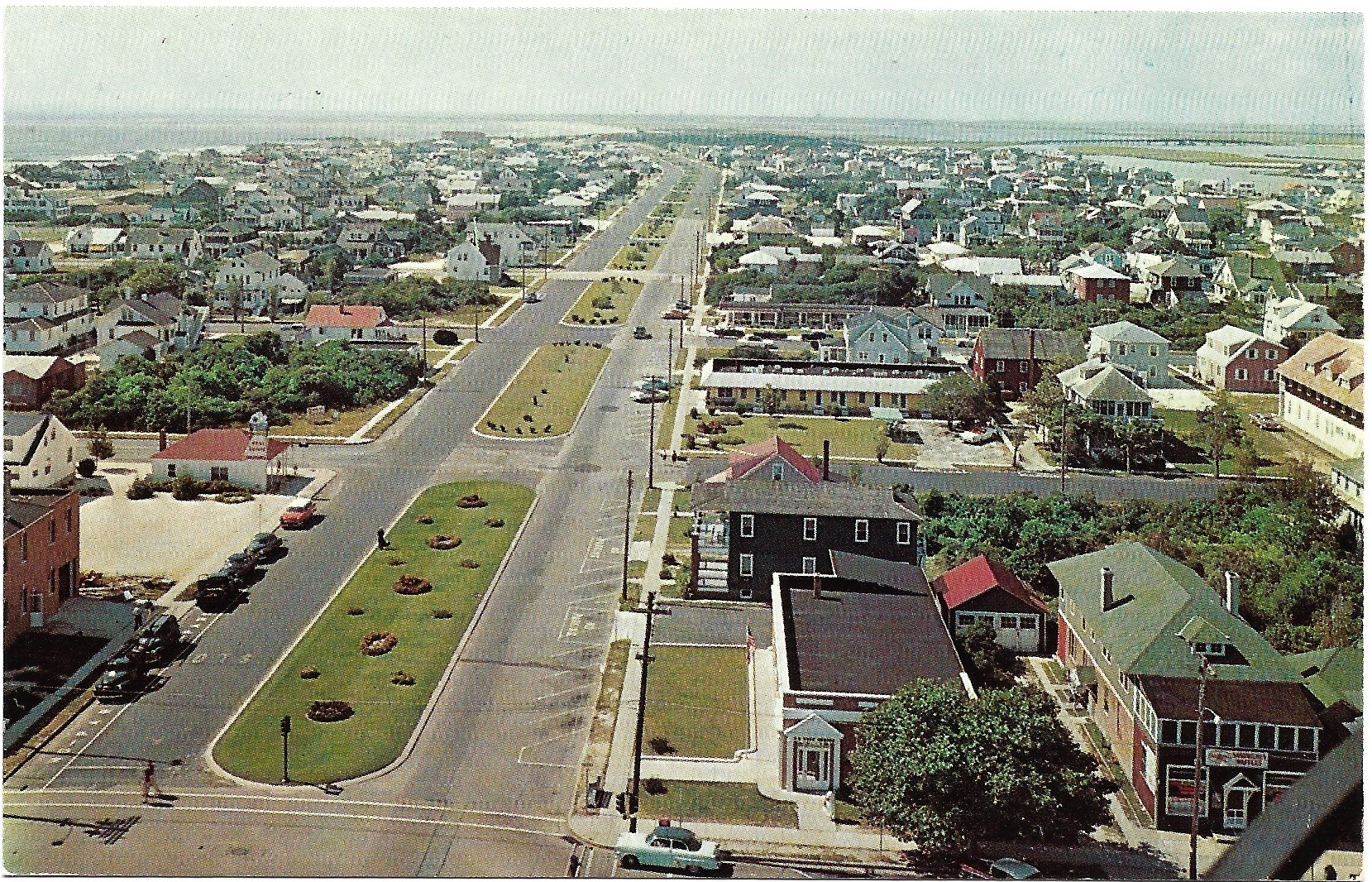 As this account draws to a close, presented here are 3 post cards depicting essentially the same basic view except they were taken at three different times but from the same vantage point beginning first during the early 1940s, then in the mid-1950s and lastly around 1960.  All 3 images are aerial views of Second Avenue looking southward and were taken from atop the town water tower just across the street.  In fact, in the lower right corner on the last 2 cards you can see a portion of the iron railing that encircled the water tower.  Also in the lower right corner portion of each of these cards, you should even be able to once again locate Troxel's store and garage.  Over time, the grassy islands in the middle of Second Avenue would be planted with flowers and would be quite beautiful when they were in full bloom.  The vacant grassy lot next to Troxel's with a walking path or shortcut traversing across it would finally be developed and a new and more modern U. S. Post Office building would occupy that space as you can readily see in the last image.  The Fire Station is also just partially visible in the lower left corner of each of these 3 scenes.  Finally, carefully studying these 3 post cards it is apparent that during this approximately 20 year time span the land in the background or the southern part of Stone Harbor was undergoing rapid development as many more residential structures are evident.
So there you have it in a nutshell.  We have presented numerous post card images, all featuring Troxel's variety store over a 40 year period of time, and once more we must extend our appreciation to David Troxel for being a trailblazer and creating so many beautiful picture post cards which have served as a very important visual historical record of Stone Harbor, New Jersey.