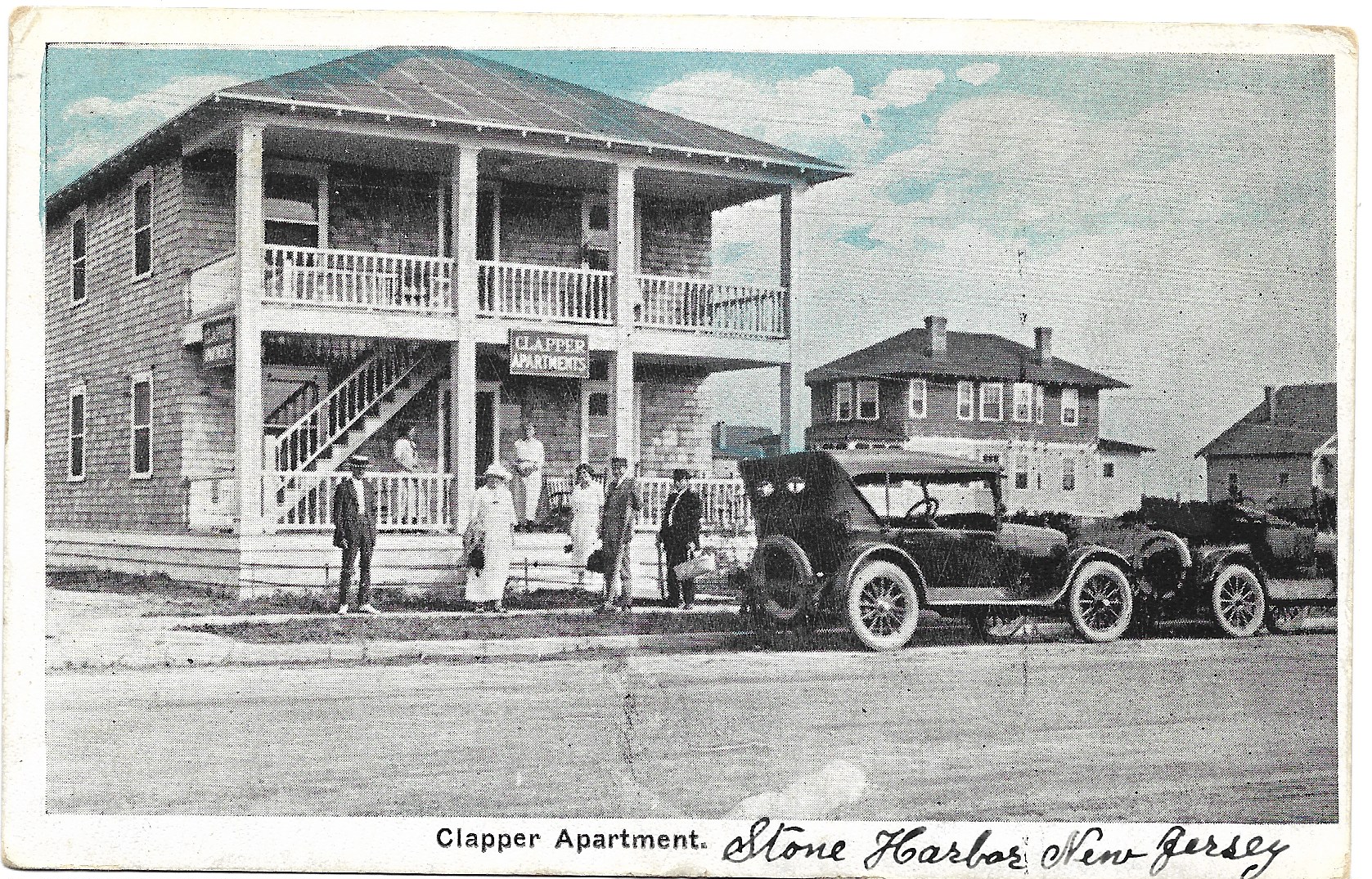 This vintage post card mailed from Stone Harbor, N. J. in 1924 has us all stumped!  Therefore we are reaching out to all our readers to request information about this two-story structure carrying the name, CLAPPER APARTMENTS.
It would appear that this scanned image depicts the occasion of "check-in day" when several guests were arriving for a stay at the Clapper Apartments.  The two very early 1920s vintage automobiles add a very nice touch to this scene.  The two types of autos shown here depict a classic 5-passenger touring sedan in full view accompanied by a roadster with top down.  As you can readily see both vehicles have spare tires mounted on the rear as in those days it was very common for tourists venturing to the Jersey Shore by car to incur or experience a flat tire due to the conditions of the early roads.
This particular post card might very well have been produced for publicity purposes and provided as a courtesy by the proprietors of the Clapper Apartments primarily for the convenience of their guests.  The very nicely penned notation in black ink on the lower-right border on this card states "Stone Harbor, New Jersey." It is worth noting that someone, perhaps the proprietors  themselves recognizing that something was missing and needed to be added, actually took the time to have the aforementioned four words very carefully hand-written on the front of the card in a lovely penned style or script.  Perhaps the lack of the town's name being omitted was an oversight as most all post cards customarily show the name of a town or city and the state associated with the scene depicted. 
The sender of this item took the time to write a personal message in pencil (which was quite common back then) on the reverse side which was designated for correspondence.  Here is what was inscribed by the sender:  "This is the place where we are staying over Labor Day.  Clapper Apartment.  So far, so good.  Let me hear from you.  Miriam"  This card is postally used, bears a Stone Harbor, N. J. Post Office postmark dated SEP 1, 1924, and was addressed to a "Mr. Ted Azar, P.O. Box #2401, Phila., Pa." 
That's about all we know at this point in time.  In fact, I have yet to meet anyone who collects Stone Harbor post cards who even recollects having seen let alone possess a copy of this image.  Of the mere handful of publications or books available showing Stone Harbor post card images, none of them show this particular image of the Clapper Apartments.  Therefore, does anyone even recognize this apartment building or perhaps either of the other two houses shown in the background?  If so, tell us anything you know and perhaps someone just might be able to pinpoint or provide us with the actual location of this very establishment that offered apartments for rent to visitors in the early 1920s.  In addition, does anyone possibly recognize the names of either the sender or the recipient of this great post card?  Thank you for your attention to this request!