Due to popular demand, the 2021 Art & Writing is being extended until October 1st, giving you even more time to submit your beautiful Art and wonderful Stories.
Click here to see the entries for 2021 !
Art & Writing Contest – 2021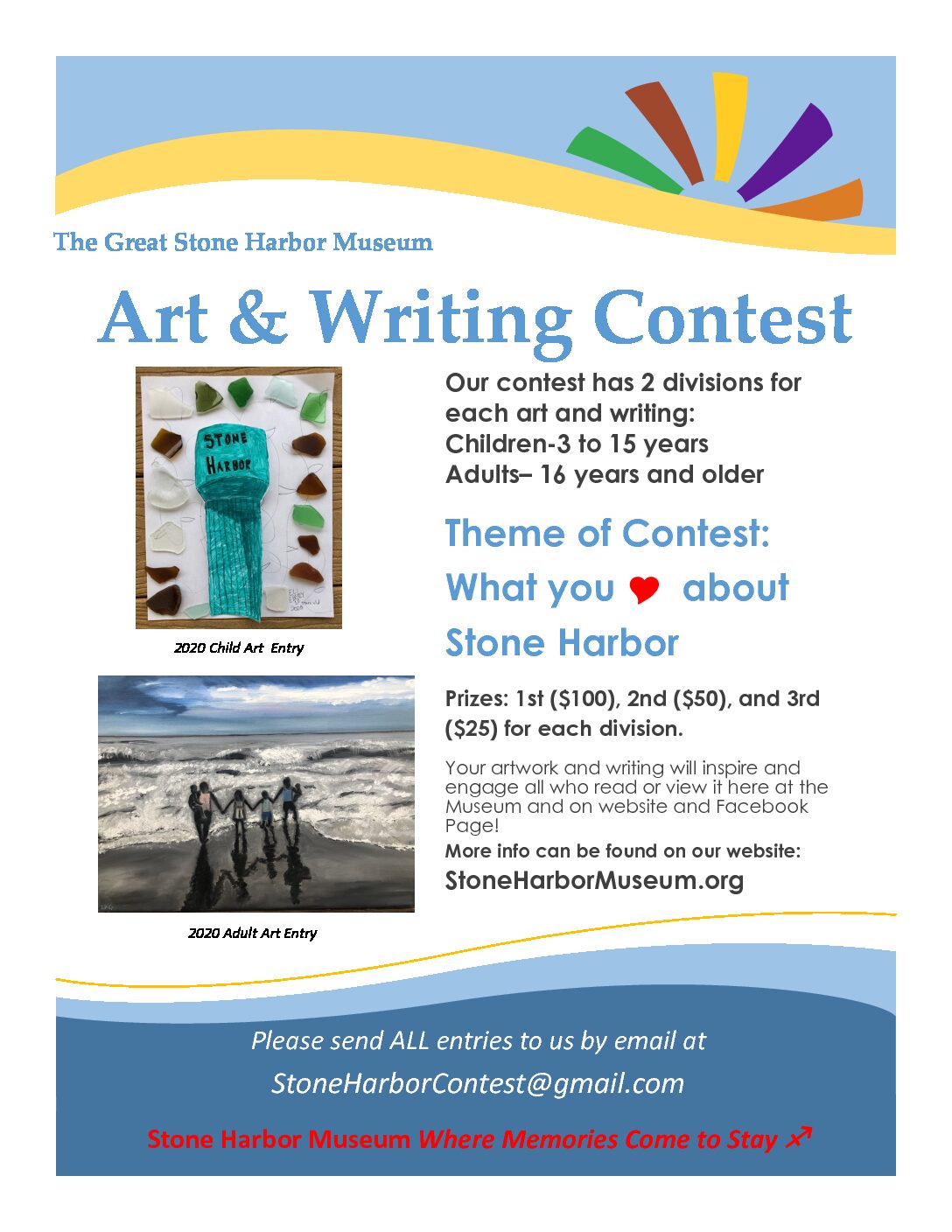 After our first successful Art and Writing contest last year, The Stone Harbor Museum is repeating the contest. We are looking for a few more good stories and images that are there in your head and we would love to have you share them with the museum and other lovers of Stone Harbor. This is a contest for young and old alike. Let the words pour out, polish them to a fine glow, send them in and let them be admired. Or create your art in your favorite medium (except photography or video), take a photo of it and send it to Stoneharborcontest@gmail.com. All of the entries will be posted weekly on our website to be shared with your family and friends at StoneHarborMuseum.org
Win prizes, win recognition!
$100 for First place, $50 for Second place, and $25 for Third place in each of the following four categories: adult and child art and adult and child writing.
On August 11, winners will be announced and cash prizes awarded at the Stone Harbor Museum
When the contest is over, all of the entries will be used to create a book that will be shared with participants and put on display at the museum and in the local library.
Directions and Rules for the Writing Contest:
There is no entrance fee.

This contest is about being creative, having fun, and sharing our love of Stone Harbor.

All forms of art are acceptable except photography and video. The art should be signed. For the writing contest all forms of prose and poetry are acceptable. We recommend a length of 100 to 800 words.

All submissions must be sent in digitally to the following email address: Stoneharborcontest@gmail.com.

Your writing should be submitted as a Word document or in an easily translated format.

All entries should have a title at the beginning and your name at the end. Please indicate if you are an adult (age 16 and up) or a child (age 3 to 15). Entries for the kids contest must include the artists first name and age on the bottom of the art, as these will be displayed on the web site.

Please submit only one entry per person.

Entries will be accepted from June 1 to August 1.
Judging and Voting:
Judging will be done by 3 local writers and 3 local artists. Judges will select ten entries which will be displayed in the beginning of August. From these ten, six winners will be chosen (first place, second place, and third place) for each category.
The first place winners from each category will be invited to read their entries during an August 11th gathering at the museum. If the writer is not available a designee can do the reading.
Usage Rights:
All writers and artists who submit their work for the contest agree that the Stone Harbor Museum has to right to use that writing for display, marketing, and promotional purposes, and that it will be archived for use in the future. The copyright remains with the author.