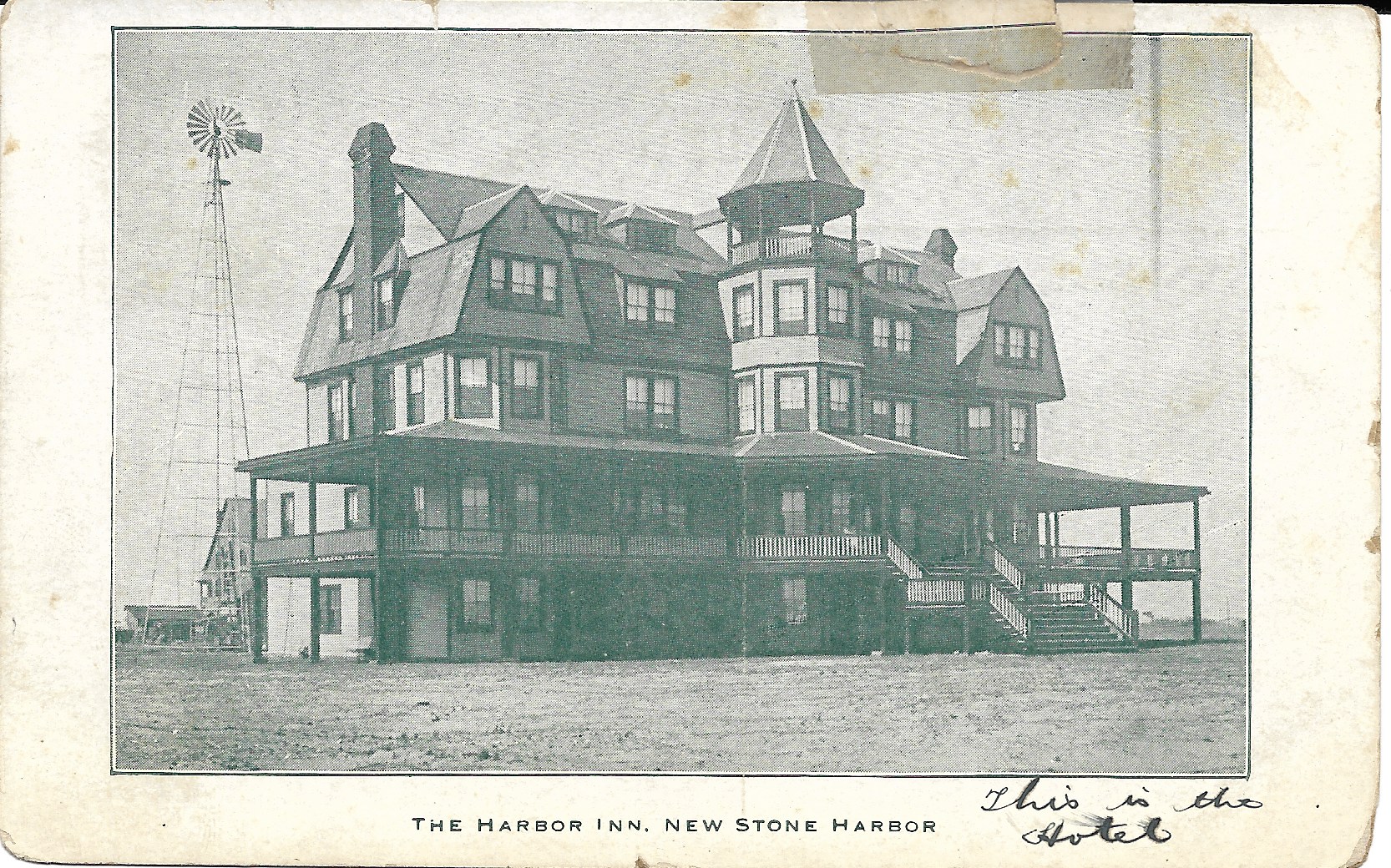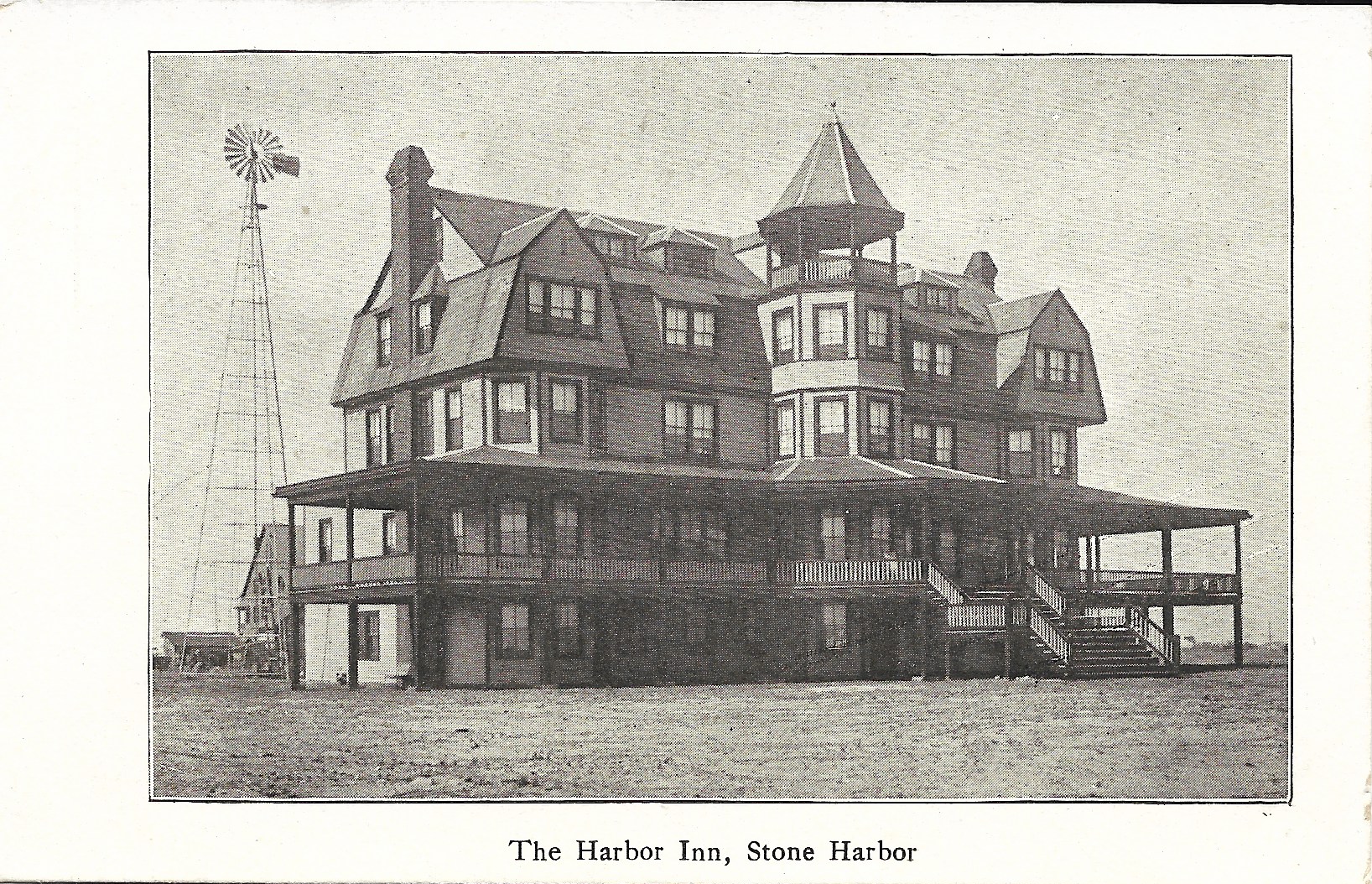 In the very early stages of its development, the Risley brothers determined that steps must be taken to provide the "new" seashore community of Stone Harbor with an ample water supply.  We also know that by 1910 gasoline engine powered water pumps started replacing the common windmill means of drawing ground water to the surface.  It was then no surprise that eventually city water supplies were soon being introduced to replace the private wells such as for example the one that had been functioning and serving the Harbor Inn over near 80th Street. 
The two post cards just presented both show the landmark Harbor Inn with a very tall pumping windmill atop a steel tower for drawing water to the surface just for the Harbor Inn.  The first of these two post cards was mailed and bears a 1908 Stone Harbor postmark.  The message side contains the following correspondence: "From Helen Salem.  Much love and wishes.  This sent to you from New Stone Harbor."  This card was also personally addressed to: Miss E. Alsop, Jackson School, 12th & Federal St., Phila., Pa."  The second and slightly different post card while showing an identical view of the Harbor Inn with a windmill while not postally used was published a few years later in the decade of the 1910s.
So what we do know is that in the winter of 1908-09 an artesian waterworks system was built at Stone Harbor with a well that tunneled to a depth of 850 feet and accessed a geological water-bearing formation known as the Kirkwood Aquifer.  The location for the town's first pumping station and accompanying standpipe was at 96th Street and Second Avenue.  Stone Harbor's original vertical standpipe stood 100 feet high and was ten feet in diameter and contained 60,000 gallons of water.
This brief written account will utilize a representative selection of images to highlight some key moments in the history of Stone Harbor's waterworks.  In order to accomplish this overview, vintage post cards and some very old photographs will be presented and each image will be accompanied by some relevant background information.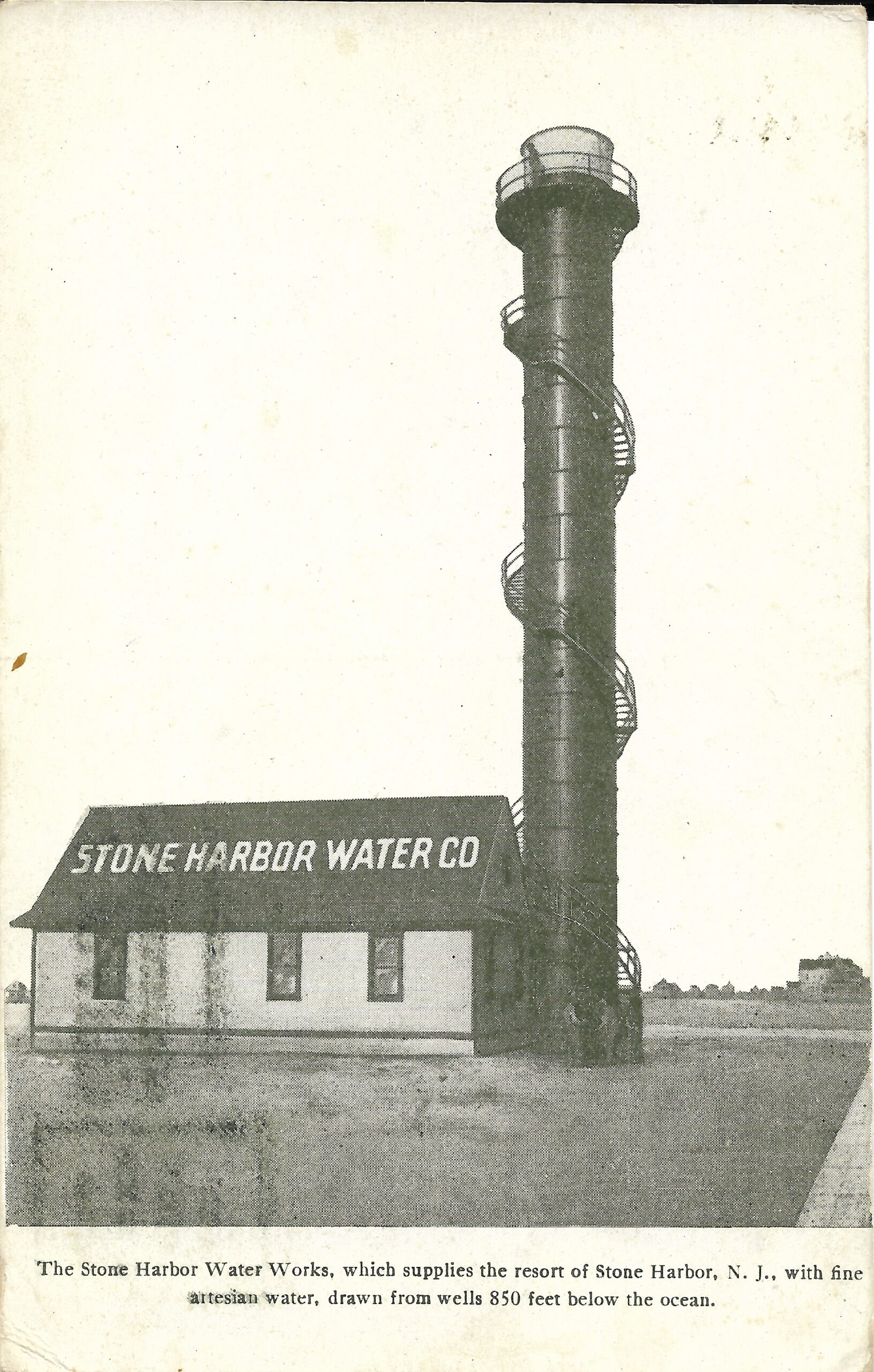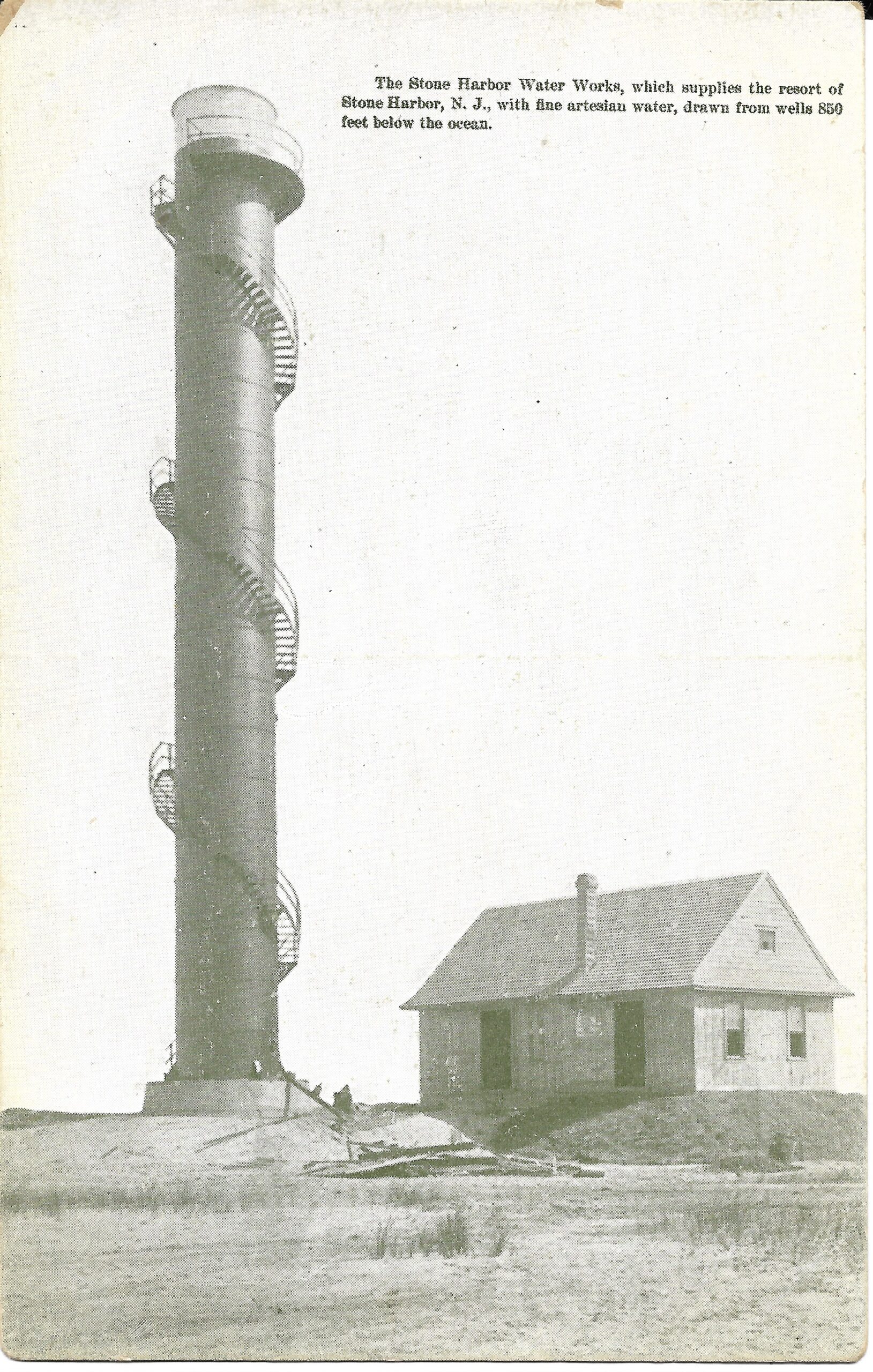 Shown here initially are two vintage post cards, the first of which was postmarked in July of 1911, and both items are depicting the newly completed water works, but from two different vantage points.  Notice the circular stairs ascending around and to the top of the 100 foot standpipe in each of these images.
These next three old photographs reside in the archives of the Stone Harbor Museum and permission has been given by club member Jim Talone to include them as part of this article.  I am grateful to have these images and thank the Stone Harbor Museum for making them available.  Henceforth, whenever photographic images belonging to the Stone Harbor Museum are utilized in this account, the initials or letters "SHM" will appear within parentheses.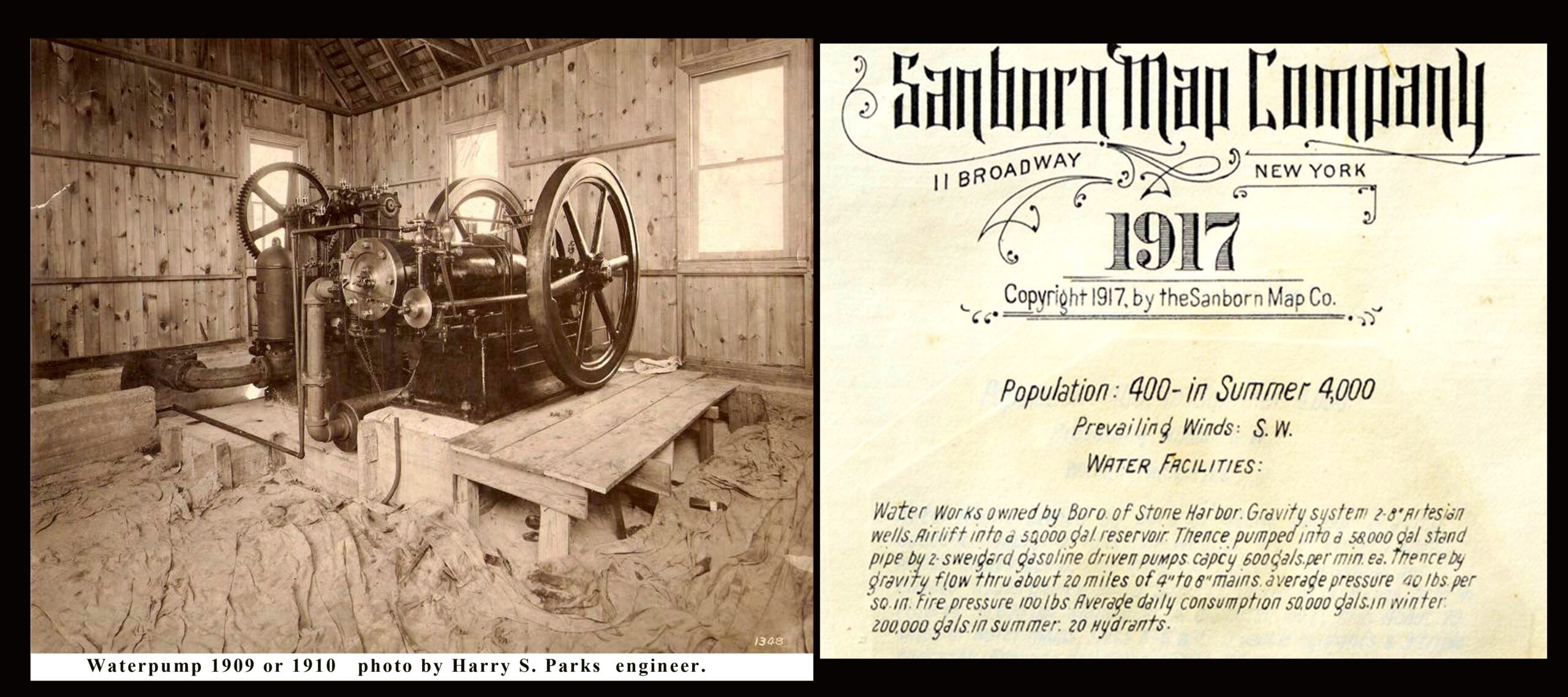 Here is a two-part image showing on the left side the interior of the Stone Harbor water pump house and the actual water pump that was placed into service in 1909 or 1910.  Notably this photo was taken by Harry S. Parks, project engineer.  The descriptive portion  accompanying this photo states some very useful information including some key systems specifications of the water facilities.  In order to facilitate the reading of this detailed information, I am transcribing it below to make it easier for the reader to see and understand.  (SHM)
"Sanborn Map Company / 11 Broadway / New York / 1917 / Copyright 1917 by the Sanborn Map Co. – Population 400 / in Summer 4,000 / Prevailing Winds: S.W. / WATER FACILITIES:
Water Works owned by Boro of Stone Harbor.  Gravity system 2-8" Artesian wells.  Airlift into a 50,000 gal. reservoir.  Thence pumped into a 58,000 gal. stand pipe by 2-Sweigard gasoline driven pumps: catchy 600 gals. per min. ea.  Thence by gravity flow thru about 20 miles of 4" to 8" mains.  average pressure 40 lbs. per sq. in.  Fire pressure 100 lbs.  Average daily consumption 50,000 gals. in winter: 200,000 gals. in summer: 20 hydrants".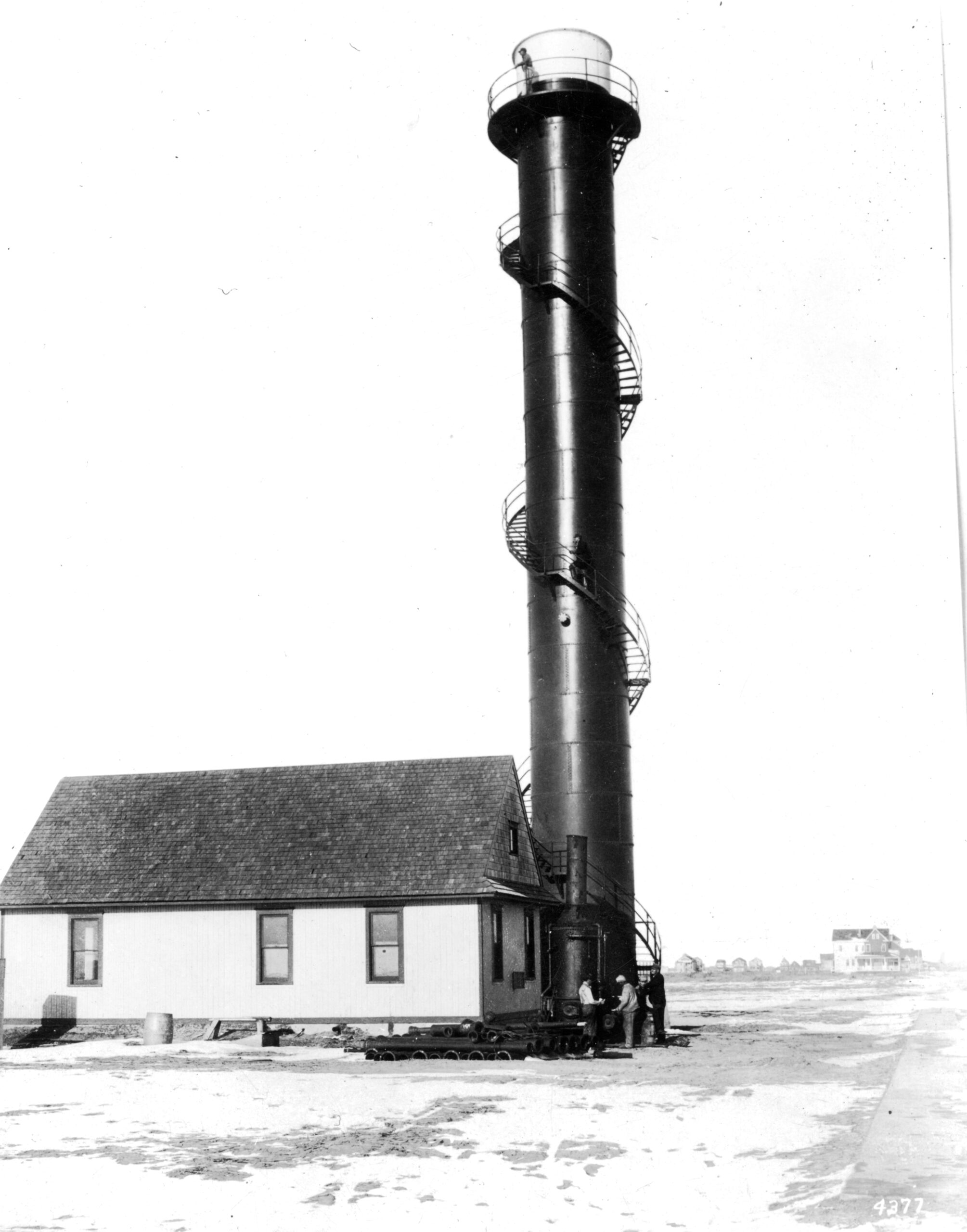 A photo from that period shows the pump house and standpipe and reveals five workers, three of whom stand at the base of the standpipe, another worker ascends the circular stairs about half way up, and a fifth workman is at the very top level of the standpipe.  At least a dozen or so houses loom in the distant background in the early north-facing view.  (SHM)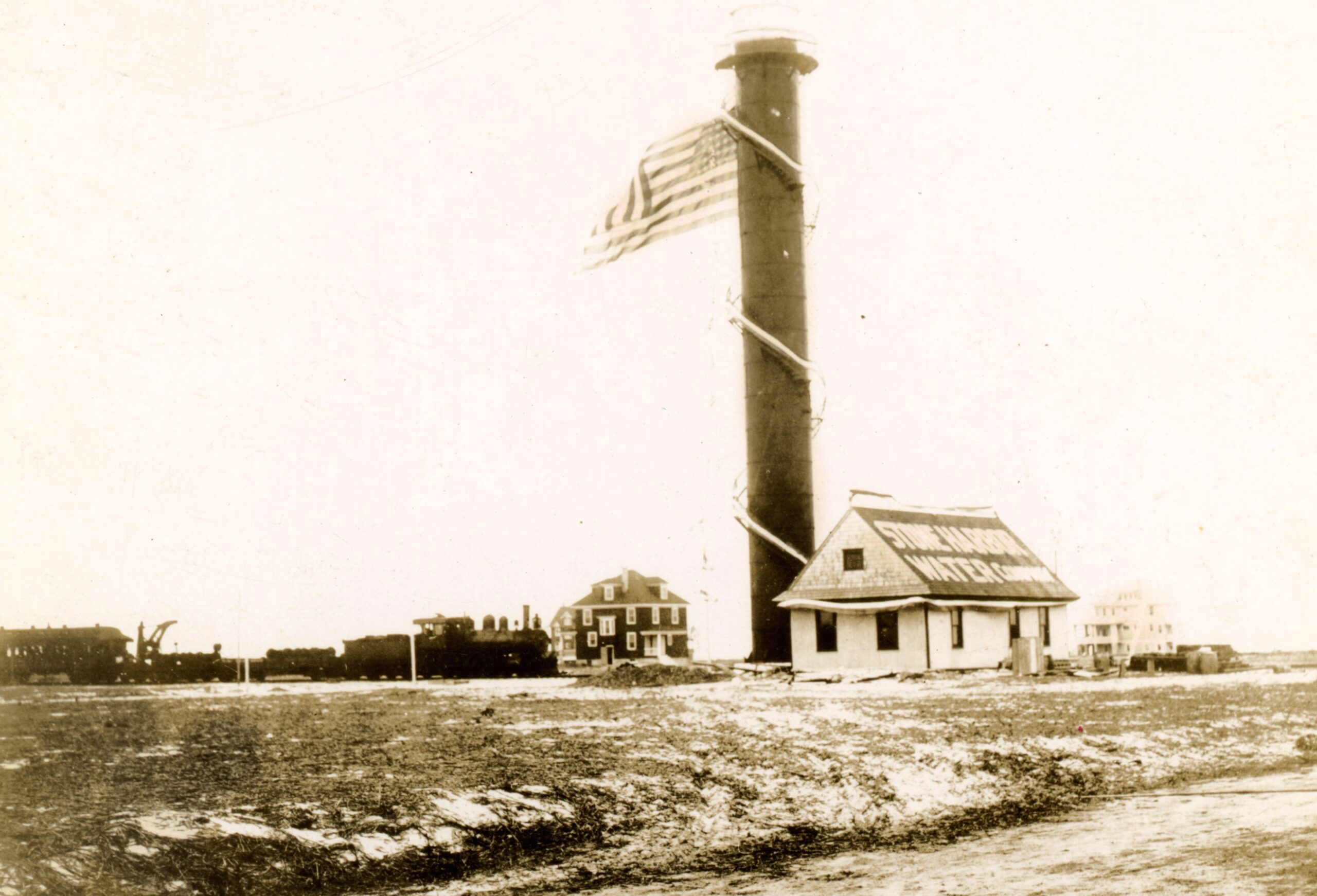 This rare antique ocean-facing photo features the new water works and shows a Pennsylvania Railroad train parked along Second Avenue.  It is probably a working train that appears to be carrying some freight or construction materials, has a steam lifting crane for loading and unloading freight and has at least one attached passenger or personnel car.  Also, the pump house roof now boldly displays four words in large white letters – "STONE HARBOR WATER Company."  Festive patriotic bunting frames the pump house and traces the entire spiral staircase, and a huge American Flag is flapping in a strong breeze at the top of the standpipe in this spectacular photo taken around 1910.  (SHM)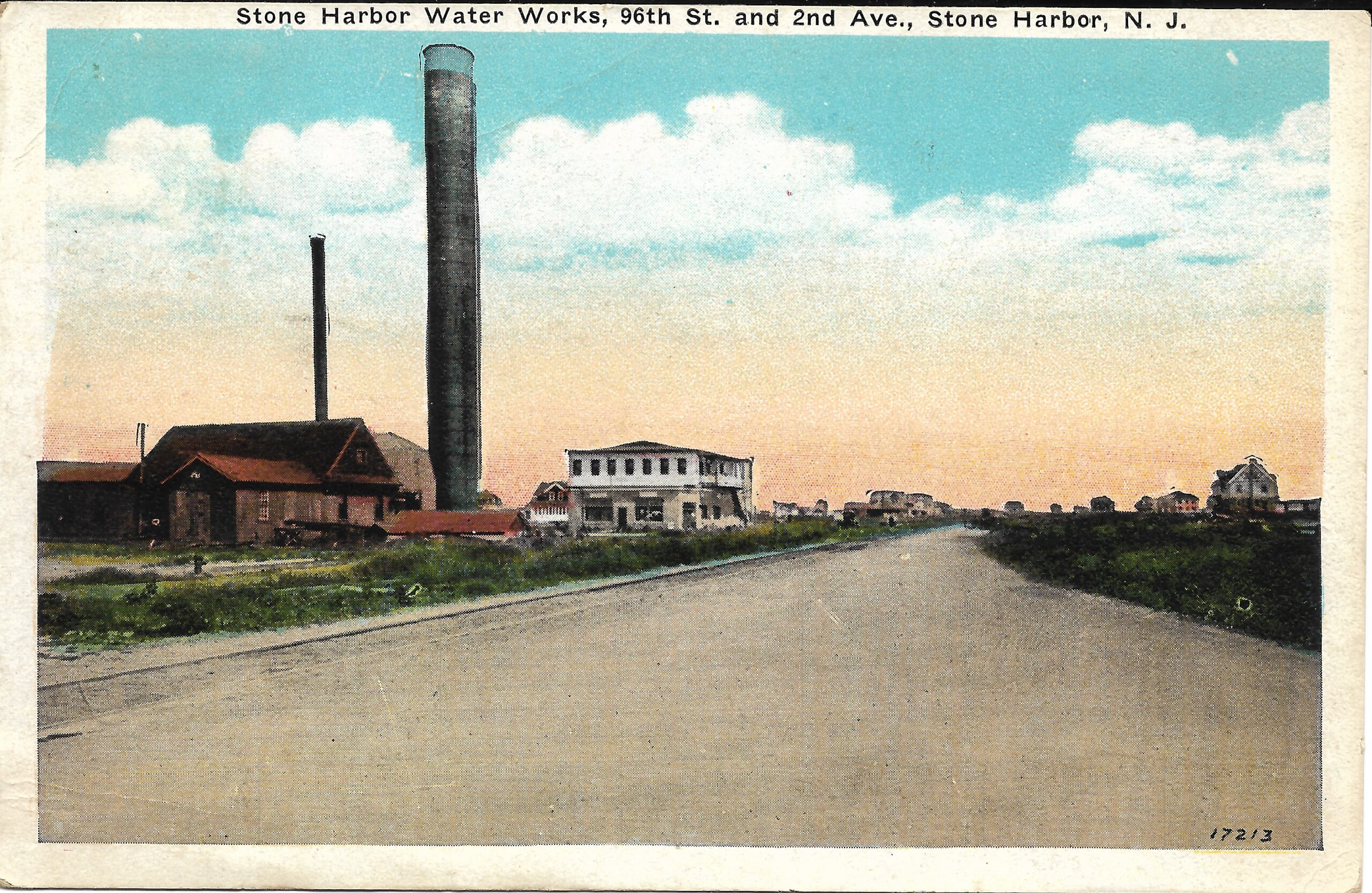 Returning now to some more post cards, the image shown here is a circa 1920 view capturing the Stone Harbor waterworks.  Looking north along the expansive Second Avenue one can immediately recognize Diller's Department Store on 95th Street as well as some cottages and residential homes in the distance.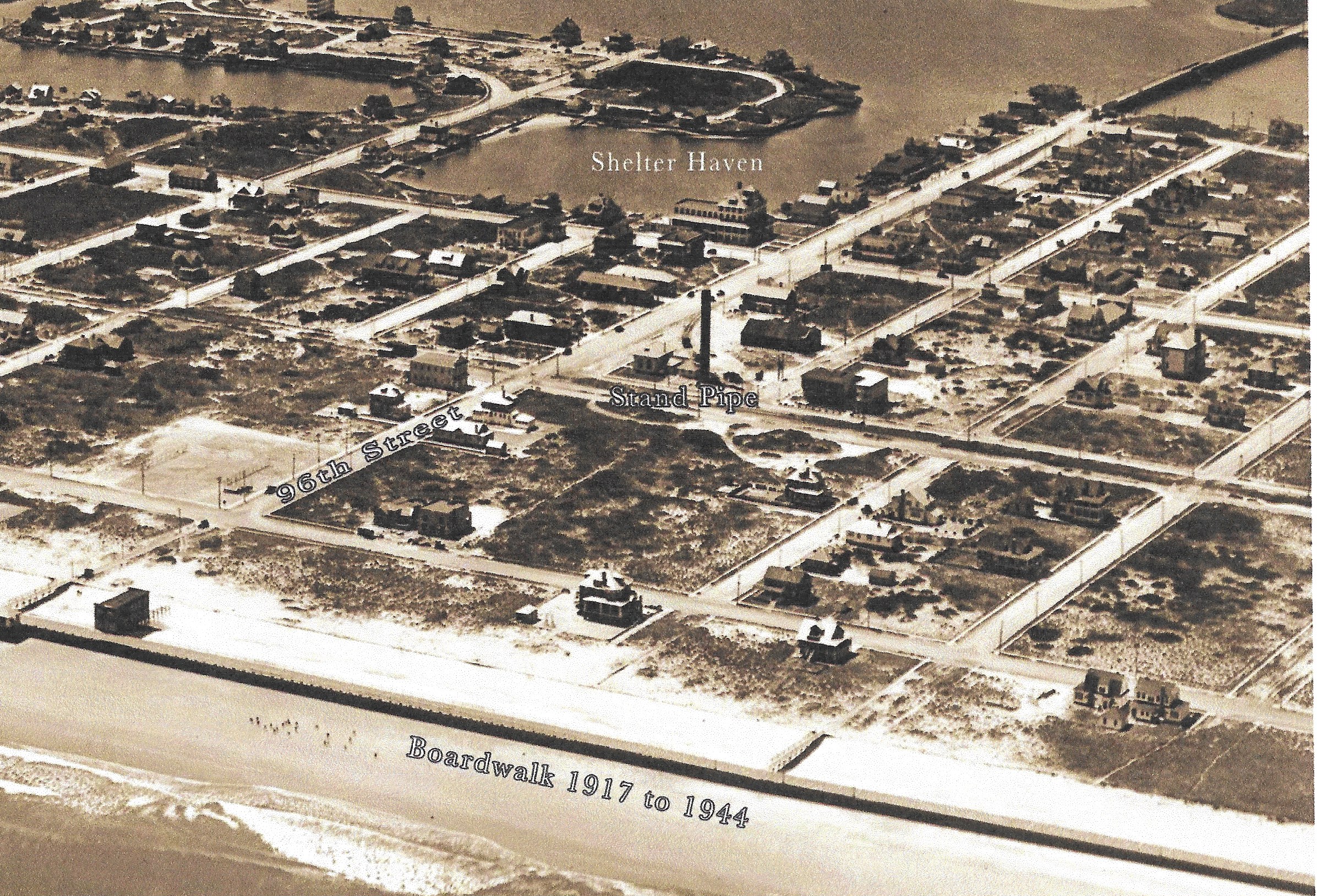 This aerial view of a portion of Stone Harbor takes in the following areas identified including the Stand Pipe in the center of this photo, 96th Street and Shelter Haven Hotel and Basin.  Look very carefully at the structures in the immediate downtown area including the waterworks and the nearby interurban rail service called the Stone Harbor Railway that linked Stone Harbor with the mainland and Cape May Court House.  This appears to be a circa 1924 photo and even indicates looking at the lower portion the expansive Boardwalk which was in existence from 1917 to 1944.  (SHM)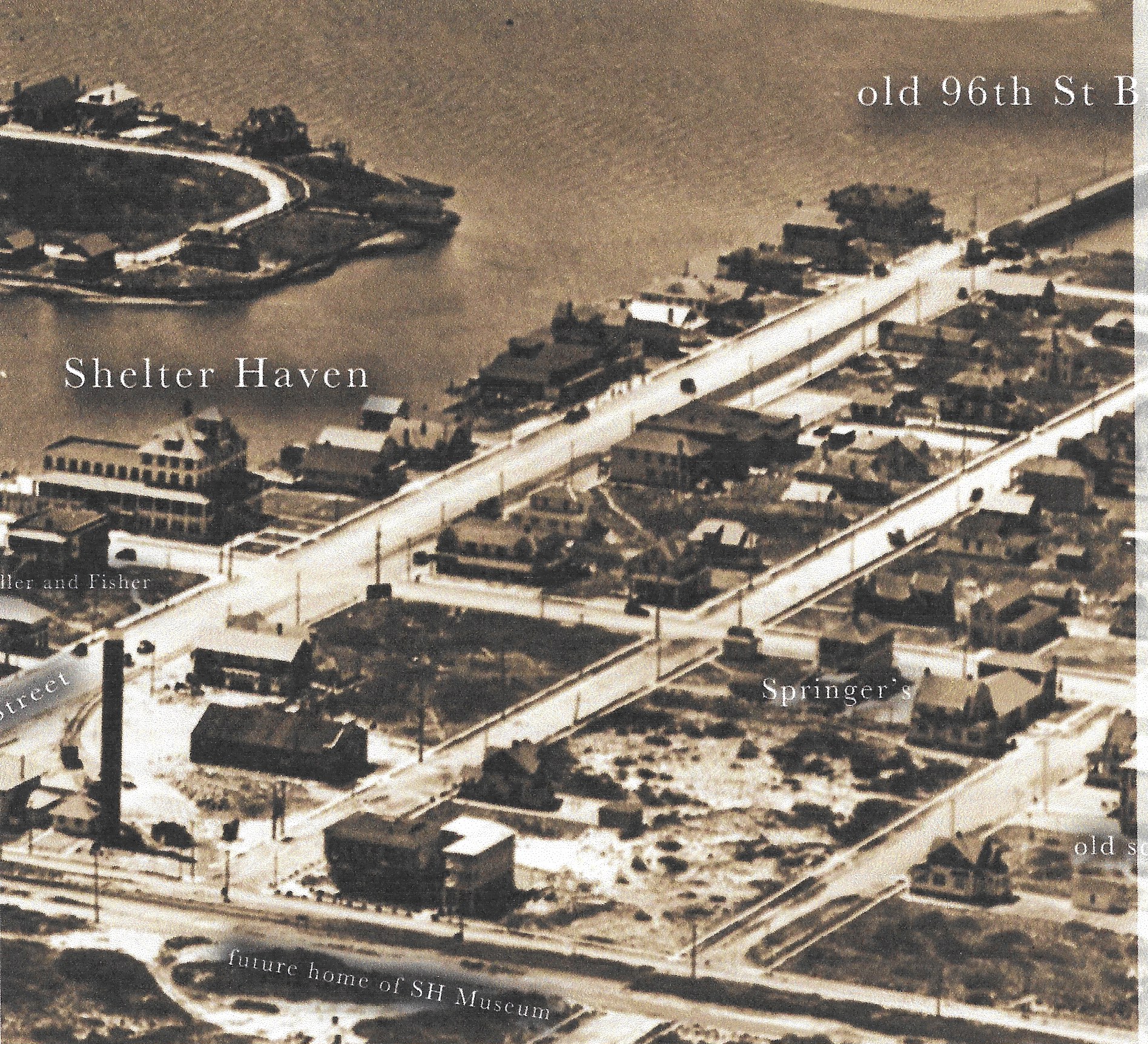 This image is an enlargement of the previous view showing the downtown area.  In addition to the old 96th Street Bridge entering Stone Harbor we can see other areas including the Shelter Haven Hotel and even Springer's ice cream shop on Third Avenue near 95th Street.  Look closely at this enhanced view and note in the lower left corner the waterworks and the conspicuous standpipe.  Using this particular image it should be much easier to recognize the "turn-in" or the set of railroad tracks of the Stone Harbor Railway branching off 96th Street and entering and terminating at the area of the waterworks.  (SHM)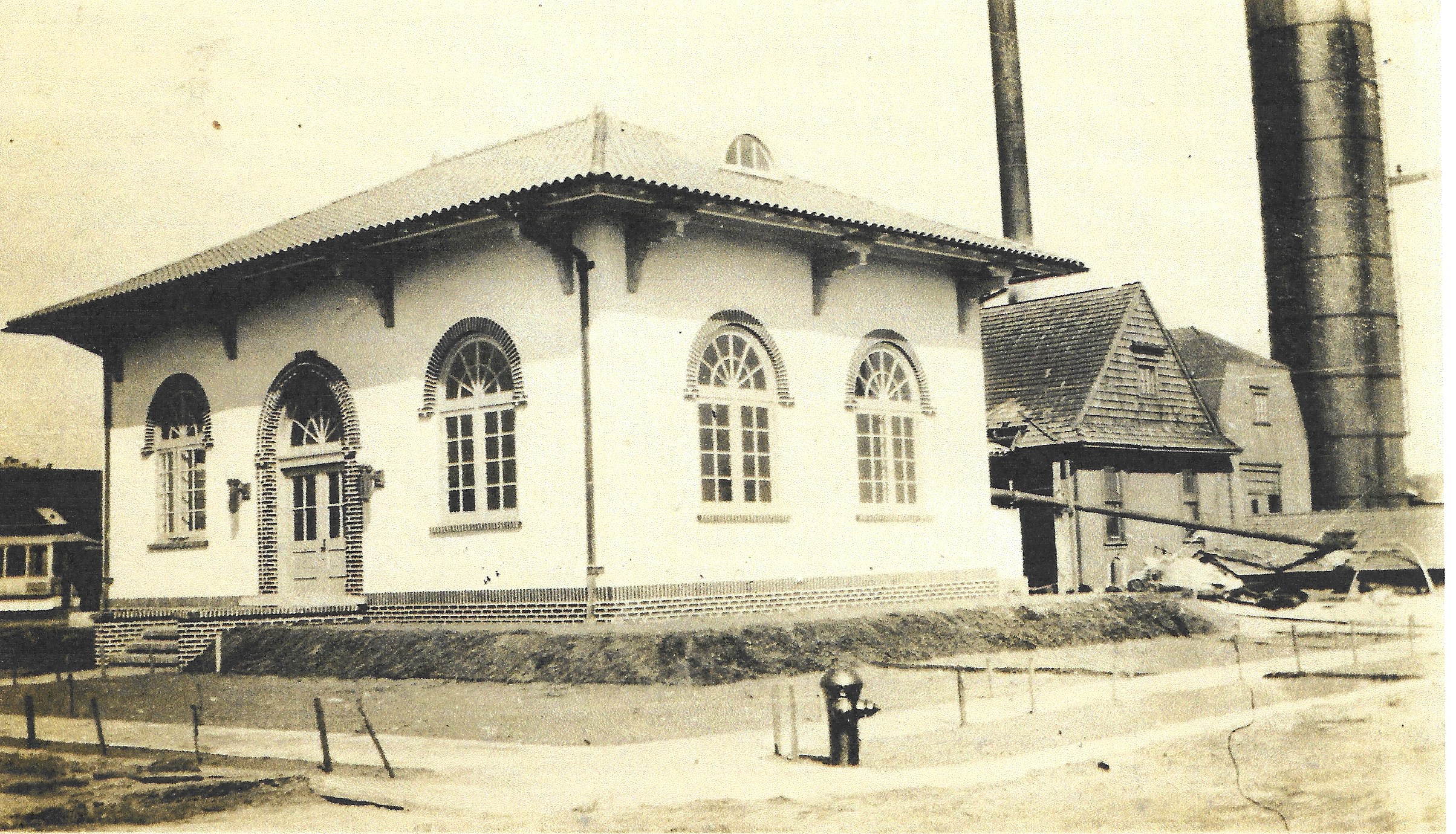 Here is a close up and ground level view of the Stone Harbor waterworks taken at the time when it became operational in 1924.  (SHM)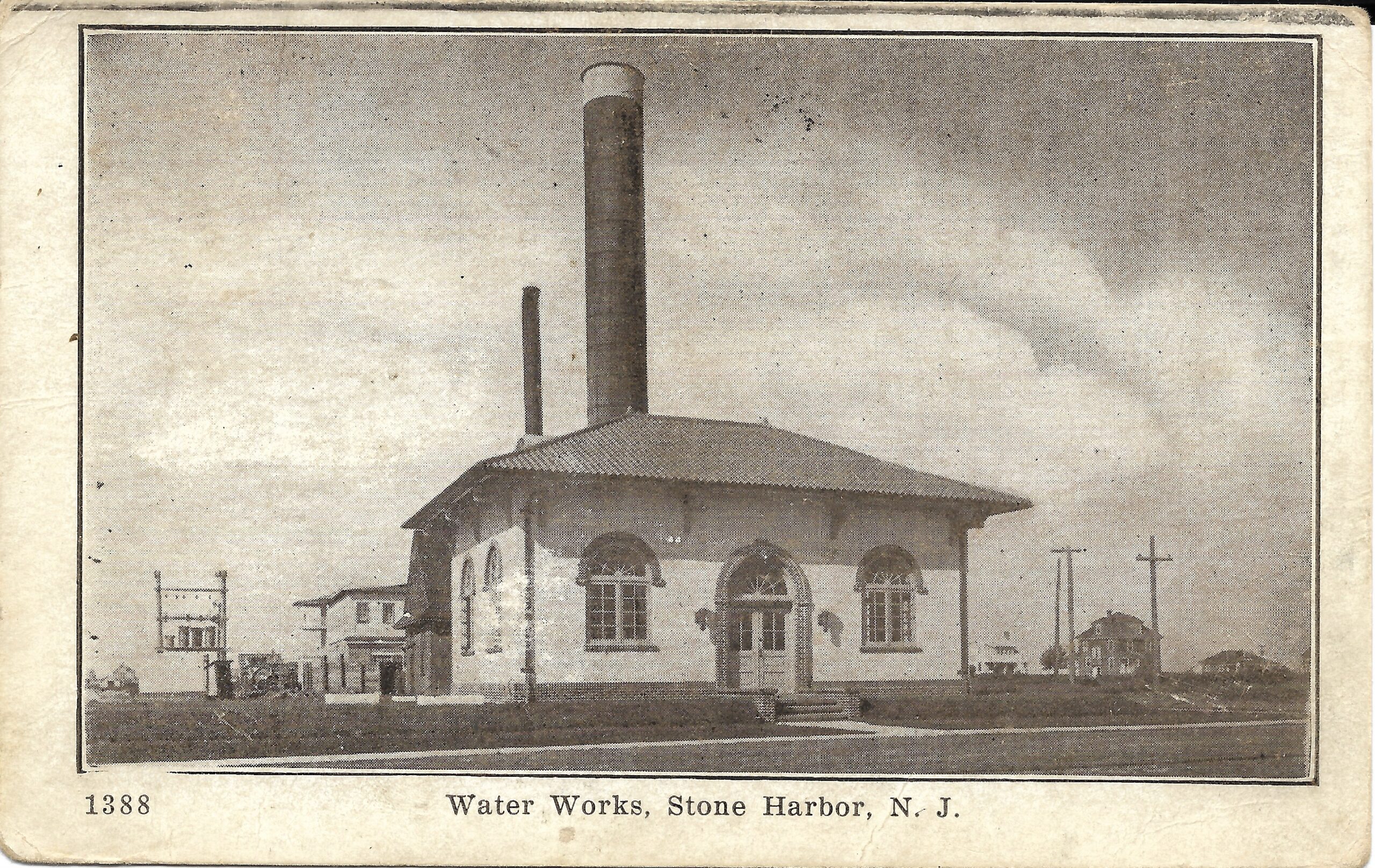 Providing a safe and dependable water supply to a fast growing community soon became very apparent and by 1924 it was deemed necessary to (1) construct another pumping station along with newly installed pumps at the same 96th Street location and (2) dig a new, second well that was drilled to a depth of 890 feet.  Postmarked in 1925, just one year after the completion of the new pumping station, this black and white post card is one of the earliest known views of the water works with the standpipe behind the new pumping station.  This second pumping station is said to be Stone Harbor's oldest public building.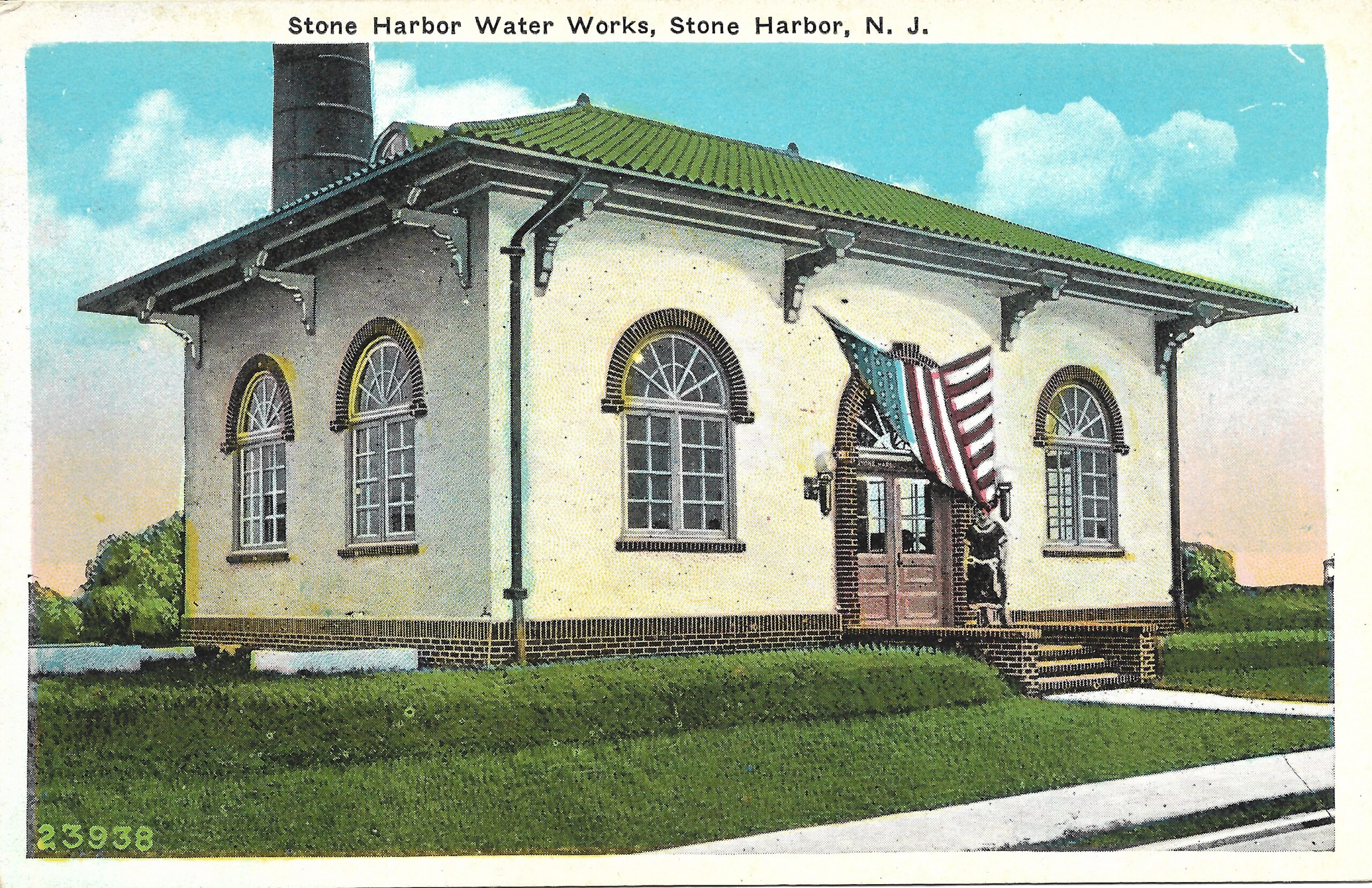 The Water Work's distinctive Mediterranean style architecture and its classic tile roof made the pumping station a well-recognized, even iconic, Stone Harbor landmark.  A large American Flag adorns the front-door entrance to this building in this vivid color post card.
Sometime during the decade of the 1940s, the original standpipe proved insufficient, and a replacement tower with a capacity of 150,000 gallons was approved and built.  This new second water tower had a very different silhouette and consisted of a large holding tank perched atop a four-legged structure with a large water pipe running from the ground up.  In addition, a third well was soon drilled in 1949 to a depth of 878 feet and was located at 92nd Street and Second Avenue.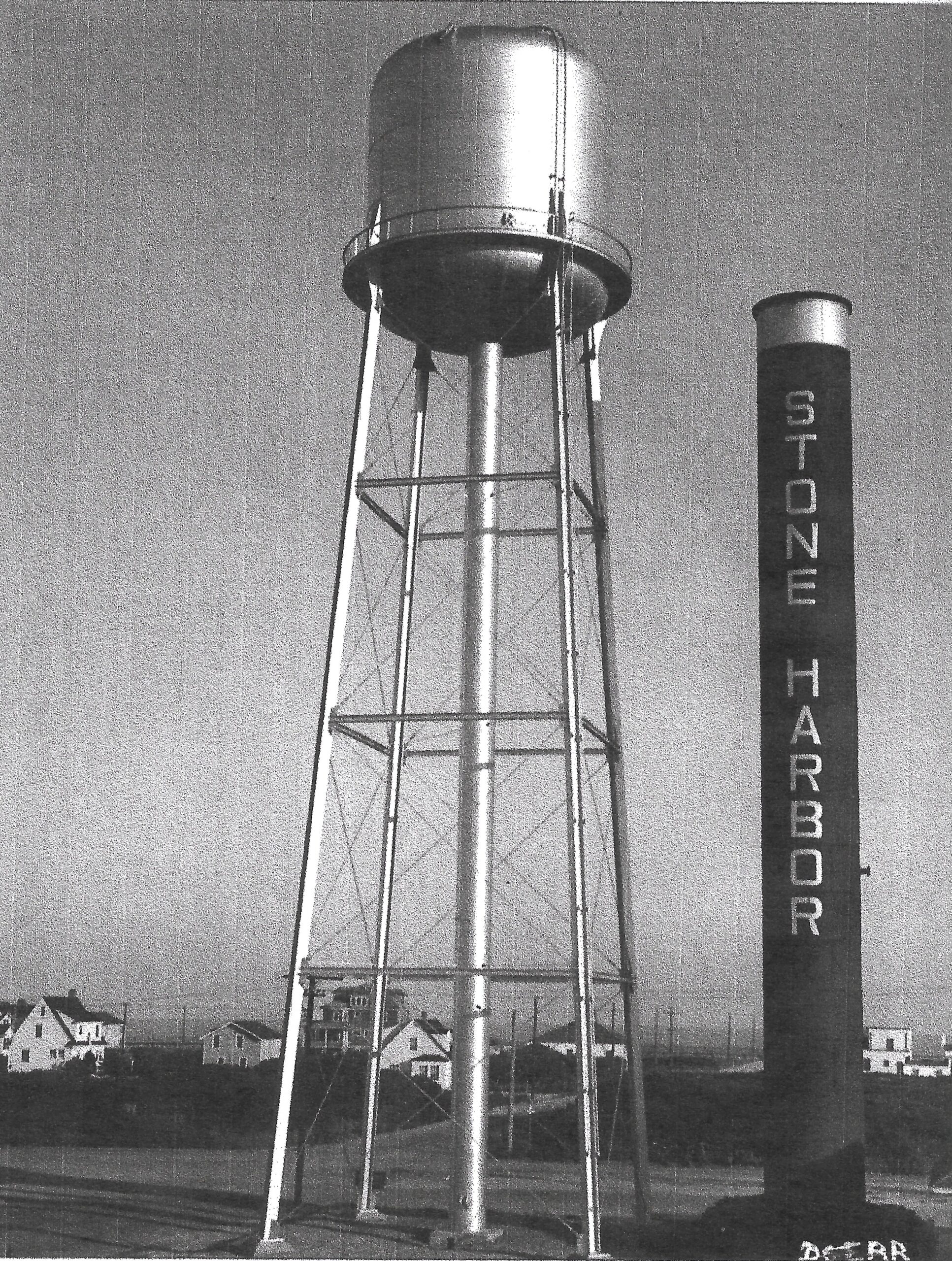 The striking photographic image featured here is most interesting as it shows the newly completed 1940s water tower along with its 1909 predecessor in which both towers would stand side by side for several months until the original tower on the right would be dismantled and removed.  (SHM)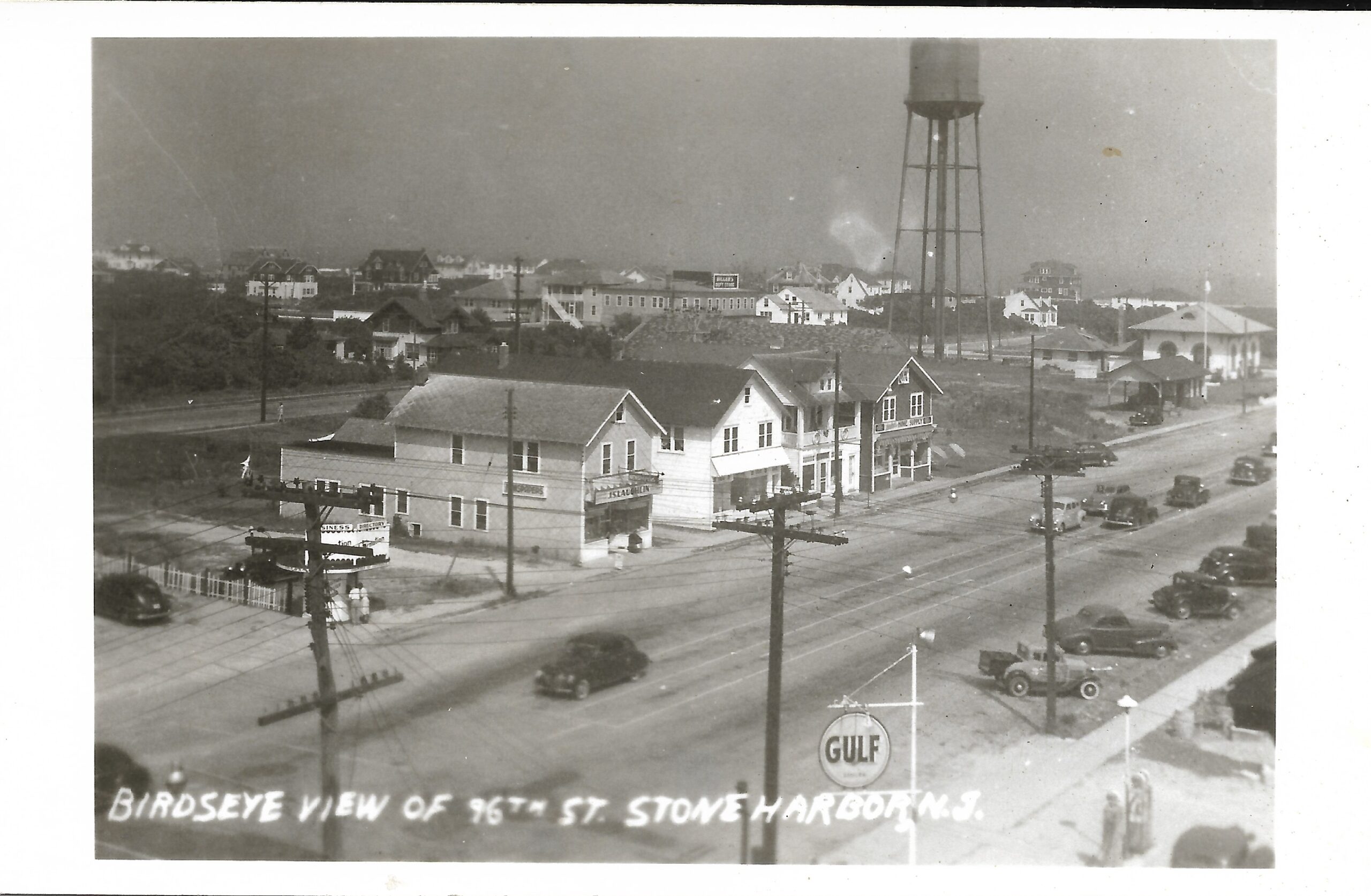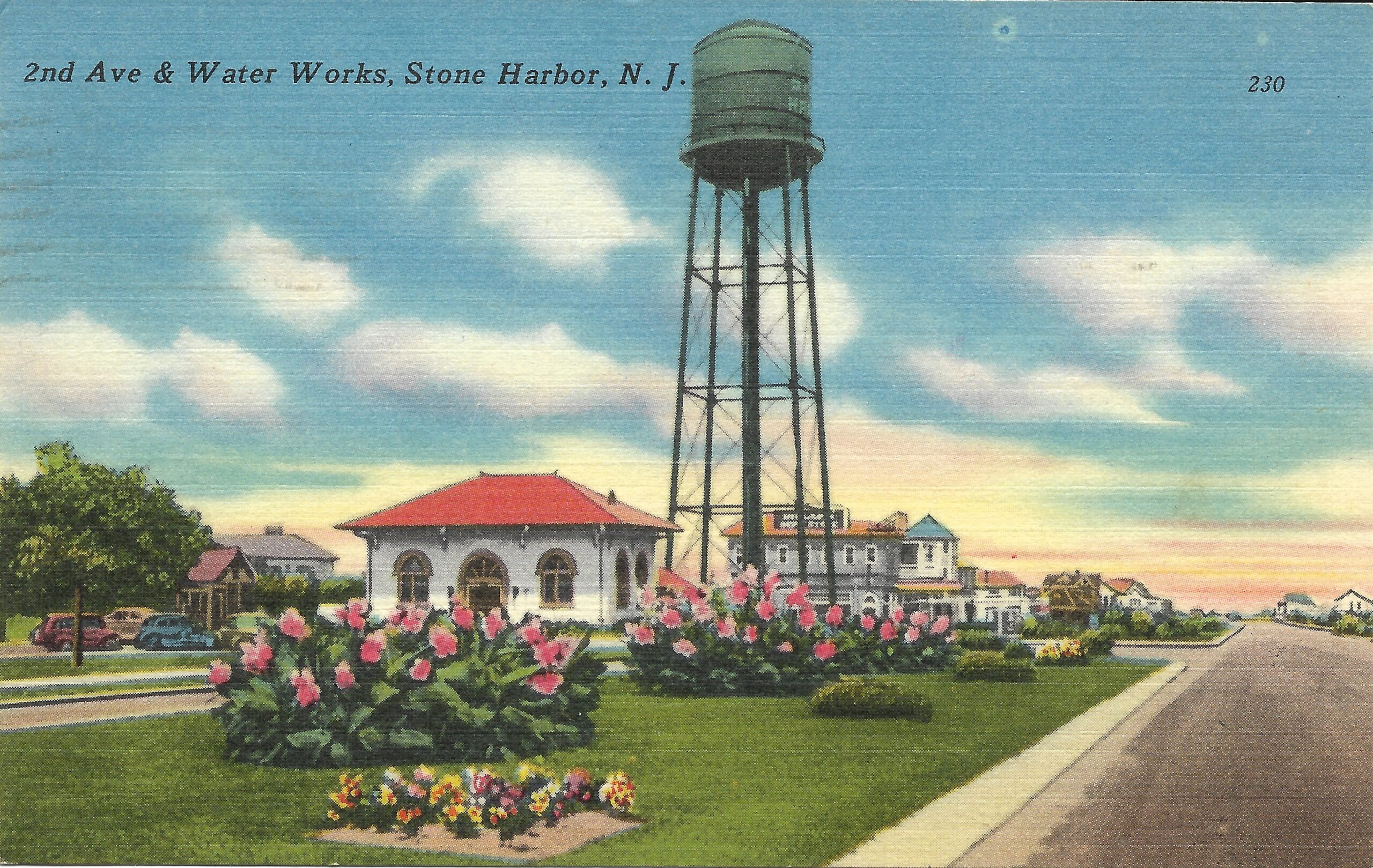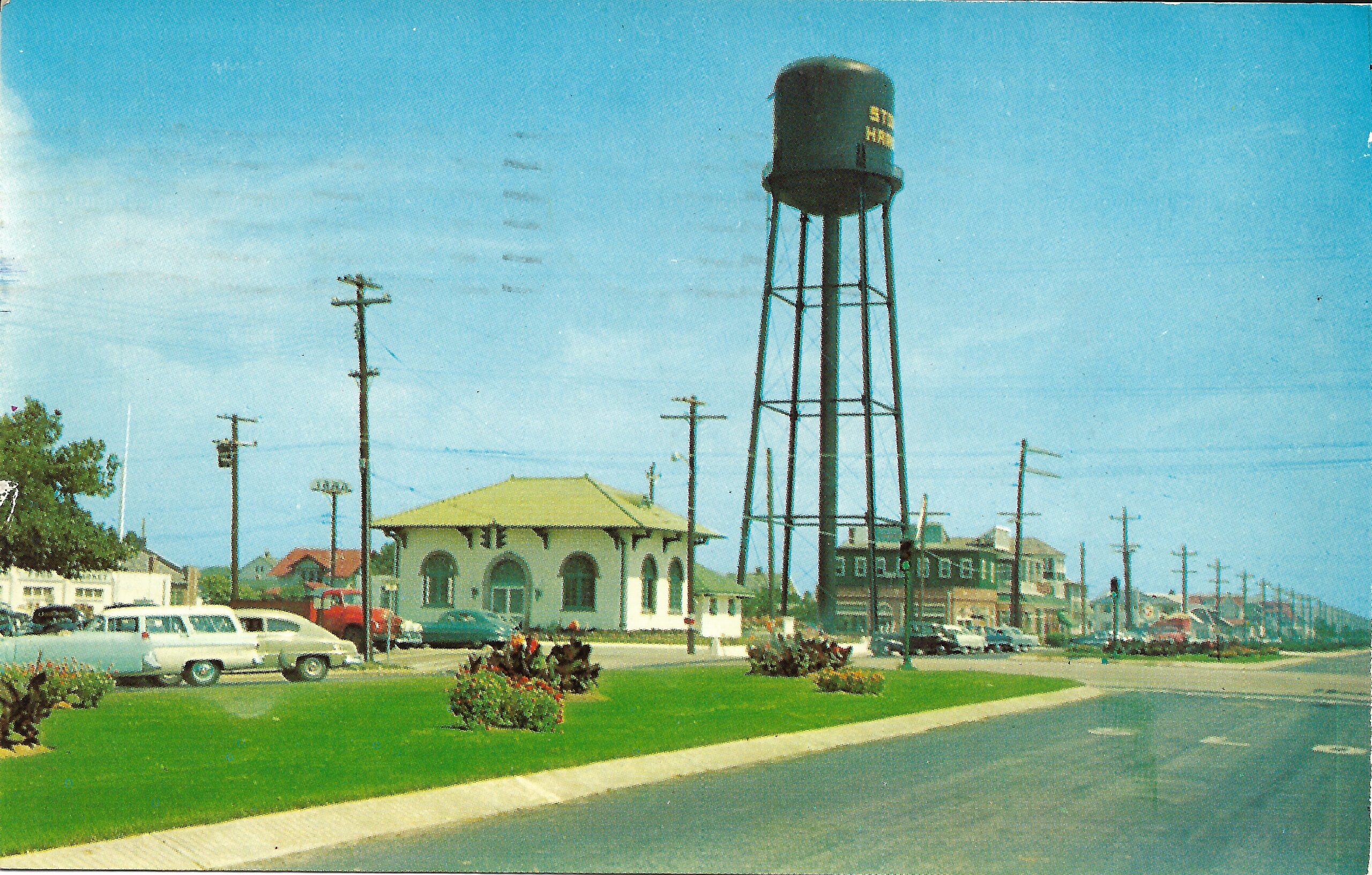 Provided in a chronological sequence, these next three post cards depict views of the 1940s replacement tower taken at different times over the span of some 10-15 years.
The real photo black and white post card view taken in either 1946 or 1947 was snapped from an upper floor of the Shelter Haven Hotel and showing some undeveloped parcels of land still evident along the 96th Street business district.  The second or textured linen post card was mailed in 1955 and the chrome post card view taken in the 1950s was mailed and postmarked in 1961.  It was during this time that a fourth freshwater well was dug in 1955 to a depth of 965 feet at 101st Street and Second Avenue.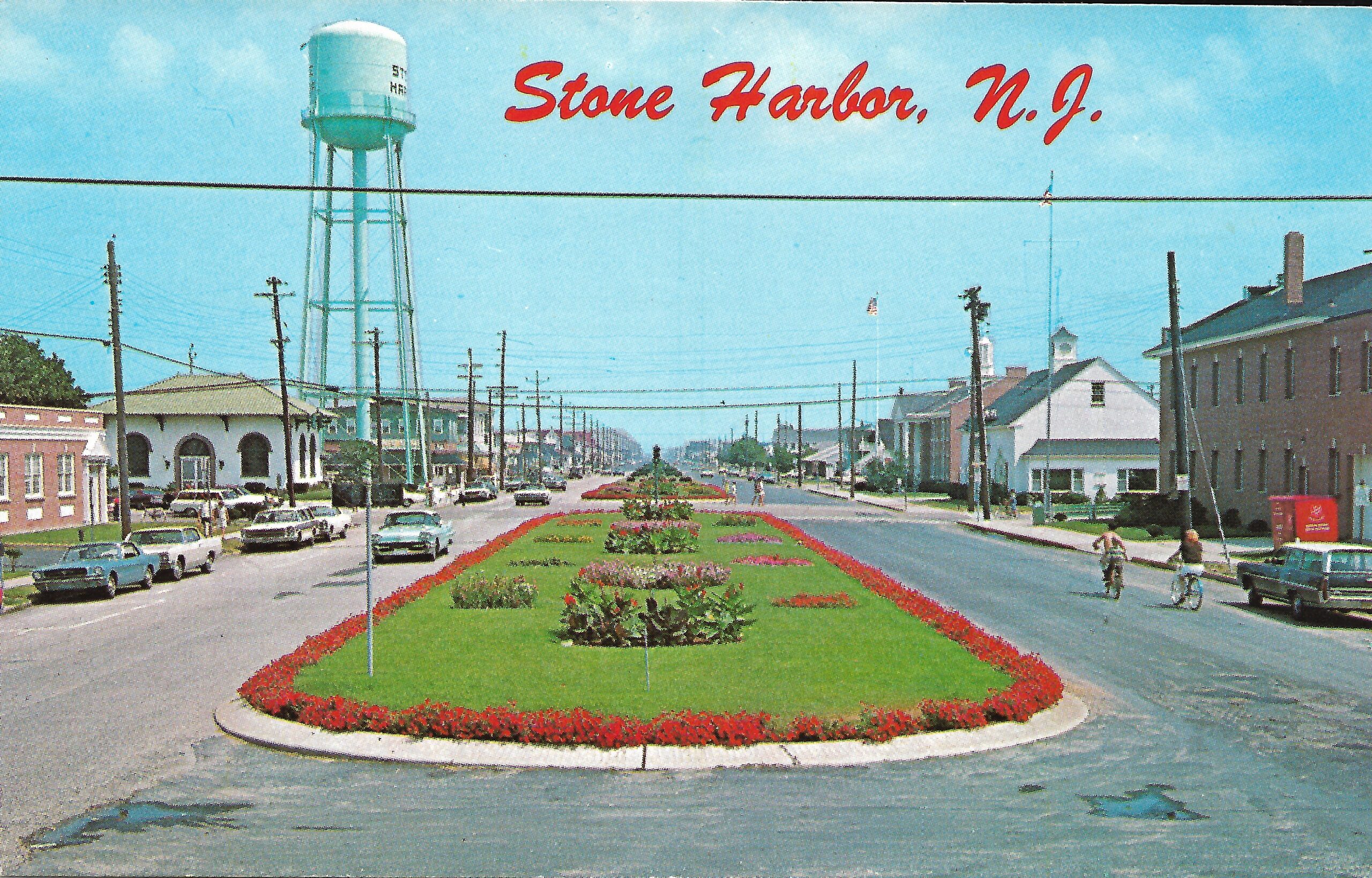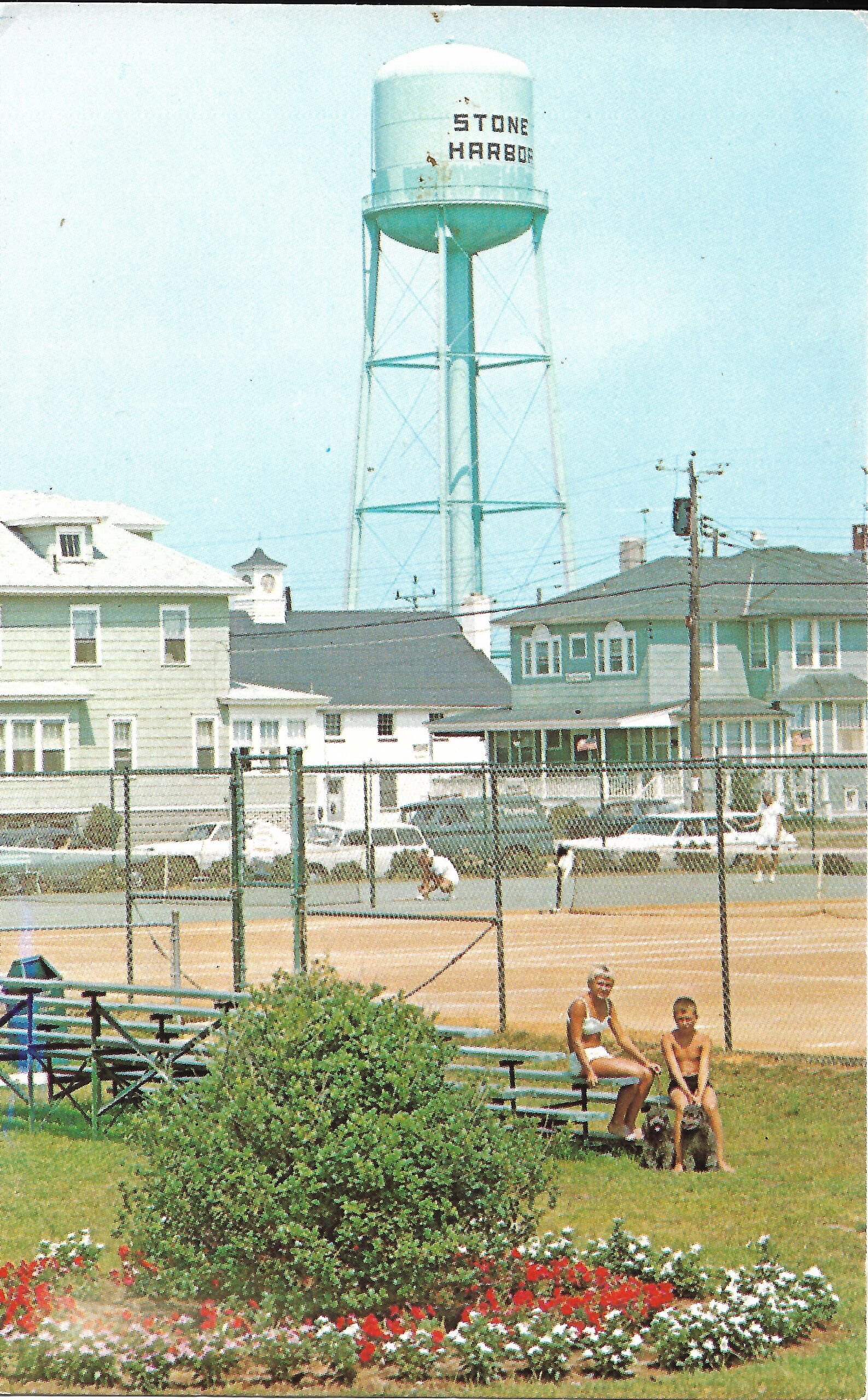 Sometime in the early 1960s, the borough changed the paint color of the water tower from a darker blue-gray hue to a less dramatic light green color, as these two more modern chrome post cards show.  Grassy islands with lush flowers run along the middle of Second Avenue, with many still recognizable and notable public buildings in the foreground including the U. S. Post Office, the water works, a commercial bank and the fire station.  The water tower is also prominent in the background of the post card showing the municipal tennis courts.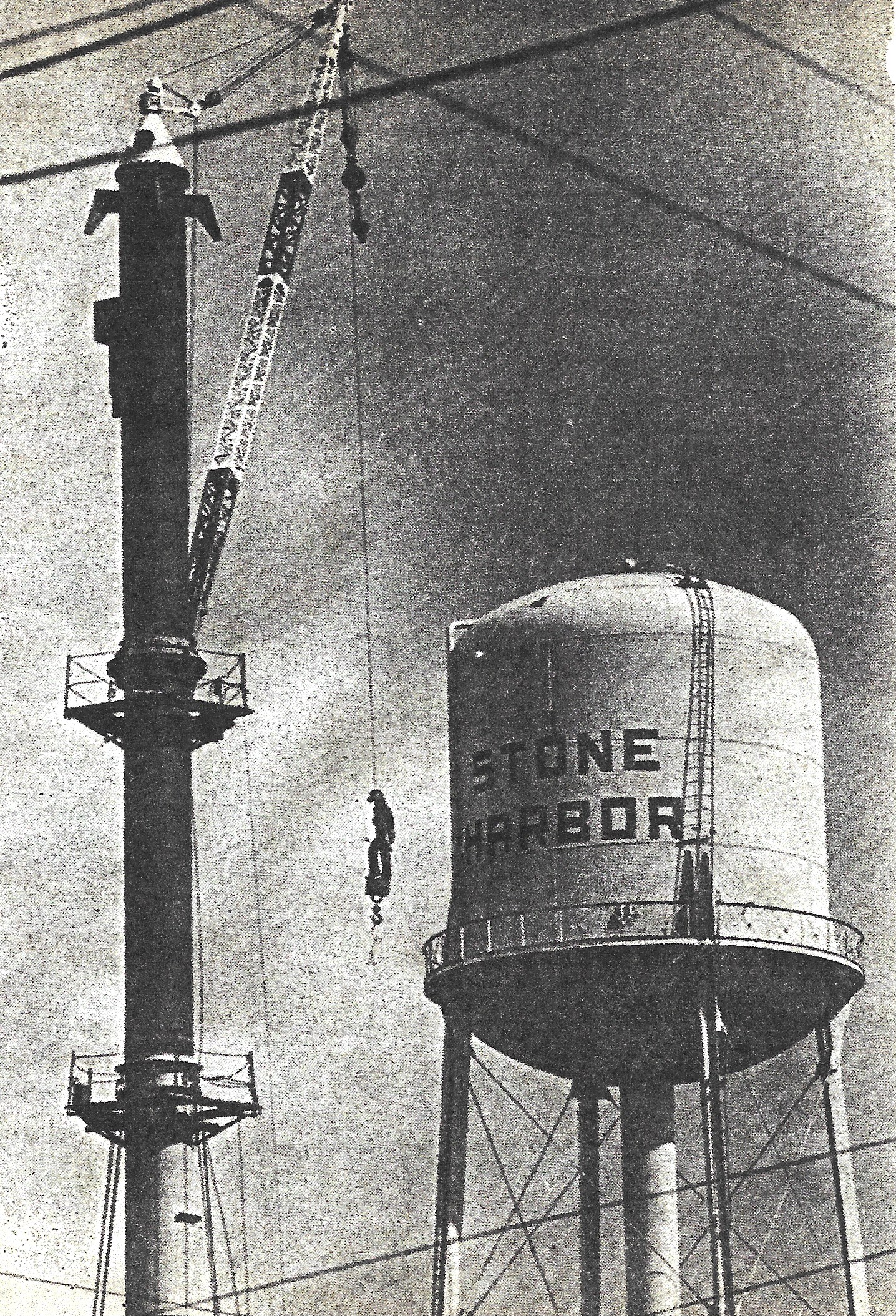 Yet another change is coming!  This striking image appeared in the Atlantic City Press newspaper edition on October 11, 1977.  The caption that accompanied this photo stated the following information:  "BACK TO BACK – After a two-month delay caused by a strike, employees of Pittsburgh-Des Moines Steel Co. began work last week on a new 500,000-gallon water tank in Stone Harbor.  On Monday, residents could see how the structure will dwarf the old tower on Second Avenue.  Note relative size of worker dangling from cable."  (SHM)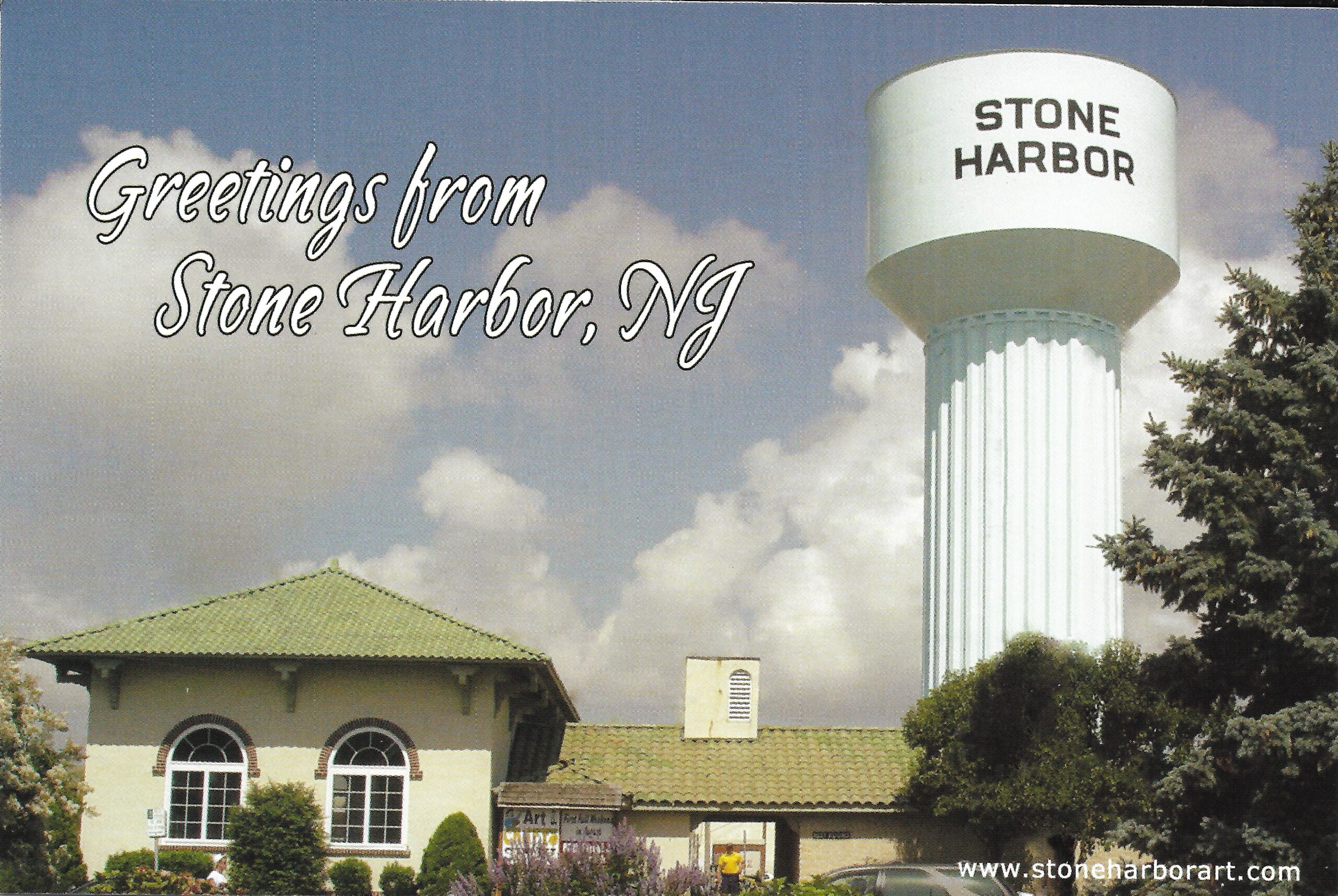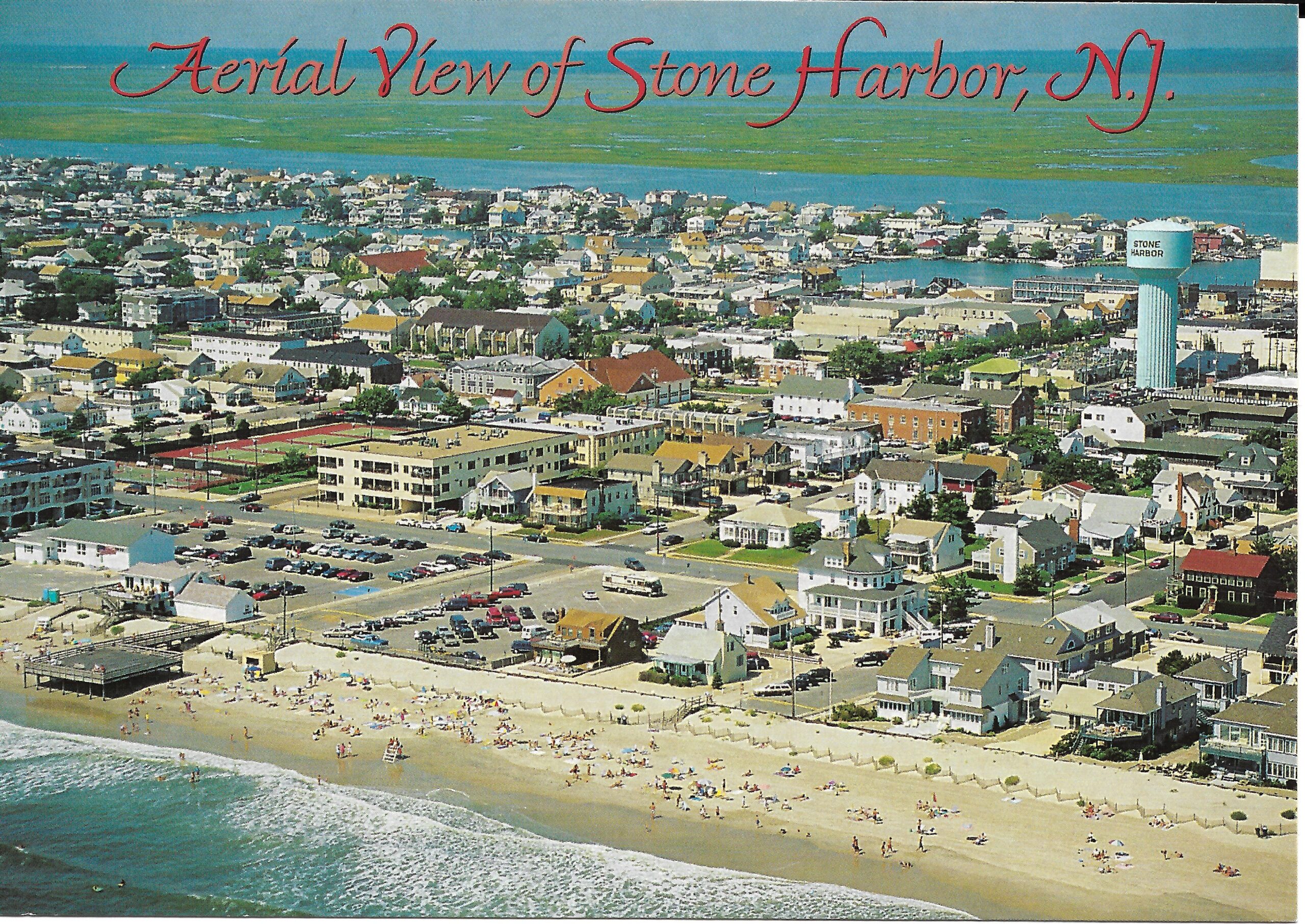 These last two continental size modern-era post cards picture the latest and current water tower version that was constructed at Stone Harbor in 1978.  The elevated single-column hydropillar design water tank stands 133 feet high and has a 500,000-gallon capacity.  This water tower structure features a vertical fluted support column substantially different in size and basic appearance from its two predecessors.  Clearly you can see how the water tower stands out and dominates the downtown landscape.  Presently, four wells supply water for Stone Harbor, which is then aerated and disinfected before being distributed through approximately 150,000- feet of pipe to more than 2,900 customers.
In conclusion, and for more than a century, Stone Harbor has kept pace with the ongoing need to provide its residents with dependable, safe drinking water.  Besides serving their practical use, the three different water towers have also provided an excellent vantage point that have yielded some exceptional aerial photographic images of the changing face or phases of the downtown business district and the surrounding areas of Stone Harbor over time.  We are indeed indebted to those stalwart photographers who successfully made the necessary arrangements to ascend to the top of the various water towers over the years to capture some amazing views of Stone Harbor on film!