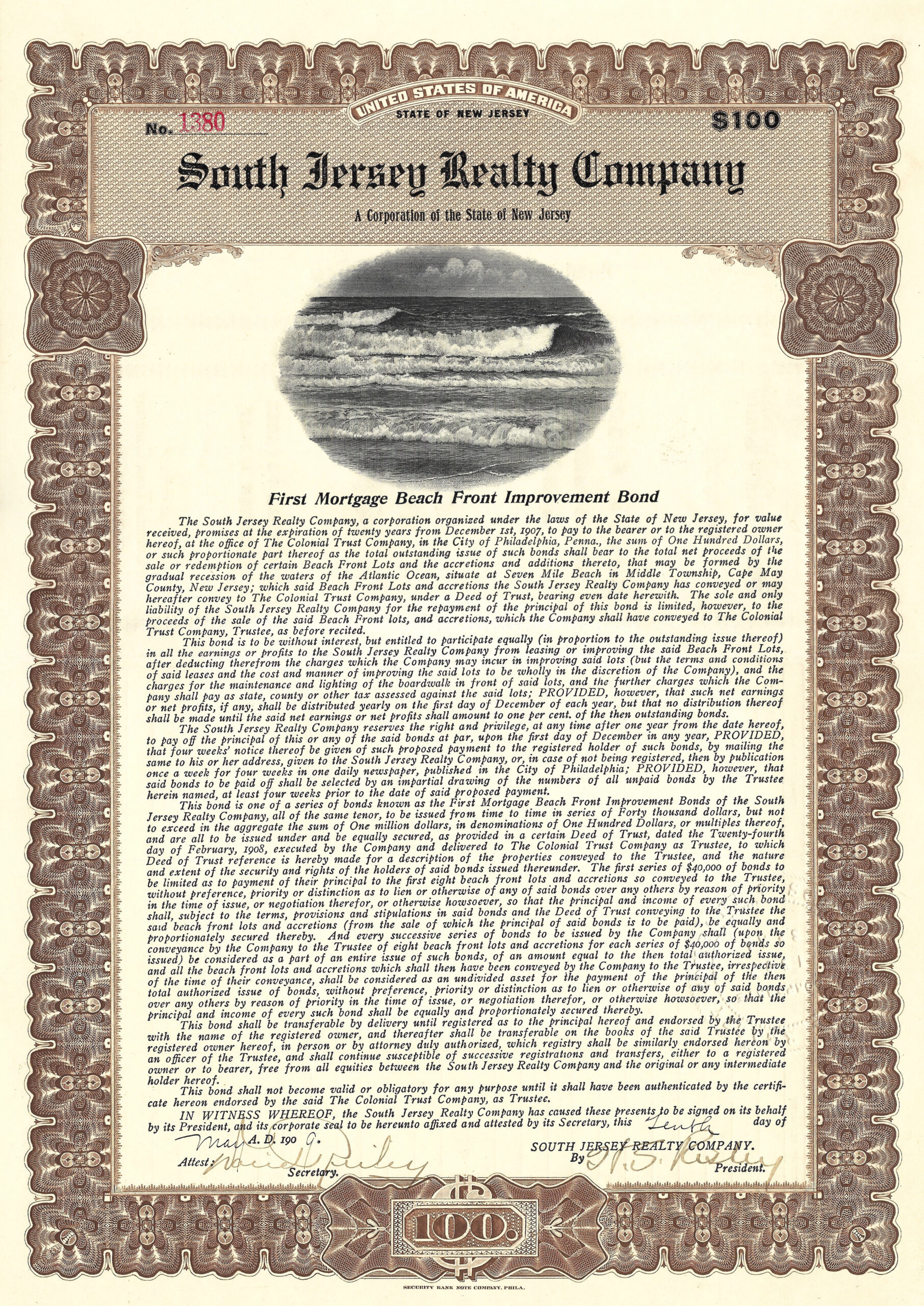 The underlying inspiration for writing this particular account is not even derived from a picture post card which invariably in the past has been the basis for most of my articles.  This time the motivation stems from an official document related to the inception and the very beginnings of Stone Harbor.  That very document featured here is a bond certificate bearing the actual signatures of two of the Risley brothers in the year 1909.  So let's begin our story with some background information first. 
Perhaps we would call them visionaries or dreamers!  You know, individuals who like to imagine and look to the future.  Maybe today we refer to such persons as enterprising or even entrepreneurs.  That being said, the origins of Stone Harbor, New Jersey are deeply rooted in the collective vision of three individuals from the same family starting back in the latter 1890s.
Howard, David, and Reese Risley envisioned a thriving seashore resort community on an undeveloped tract of land situated on the lower 3-1/2 mile portion of what is known as Seven Mile Island located in Cape May County.  The Risley Brothers set into motion a plan to transform that lower part of the barrier island of sand dunes, wide expansive beaches, and salt marsh into a popular new resort that would become referred by some as "Philadelphia's Seashore Suburb".  We know that in 1907 these three enterprising brothers from Philadelphia formed a business venture called the South Jersey Realty Company (SJRC) which would set up business and be located in Rooms 420-22-24 at the prestigious 915 Real Estate Trust Building situated at the southeast corner of Broad and Chestnut Streets.  In addition to having a Philadelphia Office, the SJRC also was conducting business with offices conveniently located in Camden as well as a few other New Jersey locations.  However, that realty company had actually been established as a New Jersey corporation 10 years earlier in 1897 and later took formal title to that tract of land from 80th Street to Hereford Inlet in September of 1907.  The Risley's using their newly established realty company purchased some 3,674 acres of land on Seven Mile Island for the sum of $90,000 in the same year. 
First the brothers created on paper a rendering of what the actual layout of the town with streets and avenues would look like.  They went on to configure in a rectangular grid pattern all of the many parcels of land which were identified with individual block and lot numbers.  The result was all numbered "streets" were running east and west and all numbered "avenues" were  running north and south.  From that point on they launched an aggressive program including: an advertising blitz using Philadelphia and South Jersey newspapers; printed informational brochures and booklets distributed for free; and conducted an ongoing mailing of picture post cards showing the building and construction progress that was being made at Stone Harbor.  Railroad excursions for potential investor inspection tours to the shore were provided and the Risley's implemented a vigorous campaign to promote and market the multitude of individual parcels of land intended for sale and development.  The traction the Risley's developed and set in motion became the impetus that would lead to their success in their many business ventures.
An example of a message contained on such an advertising post card depicting several new homes undergoing various phases of construction on First Avenue in the New Stone Harbor went as follows:  "Showing homes of the members of the FOUNDER'S SYNDICATE built on fully improved lots, allotted FREE, with their purchase of our Million Dollar Issue of Beach Front Improvement Bonds.  The Syndicate now numbers nearly 400 and will soon be completed.  Mail this card with your name and address filed in on the other side and full particulars will be sent to you at once."
The first permanent structure built in 1892 was a 5-story inn called the Abottsford Inn (later to be renamed the Harbor Inn) situated at 83rd Street near the beach.  Railroad service serving Stone Harbor had also begun in 1892 and the Pennsylvania Railroad Station was located at 86th Street.  Soon, several more cottages would be built in the same general area.  Paving the way for even more cottages, construction of the important infrastructure would take place in the form of building graveled streets with curbs and even concrete sidewalks, installing underground water and sewer lines, and even adding electricity lines on poles running along some of the developing main avenues.  
Among the grandest homes, "Hydrangea" and "Cobble Point" initially built during this early period, were those owned by Reese Risley located on First Avenue at 85th Street and that of brother David which was located on the bay at Sunset Drive and 92nd Street.  It would not be long before general stores, luncheonettes and restaurants run by individuals named Rummel, VanLeer, Van Thuyne, and Gehring were cropping up in Stone Harbor. 
With tremendous fanfare and considerable advanced publicity, and in conjunction with the observance of Independence Day on July 4, 1911, the Risley brothers truly attained a high water mark for their success when they hosted a "Gala Week of Festivities" from July 1 to 5, 1911 to celebrate their many early achievements in creating and building the community of Stone Harbor.  Included among those major accomplishments was the opening of a canal system along with a new road and a lift-bridge into Stone Harbor called the Ocean Parkway.  There was great cause for celebration and the Risley brothers prepared to capitalize on every bit of it.  In fact, Woodrow Wilson, then Governor of the State of New Jersey, would preside and officiate over ceremonies on some of these historic occasions.  Fortunately, many of those highlighted events that occurred during Gala Week were documented and soon made available in the form of picture post cards and those very images represent reflections of a very important moment in time for Stone Harbor.  Perhaps those very post cards constitute the basis for a future article.
On May 12, 1914, Stone Harbor became incorporated as a Borough with its own local governing body including the following:  a mayor; 6-person council; tax collector; assessor who assesses property for taxation; and a justice of the peace who served as a judicial officer with a wide range of duties and responsibilities for keeping the peace.   
In the meantime from 1912 onward there came more changes: new housing and business construction; a post office; some churches; a public school; enhanced public utilities as well as additional modes of transportation like a trolley service from the mainland; safety protection including police and fire departments; the dredging of several man-made water basins thus creating more waterfront properties with ready access to the Great Channel; constructing a wooden open-air promenade known as a boardwalk along with piers, bulkheads and jetties; and to cap it all off – a flourishing yacht club and country club. 
A quick overview of what lay ahead for Stone Harbor comes next.  Moving ahead in time and after U. S. involvement in the First World War from 1917 to 1918, Stone Harbor would undergo and experience a remarkable period of growth in housing starts and increased population during the decade of the Twenties.  After that, Stone Harbor would unfortunately find itself affected like much of the country by the hardships and the overwhelming discouragement of the economic depression of the Thirties.  The start of a new decade however would not hold the promise for much in the way of positive change or improvement as Stone Harbor, along with the rest of the United States, would find itself enduring the anguish and heartaches associated with a military commitment to the Second World War.  It wouldn't be until the end of the war that Stone Harbor, as with much of the nation, would seek to heal its wounds and move on to a peacetime economy and emerge with the prospect of a brighter future.  And so it is, Stone Harbor would next undergo better times with a period of recovery, expansion and rapid development during the latter Forties which would extend well into the decade of the Fifties.  At this point in our time-line we need to draw to a close.  As a popular expression so goes, "The rest is history!"
AFTERWORD:  In conclusion, let's briefly turn our focus to the actual bond certificate itself.  This $100 "First Mortgage Beach Front Improvement Bond" issued by the South Jersey Realty Company paid no interest but entitled the bearer or the registered owner to the return of the $100 investment in 20 years from December 1st, 1907 along with a free building lot.  The monies raised provided funds for roads, sewers, water and electricity and this was indeed an important step as well as a precursor for attracting potential investors to actually consider building cottages and homes in Stone Harbor.  Purchased on the tenth day of May A.D. 1909 and recorded as No. 1380, this $100 bond bears the actual signatures of David Risley, Secretary and H.S. Risley, President.  As you can see the certificate has a nicely engraved vignette featuring ocean waves rolling on a sandy beach with a typical intricately engraved border in brown ink framing the binding language and the explicit legal terms and conditions of the contractural agreement.