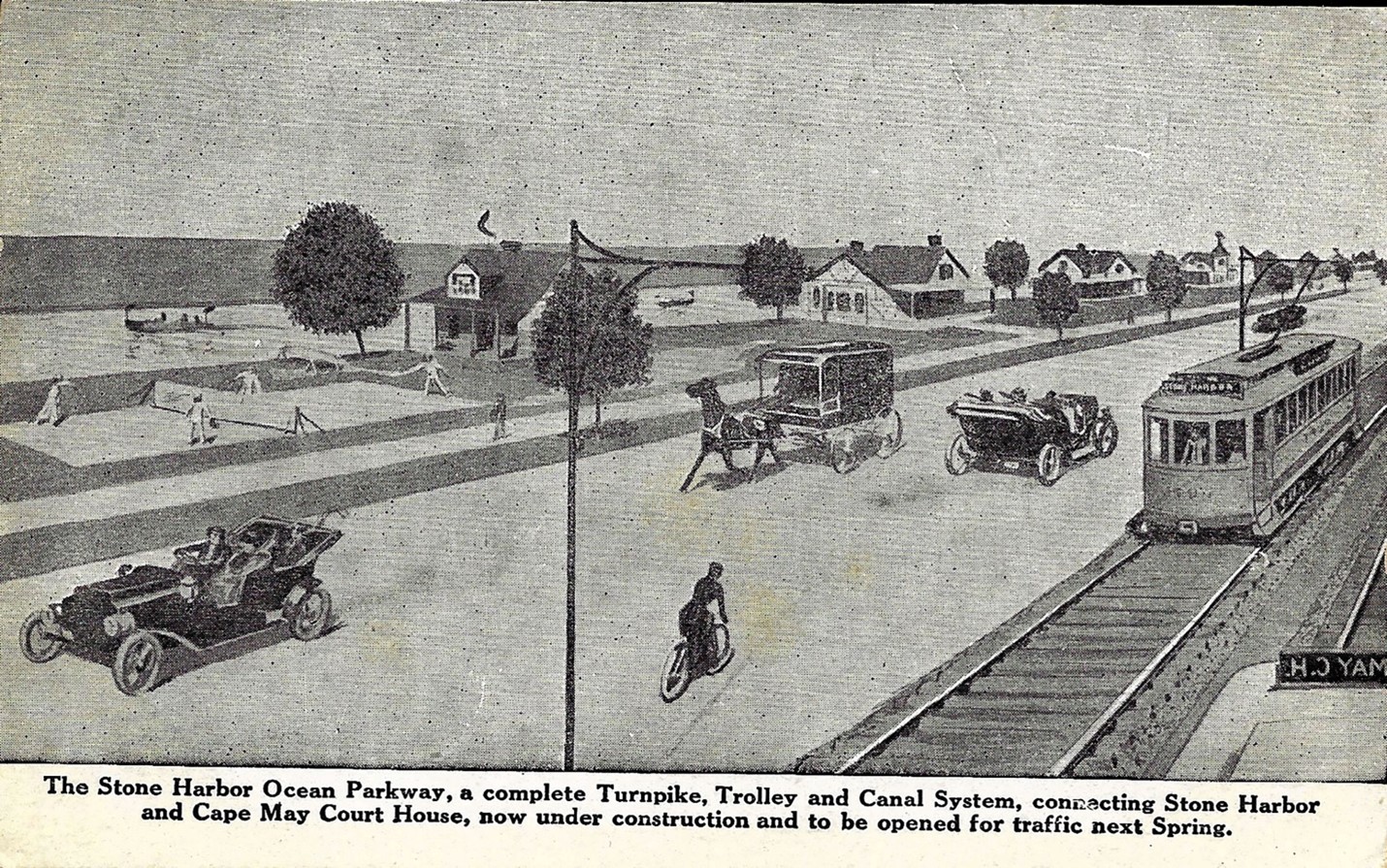 The South Jersey Realty Company is raising funds to construct the Stone Harbor Ocean Parkway: a complete turnpike, railroad and trolley lines, and a canal system from Stone Harbor to Cape May Court House, N.J.
Introduction: The impetus for these preliminary comments is derived from some of my fond memories associated with summer vacations at Stone Harbor. Growing up in the Philadelphia/Camden area of South Jersey, my family was fortunate to vacation for a week or two at various seashore resorts at the Jersey Shore, including starting in the late 1950s with stays at Stone Harbor. In the days before our family car had air conditioning, I remember very vividly while we traveled to Stone Harbor, often the car windows were rolled down. Notice I said "rolled down." Nearing the shore that sudden presence of the distinctive and unmistakable smell of the salt marshes would suddenly become apparent and we became excited as we headed south on the Garden State Parkway and neared our destination. It was as if someone had just turned on a switch that profoundly let us all know that we were close to reaching Stone Harbor. Breathing that salty air seemed so reassuring that our anticipated family vacation was finally about to begin. It was a very good feeling. Maybe some of our readers have had similar experiences too.
Both the motivation and the basis for writing this article are rooted in those first few moments as we travelled from the mainland and drove in to the town of Stone Harbor on the day when renters "checked-in" with local realty agents or owners on any given Saturday around the noontime during the summer months. I even recall that strange sound reverberating in our car – something like a rumbling or an unusual droning or whirring noise that our car tires made as we traveled across the bridge deck's metal grates on the drawbridge upon entering Stone Harbor. Then I recall we took our first glimpse of 96th Street including the lumberyard, various boats for sale, others either undergoing some repairs as well as some boats moored at their docks, the Shelter Haven Basin, the once grand but still iconic Shelter Haven Hotel, Henny's Seafood Restaurant (which incidentally offered a sensational and delicious combination sea food platter), etc. as we continued south down Third Avenue until we reached our cosy little cottage in the bungalow colony at C-7 Weber Court. Year after year we generally rented the same cottage from Ted and Dick Owens who lived next door on the corner of Second Avenue and Weber Court. C-7 was a very compact, one bedroom (with a full size bed for two) cottage with only an outdoor shower. There was a very tiny bathroom, a stand-up kitchen with additional outside entryway to a small outdoor courtyard and sitting area where there was a clothes line for drying clothes. Remember there was no washer or dryer on the premises and of course no dishwasher either. There was a small eating area just off the kitchen with a table and chairs for meals and games. Also in the eating area there was a built-in sofa for someone to sleep or simply lounge. This place where meals could be eaten also opened up to the front living room area where there was a couch and a couple of comfortable chairs including a rocker. My bed was the movable couch that could made made-up for sleeping that was in the living room and the front room was bright and airy because there were many windows surrounding the front and sides of the cottage. All the many windows had screens that served useful for keeping bugs out and cooling off the cottage at night. There was also a front door serving as a major entry from the street just out front. Not surprisingly at that time, there was no television or telephone and that's exactly how my parents liked it, especially my father who was happy to get a complete break for a week or two with no interruptions from his work at N.W. Ayer & Son, Inc. located in Philadelphia. By the way, our family of four managed just fine in that very small but comfortable cottage and believe it or not, we somehow managed to survive without a TV or phone service – although we did have a transistor radio for music, weather, baseball games and news. We were there like most people simply to unwind and relax before returning to the proverbial grind – work or school – as they used to say. It was indeed a different time, if you get my drift but certainly it was a time that I personally will always remember and be grateful for having experienced.
My efforts here are directed at trying to craft a descriptive article supplemented with an array of specific post card images and other photographs that show what it was like for someone to approach and enter Stone Harbor at another earlier time, that being some years before I was born in 1943.
Therefore this written account is about how people gained access to Seven Mile Island in the early 1900s. It could be said that most of the time we hardly give some things in our lives a second thought because they seem so common, unremarkable or just ordinary. At the outset when Stone Harbor was first being developed, there was a time when initially access to Seven Mile Island from the mainland was limited to only boats, then later by a railroad from the north. However, soon accessing the island would become very important news and actually make headlines. Reports indicated that the first week of July 1911 was indeed a memorable one in the history of Stone Harbor as it was witness to the opening of the Stone Harbor Ocean Parkway to automobile and general vehicle traffic. So now let's turn back the clock of time and revisit yesteryear at the Jersey Shore, and more pointedly, our most favorite town – Stone Harbor!
By way of background information, the Ocean Parkway was built to connect Stone Harbor and the entire beautiful beach with Cape May Court House, the county seat of Cape May County. The Parkway was four miles long, about 200 feet wide and the surface five to six feet above the salt meadows. On this embankment were the rights of way of the vehicular boulevard and two railroads. This boulevard united Stone Harbor with the State Ocean Highway which was the main automobile road from Philadelphia and Atlantic City. Alongside and running parallel to the elevated embankment was a man-made dredged canal 100 feet wide and 10 feet deep suitable for barges, small boats and other vessels. This tide water sea level canal, the only one of its type in New Jersey, gave the inland manufacturing town of Cape May Court House access to the sea and this too was newsworthy.
The railroads were steam and electric and connected Stone Harbor with the mainline of the Pennsylvania and Reading Railroads at Cape May Court House. Both rail lines originated in Philadelphia: the Pennsylvania Railroad started at the foot of Market Street and the Reading Railroad at the foot of Chestnut Street. Commencing in 1912, the Stone Harbor Terminal Railroad Company instituted regularly scheduled high-speed interurban trolley service (electric) for the Reading Railroad and connected Cape May Court House with the Stone Harbor depot which was situated at 96th Street and Second Avenue where the water works and tower were located. In addition, the Pennsylvania Railroad operated regular train (steam) service from Cape May Court House to the Stone Harbor terminus at the bridge on 96th Street. The detour via Sea Isle Junction via Townsend's Inlet would thus be avoided, and Stone Harbor "cottagers" as they were called at that time were able to commute during the summer season from Philadelphia to Stone Harbor in 90 minutes time. The railroad company offered at least 22 fast trains (sometimes more) daily and on Sundays for travellers to chose from at reduced rates. What a remarkable schedule with such frequency of service and at the exceptionally enticing "Special Dollar Excursion" rate or cost available at times from the "City of Brotherly Love" to the shore!
In addition, the opening of the Stone Harbor Parkway meant the annexation to the State of New Jersey seven miles of Atlantic Ocean frontage hitherto without adequate transportation facilities. Now that too was another step toward progress.
In 1907, a group of three enterprising developers known as the Risley brothers from Philadelphia and under the auspices of their newly established South Jersey Realty Company purchased the 3-1/2 mile southern portion of Seven Mile Beach. It should also be noted that the initial and concentrated development of Stone Harbor was accomplished over a 3-year period prior to 1911 with the assistance of some 800 business and professional people from Philadelphia whose interests were coordinated and facilitated by means of an entirely new system of real estate and financial investment. This new and creative venture was called the Stone Harbor Bond Plan. Briefly stated, this particular bond plan was based upon the universally recognized fact that in every city there are always certain centrally situated properties or parcels of land that have the potential to increase in value more rapidly than other parts of the city. Such was the case with Stone Harbor. It is in recognition of the certain or more likely increase in value of for example highly desirable and scenic beach front properties in the seashore community that this very novel Stone Harbor Bond Plan was devised.
Keep in mind that early on there were very few buildings on this southern portion of the island. However there was the U.S. Life Saving Station originally located on the northern fringe of the lower half of the island and built in 1895. So during just a three year period the Risley's with their dream of a "New Stone Harbor" embarked on the process of transforming a wilderness of sand dunes and scrub vegetation (mostly stunted trees and shrubs) into a charming seaside resort with all the essentials of a municipality including artesian water, sanitary sewerage system, graded and graveled streets, and cement sidewalks and curbs. With the basic infrastructure in place, attention could be directed at promoting additional new development focusing on housing and lodging. All of this was in anticipation of a host of cottage-builders who were now dotting both the Ocean and Channel front locations with handsome villas and picturesque bungalows particularly in the 83rd to 96th Street area.
Interestingly, Stone Harbor at this particular time was aggressively promoted by the Risley brothers and their clever marketing as possessing the only beach on the North Atlantic seaboard uncrossed by amusement piers, or jetties and unobstructed by a boardwalk, that was open to motorists. The expansive beach then was 270 feet wide at low tide, hard, clean and firm and it was well known that numerous motorcycle and automobile races were conducted and became quite popular by drawing large crowds on the Stone Harbor beach for a time during the second decade of the 1900s.
This account contains 8 most interesting post card images as well as 3 rare photographs portraying early scenes depicting the boulevard approach and the entrance to Stone Harbor as well as views along 96th Street. Each image will be assigned a brief description with some specific noteworthy features for readers to notice. In the early years of Stone Harbor's development, numerous post cards depicted views of the new and very important means of access to the resort and these specially selected 11 images are hereby arranged in a chronological order to illustrate some of these scenes.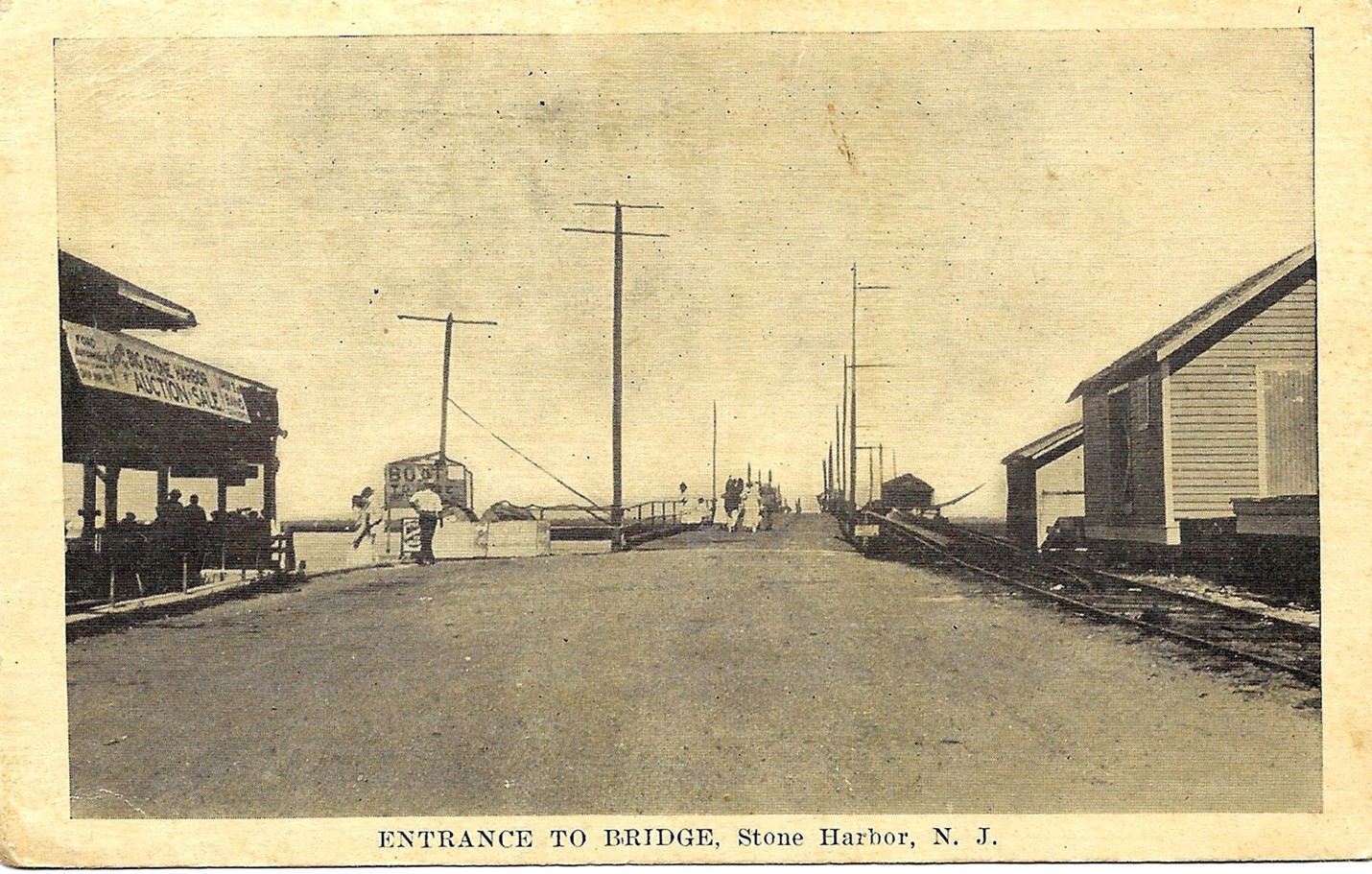 This first rather elusive post card postmarked 1920 at Stone Harbor shows the "Entrance to Bridge" looking west to the mainland. Please notice the set of railroad tracks and the overhead trolley wires along the right-hand portion of this particular scene. In addition, a group of individuals including women in white dresses can even be seen walking across the bridge but you will have to look closely to find them. That being said, perhaps we can surmise that vehicular traffic using the causeway and bridge into town back in those days was considerably less and nothing at all like it is today, especially during the summer months. Finally, while it may be difficult to read, the open-air structure to the left sports a large sign stating "Big Stone Harbor / Auction Sale." One wonders what they were selling on this occasion.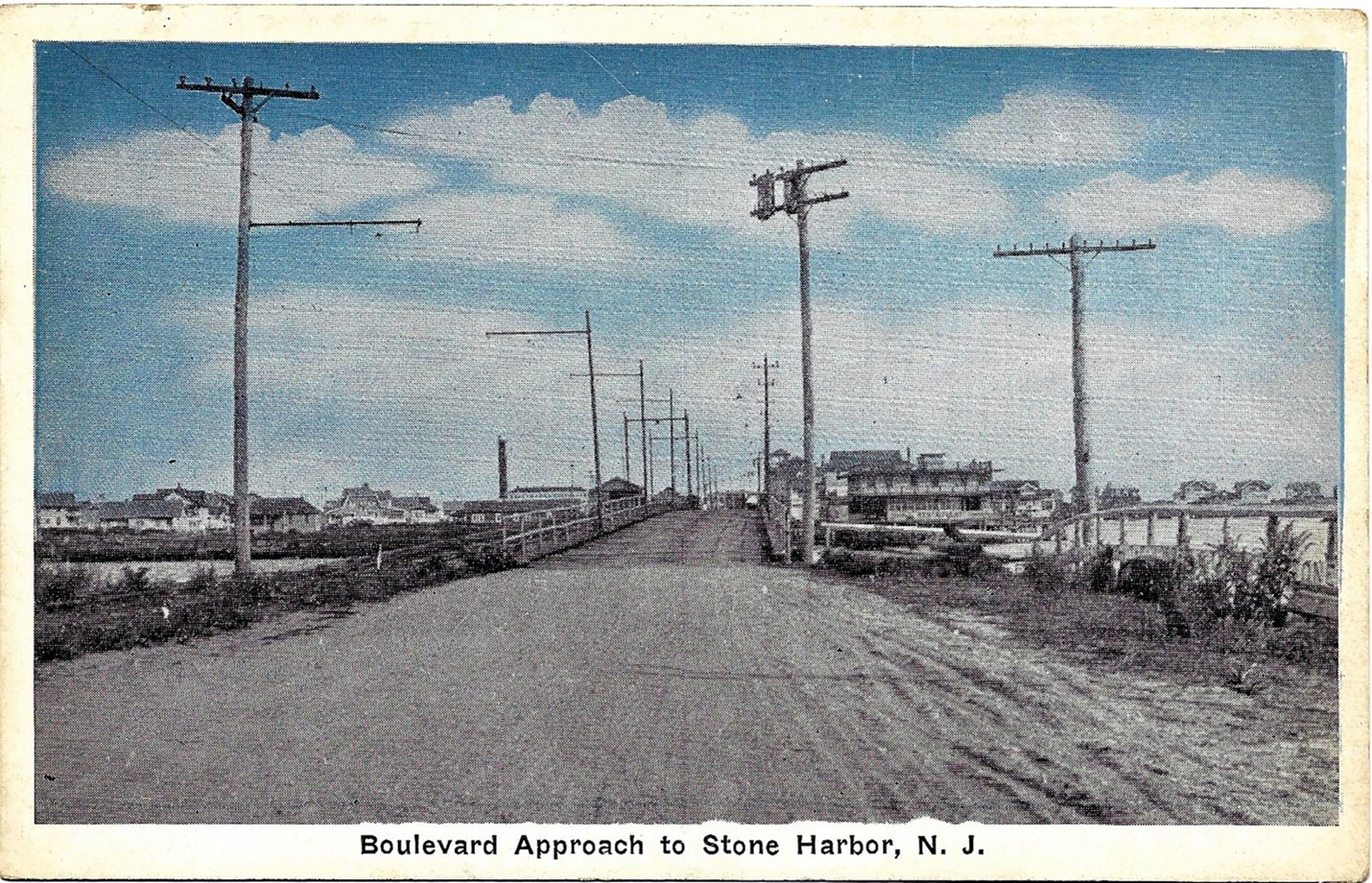 This second item depicts a view of the "Boulevard Approach" one would see and use in the early 1920s to enter the borough of Stone Harbor. Once more we see those railroad tracks and the overhead electric wires to the left of this roadway and bridge which lead across the inlet into town. The roadway surface appears to be gravel. One can notice and perhaps recognize two structures in the background: the iconic tower atop the Shelter Haven can be seen to the right on 96th Street and to the left is visible the conspicuous water tower at 96th Street and Second Avenue.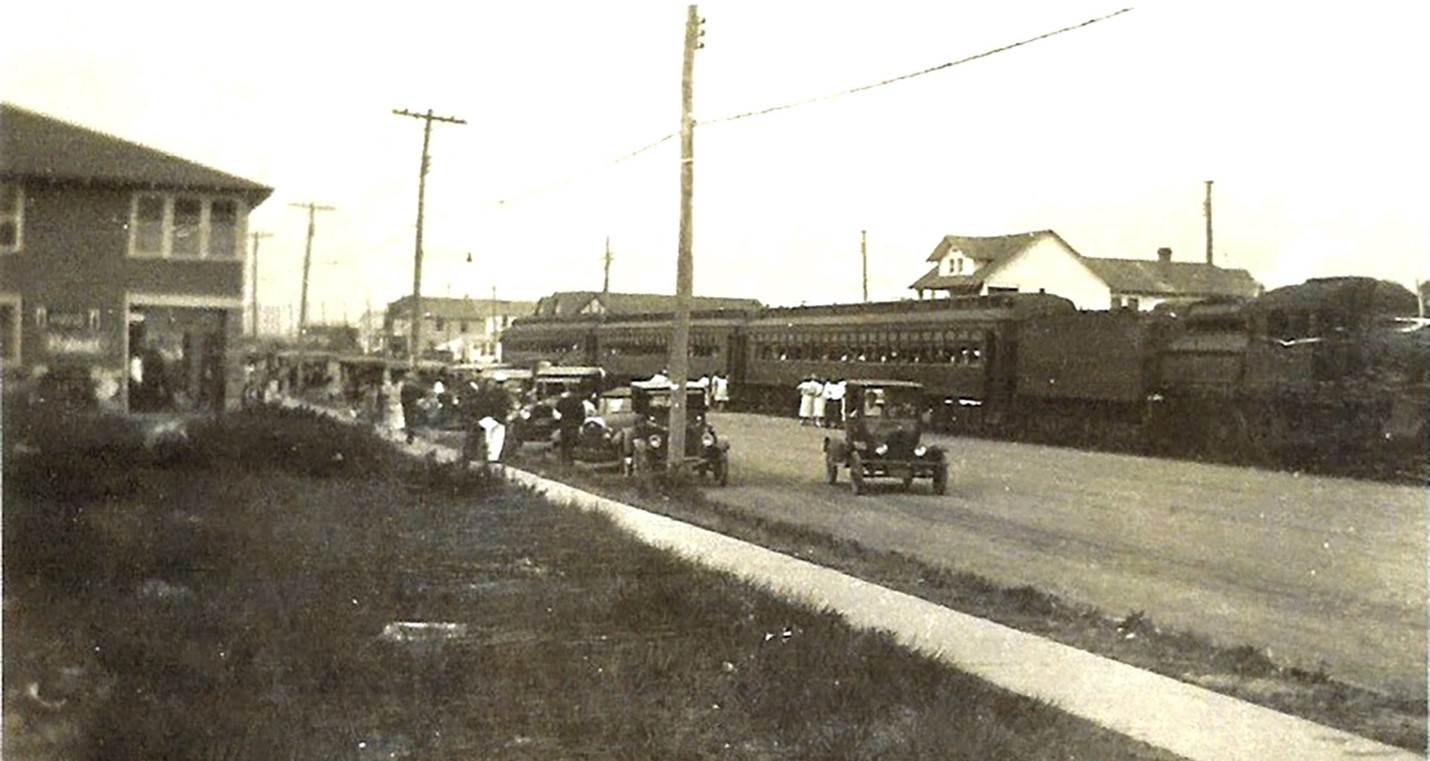 Next is a 1925 photo (not a post card) capturing an uncommon occurrence along 96th Street. Occasionally, the Reading Railroad would schedule special excursions from the mainland originating at Philadelphia and proceeding to Cape May Court House. Here we see a distinctive camelback locomotive pulling three passenger cars. Also included in this view on the far left is the Parkway Theatre – a popular movie house situated across the street from the parked train. In addition, there are numerous vintage automobiles parked on the street adding somewhat to this congested scene. Perhaps this rather busy moment in time occurred at the end of a summer day when the train was preparing to return to Philly with some tired but happy "day-trippers" or so-called "shoebies" after having enjoyed the beach and the ocean at Stone Harbor. The word "shoebies" was somewhat of a slang term or a reference that was in vogue during this era and generally referred to persons who traveled "down the shore" by train from places like Philadelphia and Camden on occasions just for the day with their lunches packed in shoeboxes. This was a very common practice especially when some people could not afford the cost of an entire week's stay at the shore.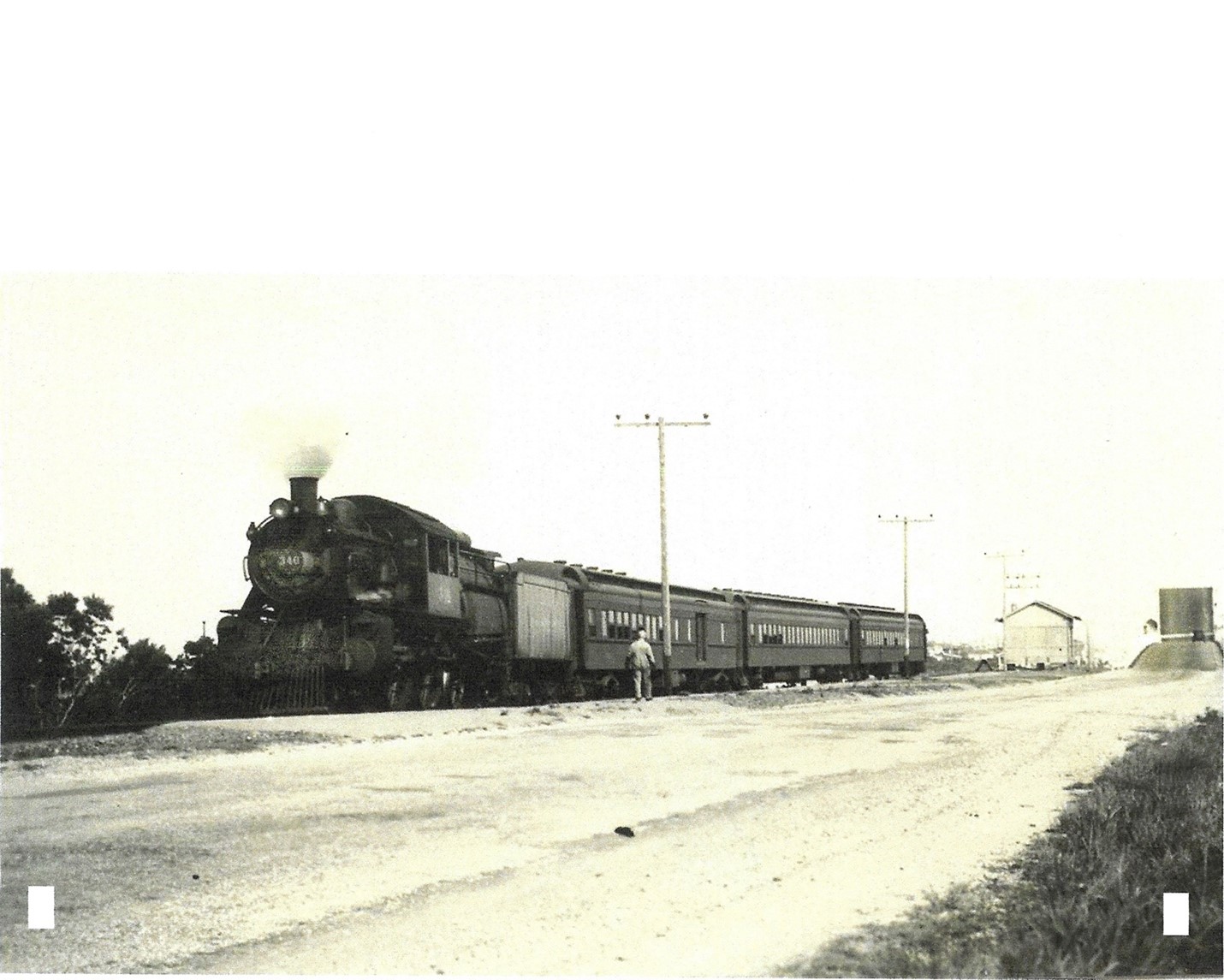 Moving on, here is another very interesting image from a photograph that shows a Pennsylvania Railroad 3-passenger car train preparing to depart Stone Harbor in 1934. This view was taken at the Scotch Bonnet Creek trestle just outside of town. The first inlet single-span drawbridge is the one that New Jersey Governor Woodrow Wilson officially dedicated and opened to traffic on July 3, 1911 (remember the Gala Week festivities) and can be seen in the background on the far right in an elevated or raised position. In fact, if you look very carefully the viewer will be able to observe an automobile stopped on the bridge and waiting for a boat to pass by and the bridge to be lowered so it can proceed onto 96th Street.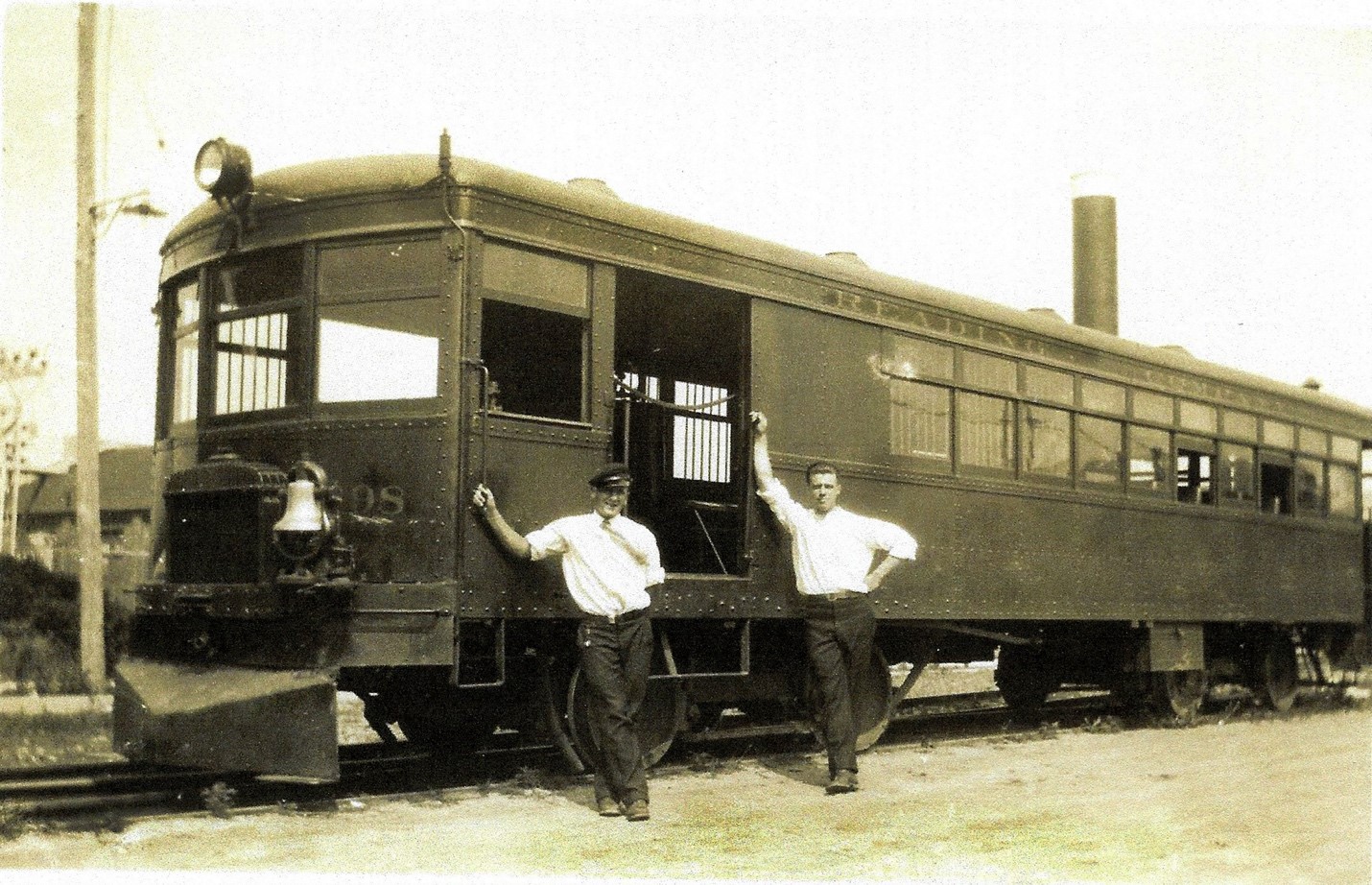 This particular photographic image features two railroad workers, probably the operator and conductor/freight handler, standing next to a Reading Railroad Company gas motor utility coach No. 98 at the 96th Street depot and taken in the late 1920s. These durable coaches were the so-called "work horses" and they mainly transported railway express freight and mail. However, they could also accommodate and seat a relatively small number of passengers in the rear of the coach. There are several interesting features worth noting about this special railroad car, particularly at the front including: a strong searchlight for illumination ahead of the train; a whistle and a bell; a radiator mounted outside under the windows to provide cooling of the engine mounted inside; and a cowcatcher or a rather conspicuous looking inclined metal frame useful for deflecting obstacles off the track. One final note of interest focuses on the wheels and the undercarriage of the train. Look closely in front of the leading wheel visible in this photo. There is a tube-like nozzle aimed at the wheel/rail interface. In other words, in less than ideal weather, sand can be actually sprayed on the rail track to reduce slippage. Sanding, as is was and still is called, has been used to increase friction and improve traction since the very early inception of railroad transport. Oh, and just one more thing for you to look for and that is the Stone Harbor water tower directly behind the coach. So I guess that pretty much confirms where this photograph was actually taken!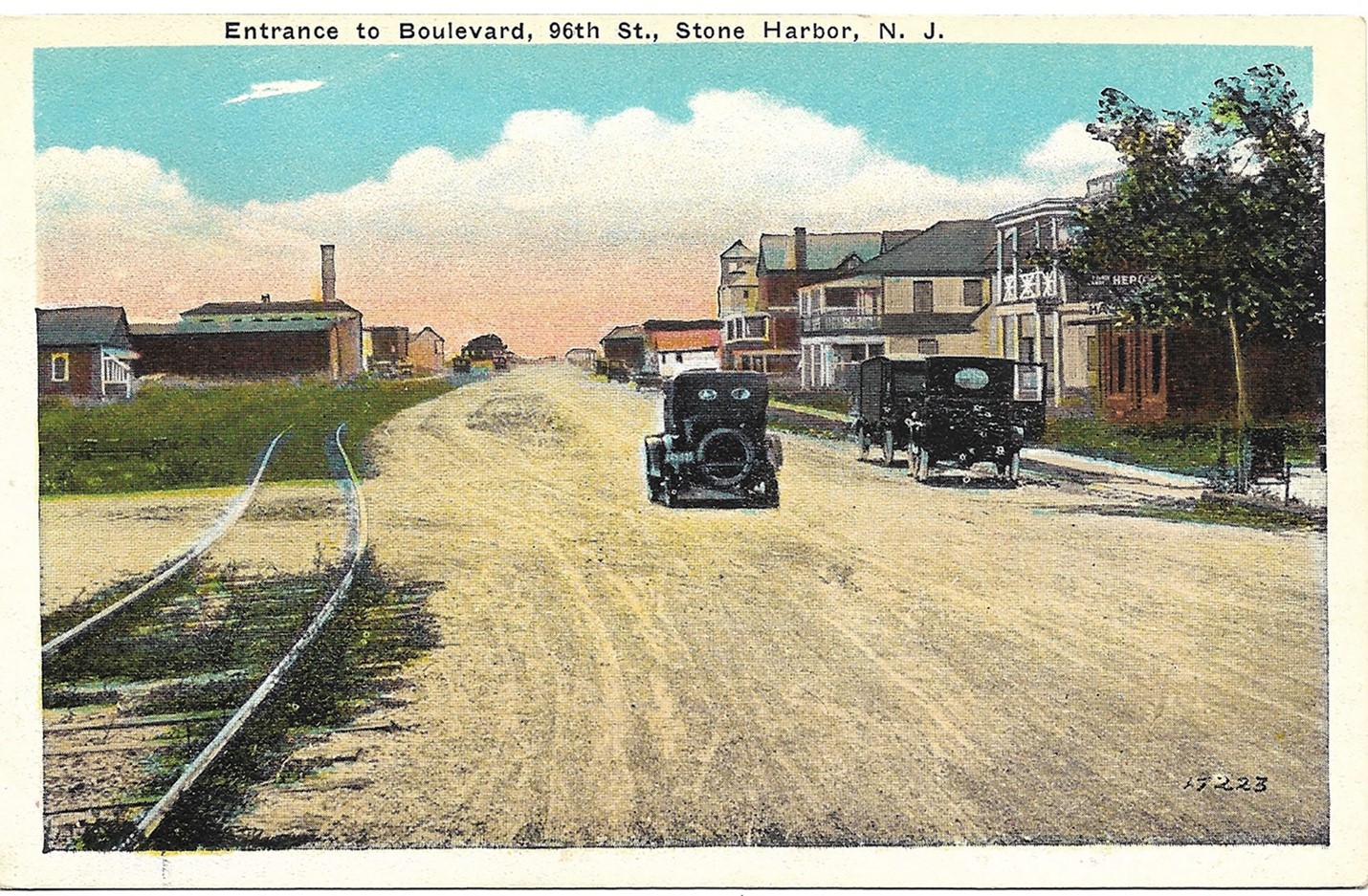 This beautiful and nostalgic post card is captioned "Entrance to Boulevard, 96th St." A set of railroad tracks conspicuously run along the street on the far left in this circa 1920s scene. Once more as we look east toward the ocean we can discern two distinctive and familiar features in the background: the tall water tower to the left at Second Avenue and the prominent tower atop the Shelter Haven Hotel on the right side of 96th Street at the intersection of Third Avenue. Several vintage automobiles and other vehicles add a nice touch to the overall charm of this special image. This scene captures what looks like a very quiet day at Stone Harbor.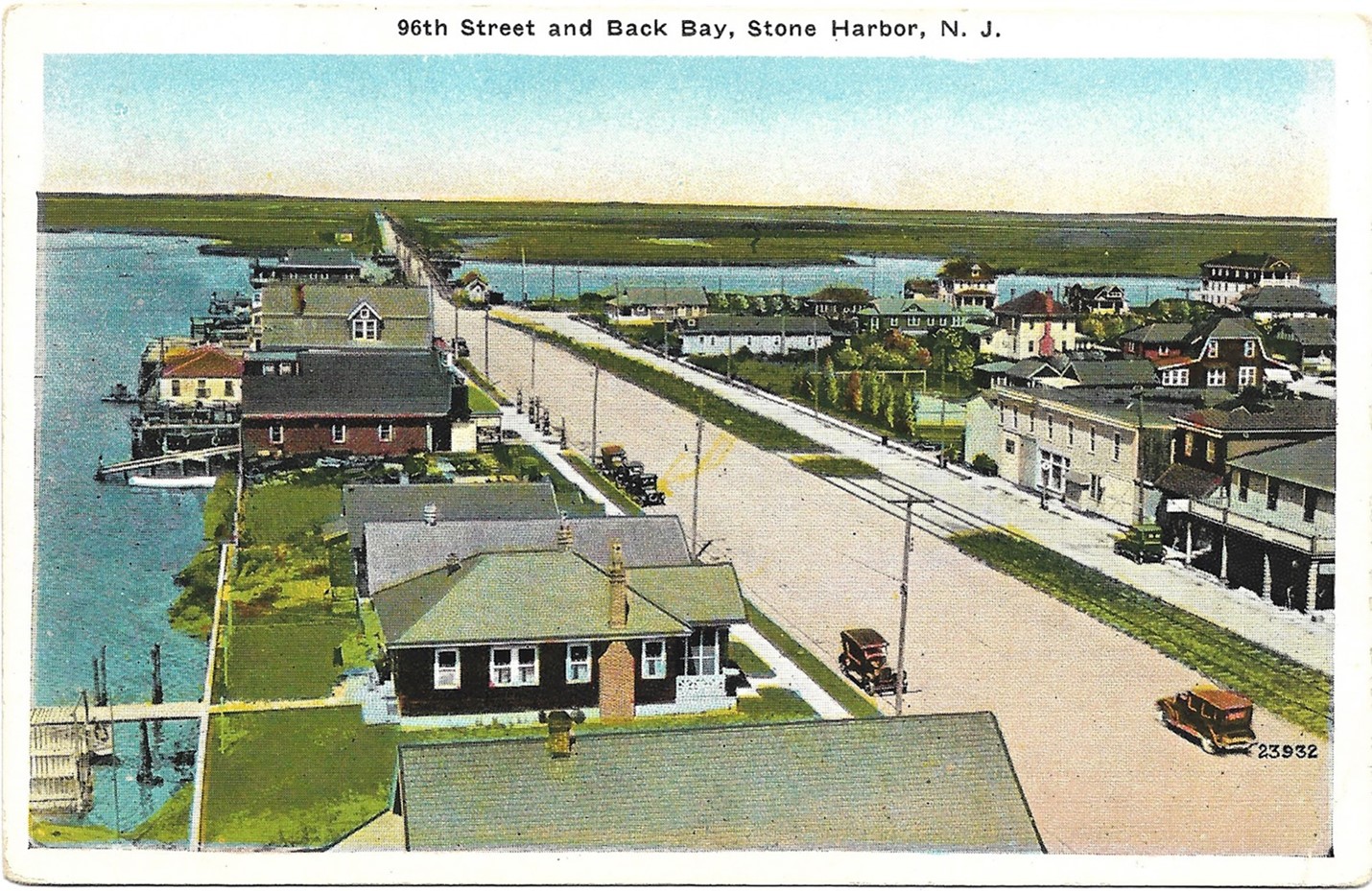 Depicted on a post card and most likely photographed from the roof of the old Shelter Haven Hotel, this aerial view of "96th Street and the Back Bay" looks toward the west and the mainland including the approach to Stone Harbor. Two sets of railroad tracks are still visible in this 1920s view running along the right side of this main thoroughfare. In due time those tracks would disappear and the ever-present automobile would become more prevalent as well as the principal mode of transportation to and from Stone Harbor.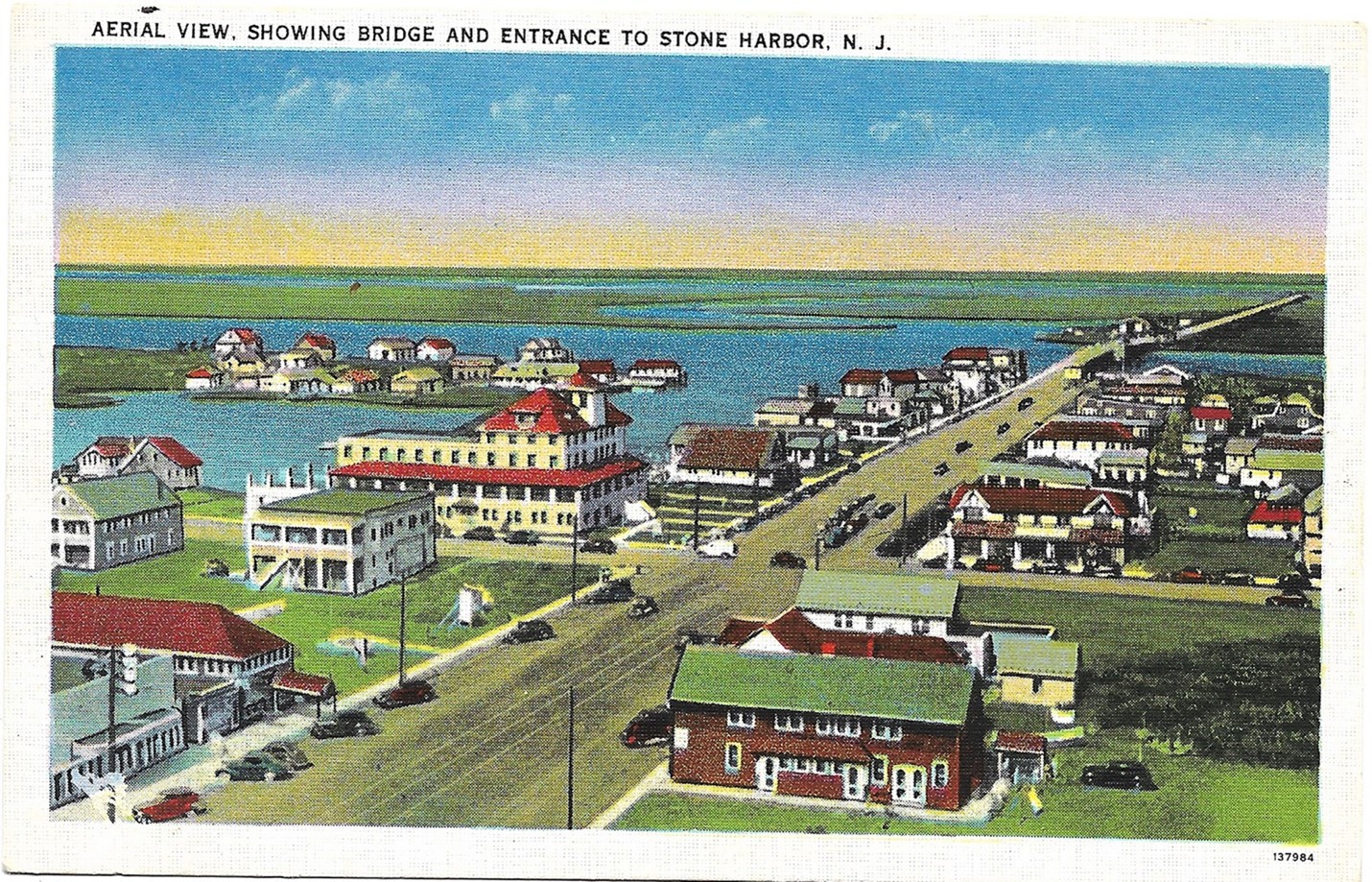 Evident in this circa 1930 post card image that was taken from the town water tower looking eastward, the caption states "Aerial View, Showing Bridge and Entrance to Stone Harbor, N.J." Overlooking the intersection of 96th Street and Third Avenue, we also see the iconic 60-room Shelter Haven Hotel built in 1912 with the man-made Shelter Haven Basin, the Great Channel and the mainland off in the distant background. One interesting feature shows "green spaces" and some areas along the two main thoroughfares still remaining undeveloped. It would not be long before that would all change and the building boom of the 96th Street business district would continue in earnest and supplant or supersede the former and original business section which had been established a bit to the north in the 83rd Street area.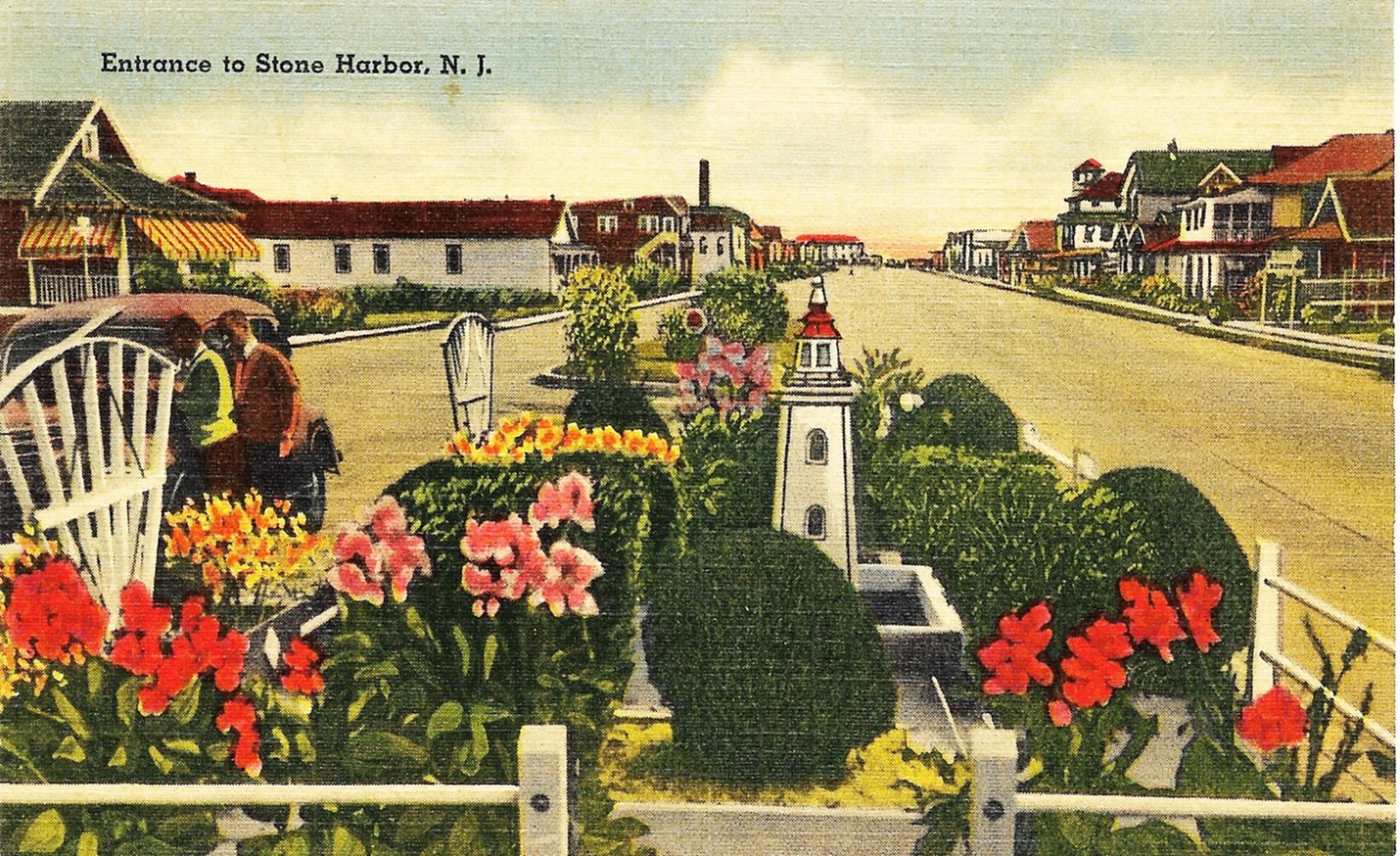 Upon entering Stone Harbor by way of the causeway from Cape May Court House, the early 1940s visitor would certainly have noticed and been impressed with these beautifully tended gardens with a quaint model lighthouse included. Here are two slightly different photographic images of the same basic scene and taken on the same occasion. The black/white card was postmarked and mailed in September 1943. The second but slightly different version in striking color is a linen post card that apparently was taken from a slightly lower perspective or angle compared to the first post card shown here and bears a Stone Harbor postmark dated JUL 1941. Imagine the pride these two men pictured in each image, most likely members of the Chamber of Commerce, derived from beautifying the approach to town with these two lovely planted islands in the middle of 96th Street? The island in the foreground in both images has two trellises or framed latticework used to support climbing plants. Notice in one of the images the posted speed limit upon entering Stone Harbor was 20 miles per hour. The welcoming signage or greeting (not visible in this photo) upon entering town proclaimed "Stone Harbor: The Seashore at Its Best." Looking carefully we see the former image shows two men each standing on a different island while the latter view in color reveals the same two men but actually standing by the driver side of the automobile. Once again as we look eastward toward the ocean, those two key skyline features prominent in the background of both post cards attract our attention: the town water tower to the left and the tower perched over the Shelter Haven Hotel on the right. Magnification of the post card in black and white reveals the town's name "STONE HARBOR" which appeared painted on the water tower. You will however be hard-pressed to distinguish those two words with the naked eye, but believe me, they are there.
For the record, these two postcards postmarked and mailed during World War II in 1943 and 1941 respectively, most likely had these photos actually taken in all probability in the year 1940. My reasoning is that the automobile depicted in both views is without a doubt a 1939 Plymouth 4-door sedan. The black and white card showing the automobile with one of its two hoods opened and raised for access to the car's engine compartment is strong evidence of it being correctly identified for our purposes. Furthermore, we know that the standpipe or water tower shown here was deemed insufficient at this time and a replacement tower with greater capacity and a much different silhouette was built sometime in the 1940s at the same water works location at the corner of 96th Street and Second Avenue.
Ominously, we have learned and understand that around 1939-1940, war clouds loomed on the distant horizon in Europe, the Mediterranean, Africa and the Pacific and surely the seeming calm as characterized in these last two picture post card scenes seems to suggest an idyllic and pleasing setting for those who lived in and visited Stone Harbor back during those trying times. Could it be that this very place at the Jersey Shore offered a kind of respite or a brief interlude for people during this period in history when the United States was actively engaged in a war overseas? But then maybe that's a whole 'nother story in itself destined for a future article – "Stone Harbor and the war years of the forties."
In conclusion, my final question is to you the reader: "Where would you like to go next with our continuing accounts of "Harlan's History of Stone Harbor: Post Cards From the Past"? Please let me know if you have a preference with your comments. Thank you very much!