"THE LOVELY EDSON VACATION COTTAGE AT 104TH STREET AND GOLDEN GATE ROAD, STONE HARBOR, NJ"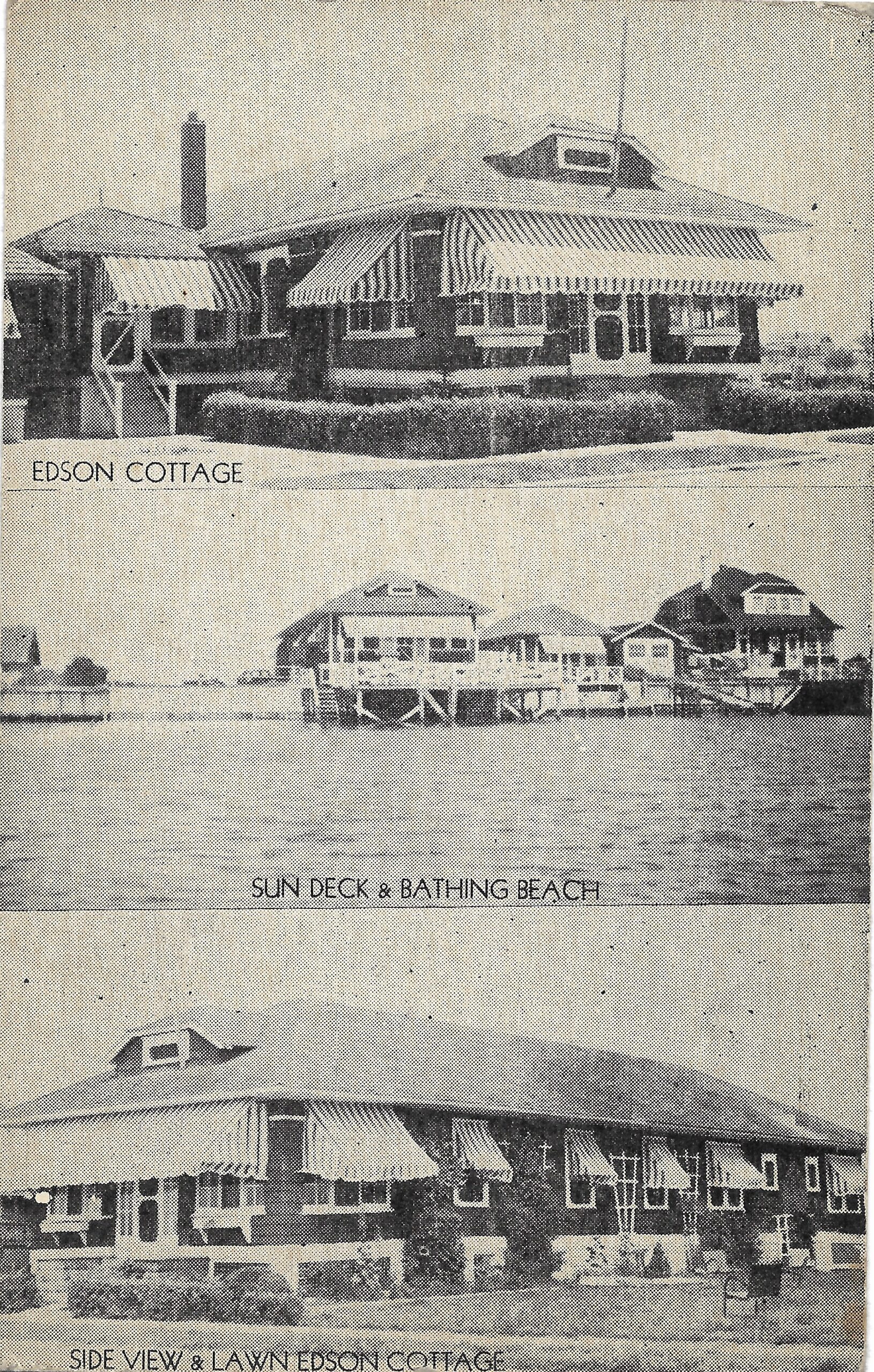 This article is primarily about a single private advertising post card that both promoted and publicized a rental property and the very idea of enjoying a "smooth vacation" at Stone Harbor, New Jersey.  The extremely rare and seldom seen circa 1930 post card featured here consists of three images from different vantage points of the delightful and cozy so-called Edson summer cottage advertised for rent at 104th Street and Golden Gate Road.  At that time the listed telephone number included on the reverse side of the post card was: "Stone Harbor  56  R  11".  Notice the fashionable and trendy canvas awnings surrounding the entire cottage installed over most of the windows to provide shade and comfort from the hot summer sun.  In the absence of any established shade trees and of course any air conditioning, the awnings were indeed befitting the times especially at places like the Jersey Shore.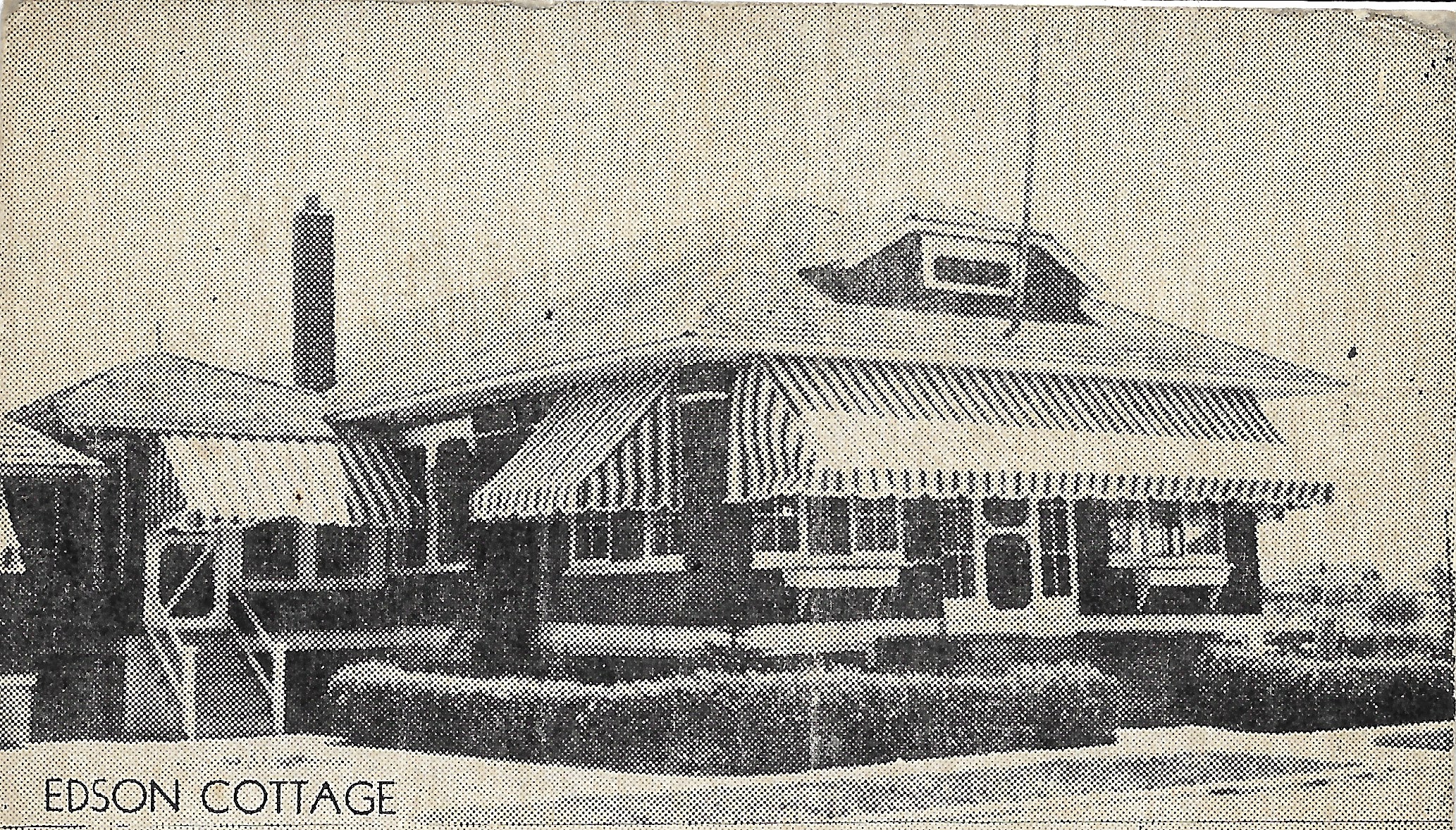 The first or the upper image portrayed here depicts a nice front view of the "EDSON COTTAGE" in all its splendor including a dense hedge row of shrubbery, window boxes for flowers, a screened-in front entrance and perhaps a vestibule or enclosed porch, an adjoining side entrance as well as what appears to be a flag pole mounted on the porch roof.  This rather typical seashore style cottage of the 1920s reflected the ever-popular casual California style bungalow with its characteristic dark wood shingle siding with overhangs along with those traditional striped awnings.
Turning our attention next to the second or middle image titled "SUN DECK & BATHING BEACH", we see the water facing view of the back of the Edson property.  In actuality, there never was a bathing beach of any sort located at this particular site even though the image makes such a reference.  Clearly there is an awninged screened-in back porch as well as an expansive outside open deck for entertaining in the back extending considerably out over the water as well.  As we have discovered preparing this article, swimming, boating, even occasional wakeboarding, and of course fishing and crabbing were also amenities or viable options for such properties with private decks and docks.  In this immediate area, both the Carnival and Pleasure Basins were solely residential and did not provide any commercial services as some of the other Stone Harbor basins did.  In any event, it was without question that over time this so-called "backwater" neighborhood would become a prime location for a summer retreat and for family vacations.  It should also be mentioned that the properties and moored boats on both the bay and especially the nearby man-made basins were sheltered and afforded some protection from storms and inclement weather.  We do know that the rear or back side of the Edson property was actually located on Pleasure Bay and Golden Gate Drive.  And of course, don't forget this Back Bay area was and still is known for many spectacular evening sunsets.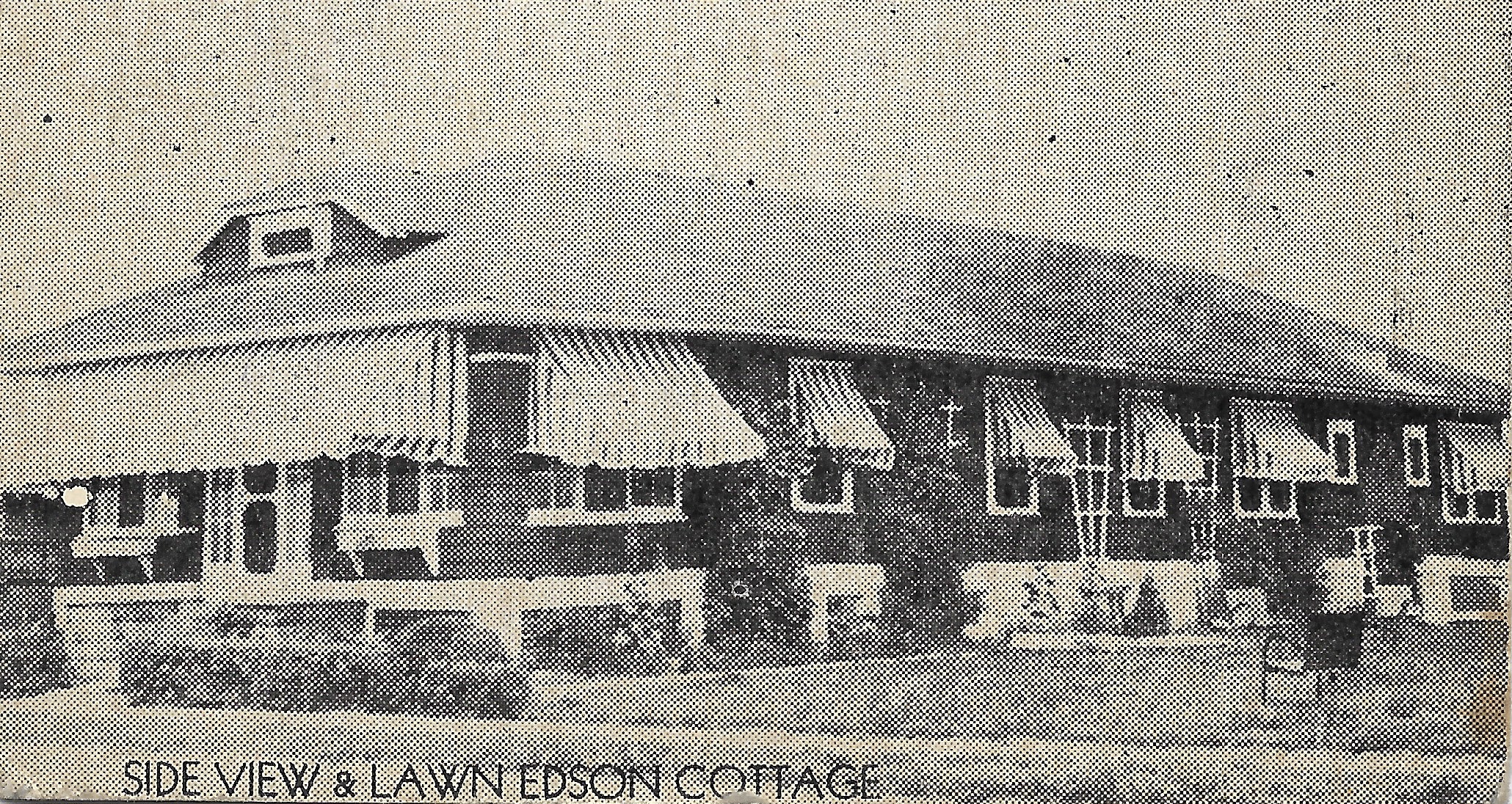 The third image depicted at the lower part of this post card shows what appears to be a larger than expected or quite spacious "SIDE VIEW & LAWN EDSON COTTAGE".  As you can readily see this cottage has a lot of living space.  While appearing well maintained and rather established with considerable greenery, there are several quaint trellises or frames of latticework that were used as a support for climbing plants all along the side of this cottage.  This somewhat remote area of Stone Harbor, including namely Golden Gate Drive, Sunset Drive, Corinthian Drive and 104th Street, was also known for being much quieter and with less vehicular traffic than the main thoroughfares criss-crossing the town.  This very area covering the two basins, Carnival and Pleasure, had what has been aptly characterized as having a real nice neighborhood feel to it and this is one determinant that made the homes in this vicinity such desirable places to spend summer vacations.
After becoming more familiar with the 3-photo views of the Edson cottage post card and in collaboration with a fellow Stone Harbor Museum member and current long time resident Graham Hueber, my thinking is now trending in the direction that this structure was indeed a multi-unit structure able to accommodate several families in separate apartments but originally with some shared common features.  It should be noted that there are two separate front entrances, one of which might have been a common front entryway, as well as at least two or possibly more doors or entrances at the rear of this property.  The overall depth or running length of this cottage strongly suggests that the Edson cottage was  constructed with multiple family occupancies in mind especially since the proprietor's printed post cards pictured and promoted the rental opportunities.  It therefore just might be reasonable to assume that this cottage really was originally designed to accommodate at least four families in separate spaces or apartments for short term, moderately priced rental periods during the summer season.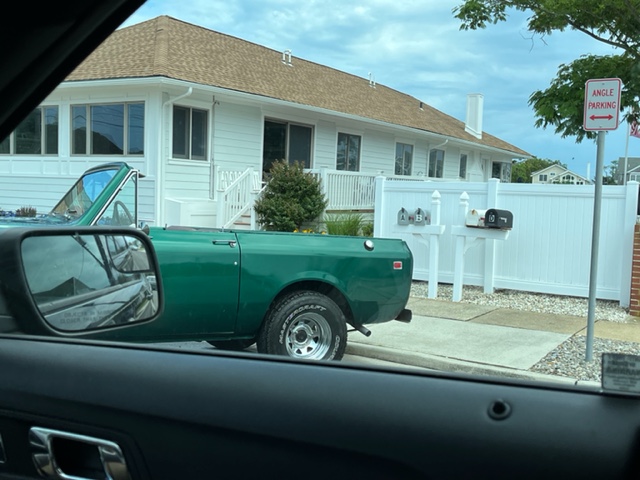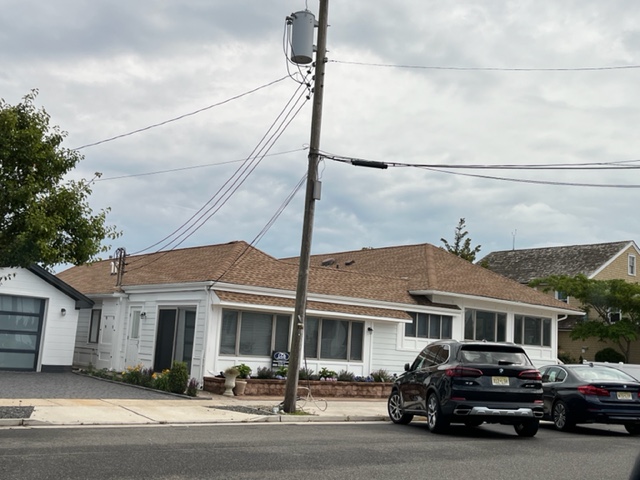 This section is devoted to a personal account submitted by Stone Harbor resident Graham Hueber that reflects both his as well as his mother's (Josephine Arader Hueber) recollections of the Edson cottage in more recent years.  Two very recent photos taken in June of 2022 are included and here is what Graham Hueber had to say:
"My knowledge of the multiple unit apartment building on the basin comes from my Mother's memories.  We went there in the early 2000's to visit friends who rented an apartment in the complex on the south side that face the bay.  It also faced a rather wide (maybe 35 feet) strip of grass that ran from the street to the water that all apartment owners could use for recreation, outdoor cooking, etc.
At the time there were 4 or 5 apartments in the complex.  One that faced the street, the one our friends rented that had an entrance from the side grassy strip and a sliding glass door that opened onto a very large deck and dock that extended into the bay.  I believe there were three other units of varying size that all faced the water.
During the time these friends rented the apartment, the deck and dock were taken up for refurbishment and it was found that the bulkhead was also in need of replacement.  At the time the town discovered that the back of the apartment building had been extended over the years and actually extended over the original town installed bulkhead from the early days of Stone Harbor.  Since this extension was not legal, the building had to be scaled back and the size of the deck and dock were reduced.
My mother recalled that one use of the apartment complex was housing elderly widows who wanted to leave their larger Stone Harbor home and move into something smaller after their husband passed away.  I believe she and my grandmother had gone there to visit friends who lived in one of the small apartments.  As she recalled, residents had a small bedroom to themselves and shared common spaces like a living or dining area and kitchen.  It is doubtful that they had a private bath but they may have.
Later this complex was divided into separate apartments and each were retrofitted to have kitchens and baths.  When we toured our friend's rental apartment there was little beyond a fire place that recalled the style of the original building as it would have been built in the 1920s."
For the purpose of providing an historical backdrop for this article, it is fairly well known that during the early years the founding Risley brothers also embarked on yet another ingenious Stone Harbor housing development project.  Their concept  entailed utilizing a large hydraulic dredging apparatus on a floating barge designed to extract extraordinary amounts of sand and moving it through large pipes by means of suction and thereby creating three new man-made bayside basins that would make available more prime waterfront lots or properties for homesite development.   These very basins were all accessible to the Great Channel and the intercostal waterway between Seven Mile Island and the mainland.
In conclusion, these kinds of somewhat smaller and less pretentious but certainly more affordable sturdy one-story homes like the Edson cottage would become very popular for many who wished to spend casual summer family vacations at this growing shore resort.  This important stage of housing development during the decade of the 1920s and 1930s would provide opportunities for those other than the wealthiest class of people to own a second home in Stone Harbor.  Over time many of these dwellings would become renovated as well as updated and even "winterized" for year-round living especially for retirement purposes!
After becoming more familiar with the 3-photo views of the Edson Cottage post card, my thinking is now heading in the direction of this building being a multi-family structure able to accommodate several families in separate apartments but with some shared common features.  It should be noted that there are two separate front entrances, one of which might be a common front entryway, as well as a least two or more doors or entrances at the rear of the property.  The overall depth of this cottage suggests that it was constructed with multiple occupancies in mind.  It therefore might be reasonable to assume that this cottage really was originally designed to accommodate at least four families in separate spaces or apartments for short term rental during the summer season.