23 Bower Court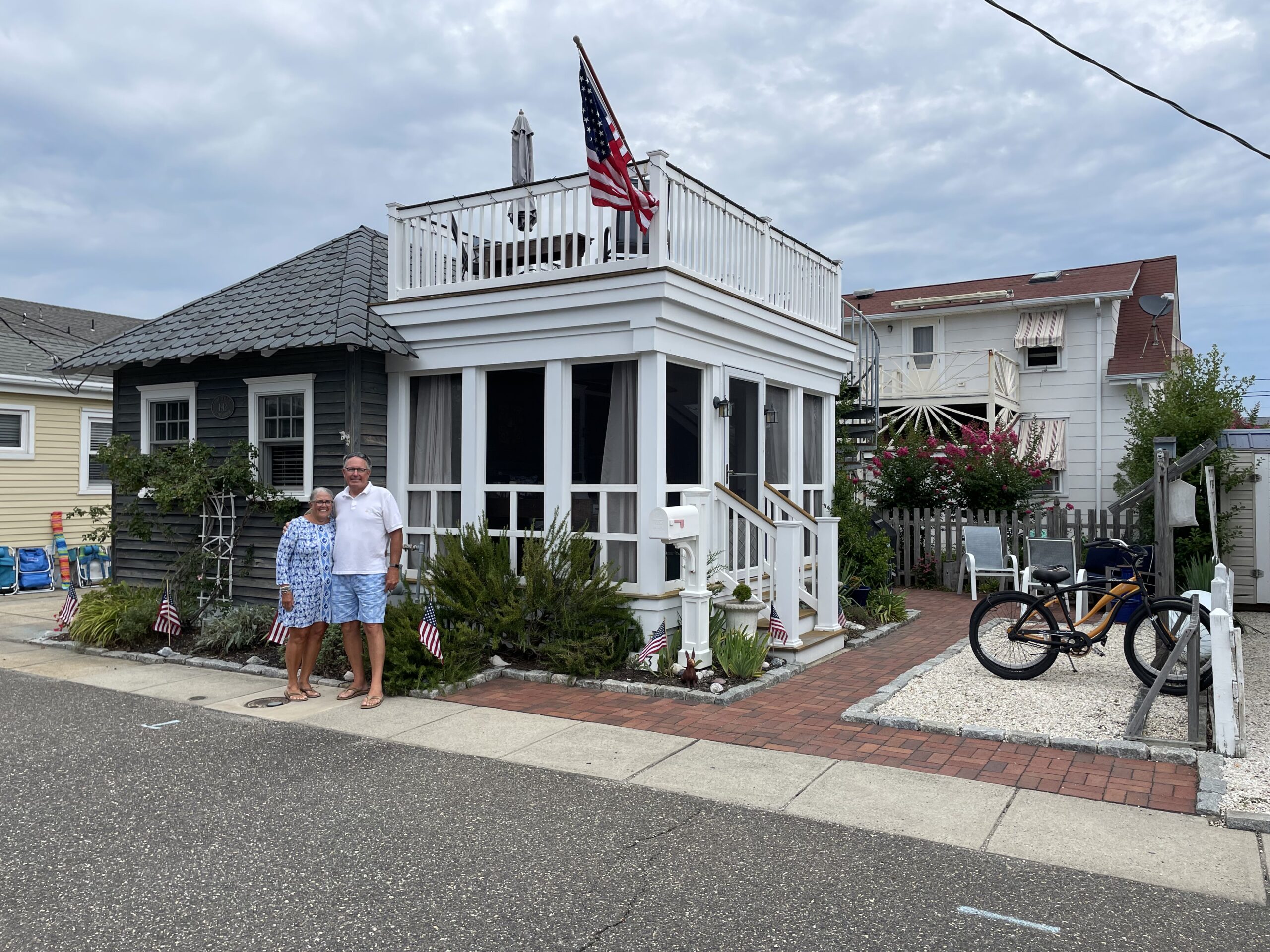 This charming 1-bedroom 367 square foot Bungalow home sits on a double lot located between 108th and 109th Streets.
The 3-room house was built in 1912 and originally came with a kitchen, bathroom, bedroom, living room with 2 iron beds, a drop leaf table and four chairs, a built-in metal sink and an icebox.
During the Depression, Carolyn Heil's father bought several houses on Bower for $500 each (including this one).  He sold them off each time one of his children went off to college to fund their education.
The Stiles bought 23 Bower Court in 1984 – they sold both of their newer cars to make down payment!
The early renovations made were to the outside – the Stiles added scalloped shingles, a deck and an outside enclosed shower.
Life of the House
At first they rented out the house most of the summer and spent only a few weeks a year there.
1998 was the first year Robin had the summer off so she and their three children stayed in Stone Harbor for the summer while Bob commuted back and forth on weekends.  All 3 children worked at various places around Stone Harbor – Bradleys, Fudge Kitchen, Life Guards, Beach Tag Checker, Global Pursuit, Springers and the Yacht Club.
The Stiles now rent the house out to friends and use it for when family comes to visit.
This charming 2-bedroom 623 square foot Bungalow home sits on a double lot and is located between 110th and 111th Streets.  The 4-room house was built in 1913.
Bob's parents, Lee and IlaJane Stiles, bought 42 Stone Court in 1986 and made some minor renovations.
Bob and Robin inherited the house in 2013, rented it for several summers, and starting in 2019 spent a few years designing and renovating to meet their future needs as a full time-residence.  It became their full-time residence in September 2021.
Their renovations included designing specific spaces for their many treasured antiques brought with them from their 1780 house in Connecticut.  They did much of the work themselves and used specialty contractors when needed.
Both homes are beautifully decorated primarily in blue and white.  The Stiles have made use of every available nook and cranny in each house.  From the custom bookcase in Bower Court (made by Bob's Dad) to the beautiful lofts in both spaces, it is obvious much thought and love went into making these houses a home.
The Bower Court neighbors have maintained a close friendship over the years.  They even have an annual block party called the Bower Bash!
The Stiles were active in the Yacht Club of Stone Harbor.  They enjoyed sailing a Cheetah Cat, made a locally by Edme Deschamps.   Bob was Commodore in 2004.
If you would like to hear more about the Stiles' homes and life in the Courts…..
check out their Oral History recording below.