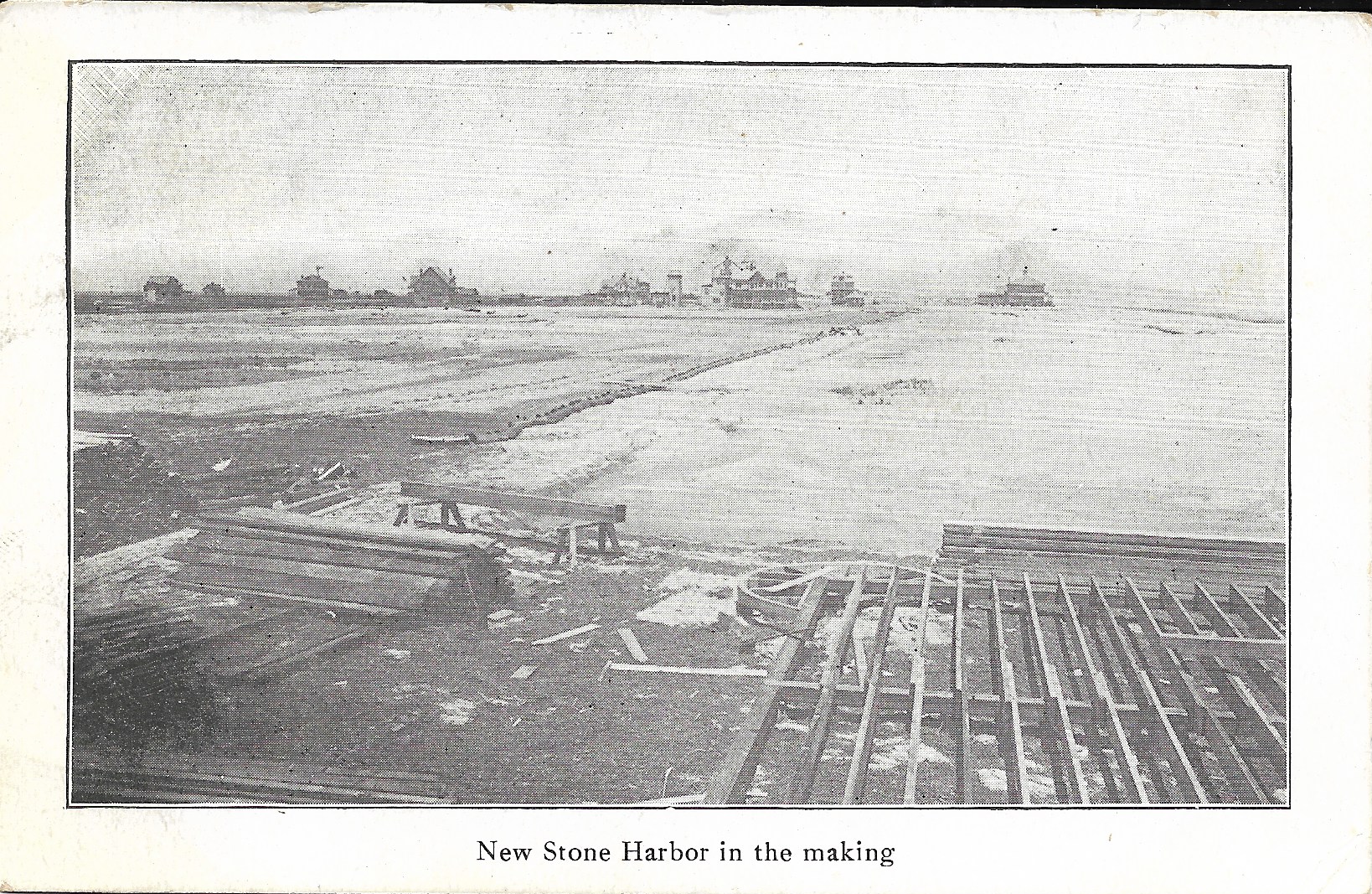 The introductory post card image shown above is titled "New Stone Harbor in the Making." It is representative of the period of impressive homebuilding and development that would take place in the early days of Stone Harbor around 1908 to 1914. Our attention for this brief account therefore will focus primarily on the period of 1908-1914 with emphasis on the year 1914. This vintage post card was postmarked in February of 1909 and the photo was most likely taken sometime in the year 1908. It shows the ground floor of either the Juergen's or the Herbert cottages undergoing the beginning stages of construction at First Avenue and 88th Street. In fact, a careful examination of this image and especially the buildings in the distant background will reveal the prominent Harbor Inn. Can you find the Harbor Inn?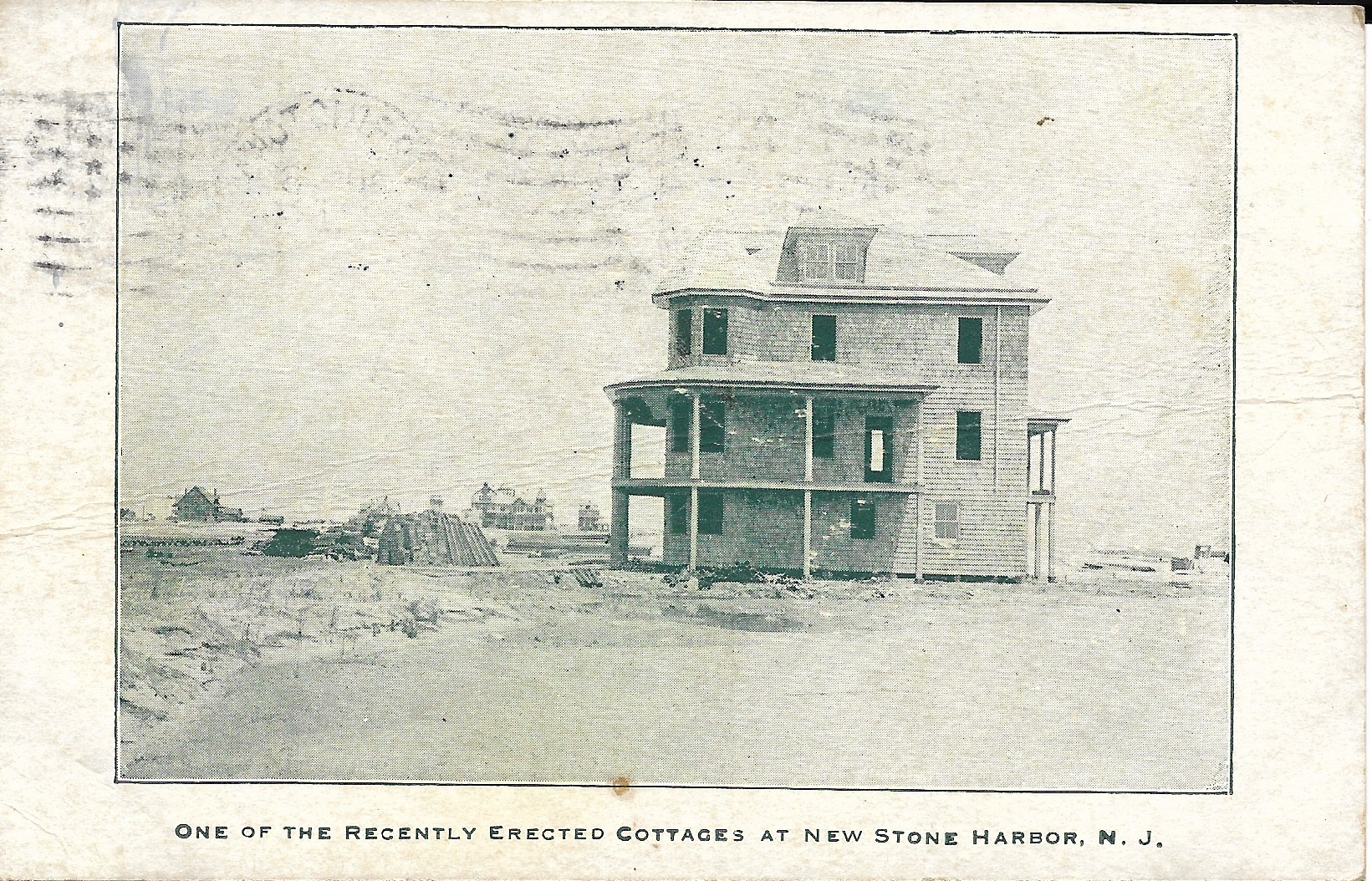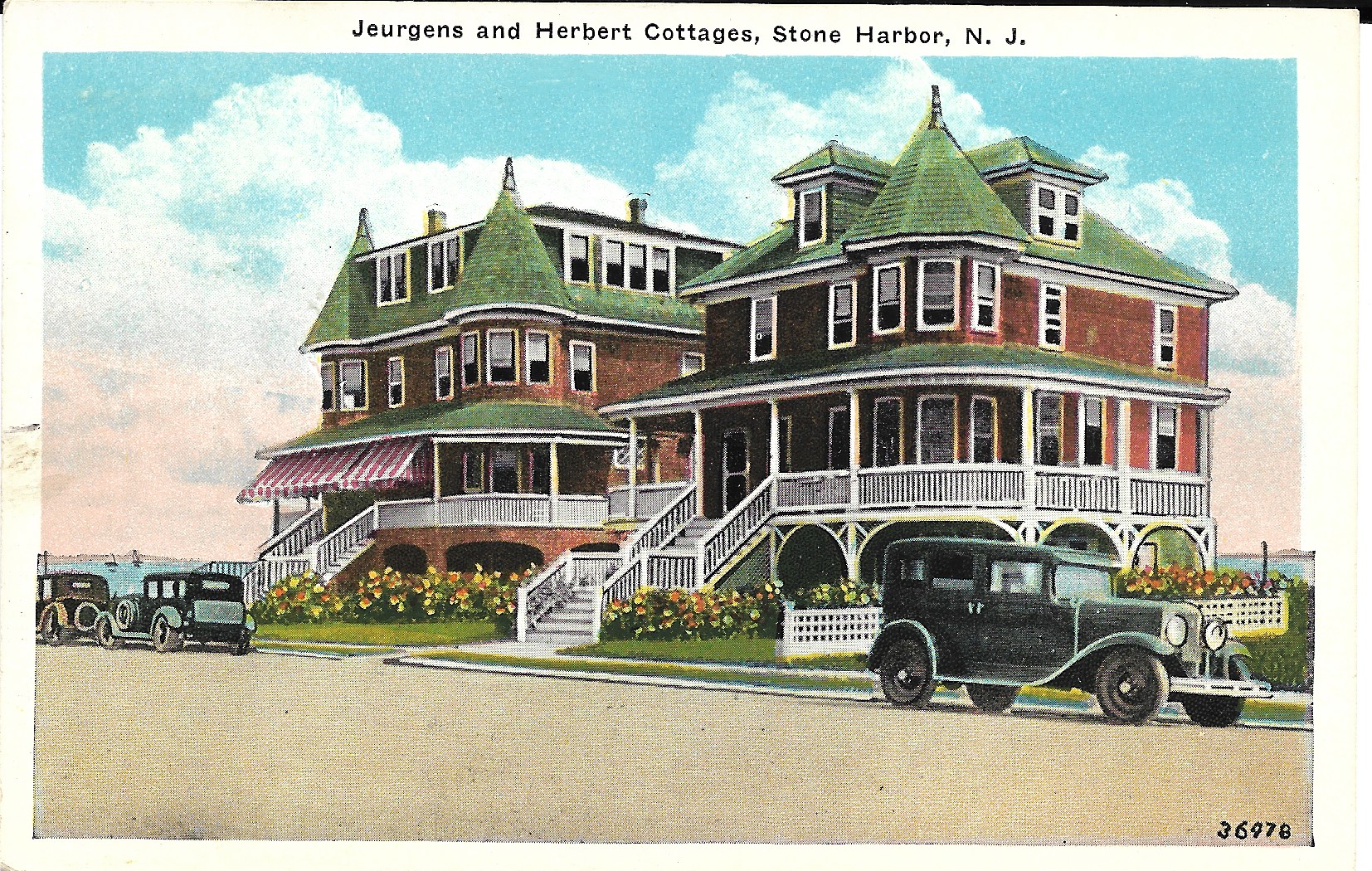 We know that both the Juergen's and Herbert cottages were completed in 1909. However, we have also learned that sometime in the early 2000s both these cottages were demolished and new and considerably more spacious and modern homes have since been built. Apparently each of the original lots of land assigned for the two cottages were equivalent to double lots and both had direct access to the beach front. The first of this pair of post cards shows the same house that we just saw used to introduce this account only it now appears in a stage of nearing completion. The next image reveals both the completed Juergen's and Herbert cottages standing side by side in all their splendor. Without question, these two beautiful 4-story cottages would over many years become notable landmarks in Stone Harbor. Their lovely shingle-style features with expansive wrap-around porches and striking turrets would certainly distinguish them to be among some of the finest homes in this early period of Stone Harbor.
This narrative will feature 10 post card images, 1 short newspaper article and 1 photograph arranged in an order that corresponds with mention made of specific places in a 1914 article that will be presented.
The title given above for this written account is actually the very headline for the article that appeared in the April 19, 1914 edition of The Philadelphia Inquirer daily newspaper on page 5. Here is a copy of that "Special to The Inquirer" article as it appeared. Following it will be a complete transcription, word for word, for viewers of this post to be able to easily read and understand.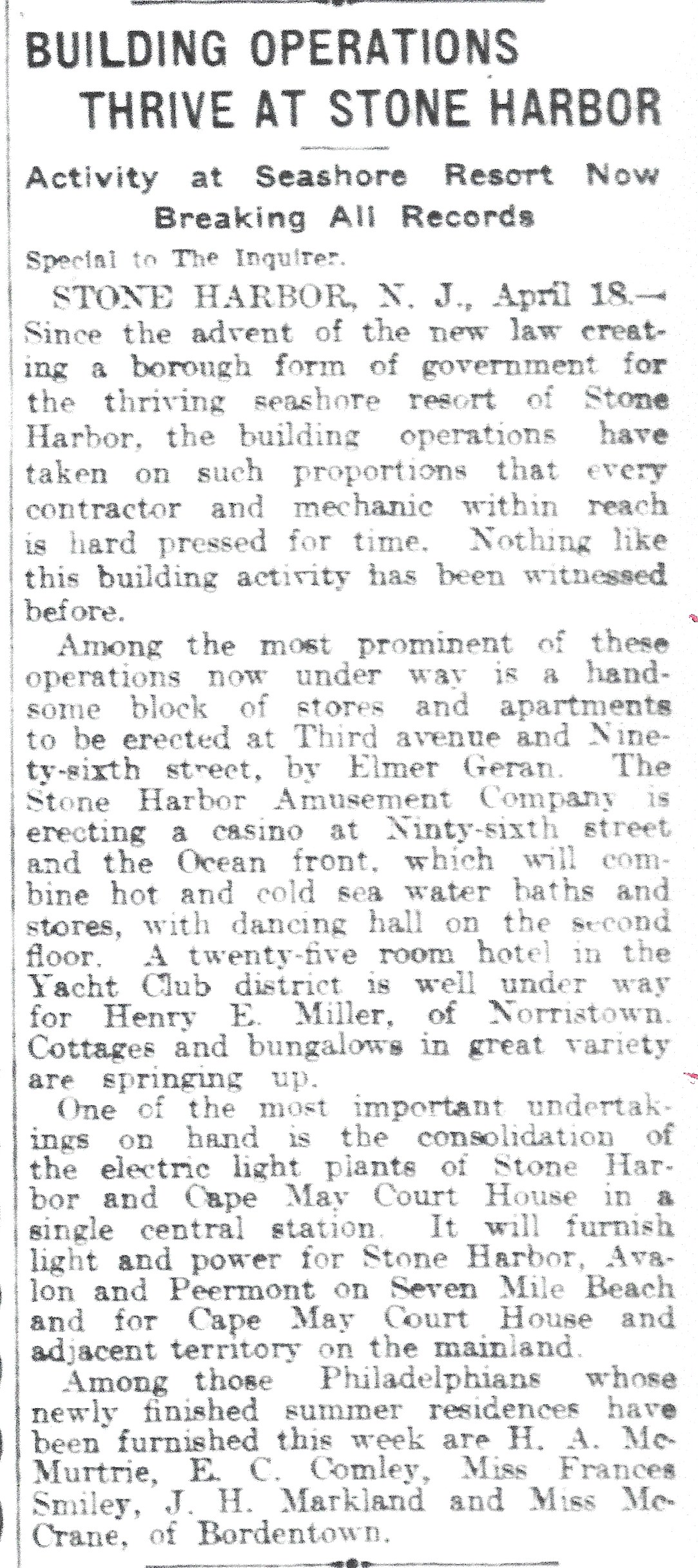 Now here is a hand-typed and exact copy of this article for you to read.
BUILDING OPERATIONS THRIVE AT STONE HARBOR
Activity at Seashore Resort Now Breaking All Records
Special to The Inquirer
STONE HARBOR, N. J., April 18. — Since the advent of the new law creating a borough form of government for the thriving seashore resort of Stone Harbor, the building operations have taken on proportions that every contractor and mechanic within reach is hard pressed for time. Nothing like this building activity has been witnessed before.
Among the most prominent of these operations now under way is a handsome block of stores and apartments to be erected at Third Avenue and Ninety-sixth street by Elmer Geran. The Stone Harbor Amusement Company is erecting a casino at Ninty-sixth (sic) and the Ocean front which will combine hot and cold sea water baths and stores, with dancing hall on the second floor. A twenty-five room hotel in the Yacht Club district is well under way for Henry F. Miller, of Norristown. Cottages and bungalows in great variety are springing up.
One of the most important undertakings on hand is the consolidation of the electric light plants of Stone Harbor and Cape May Court House in a single central station. It will furnish light and power for Stone Harbor, Avalon and Peermont on Seven Mile Beach and for Cape May Court House and adjacent territory on the mainland.
Among those Philadelphians whose newly finished summer residences have been furnished this week are H. A. McMurtrie, E. C. Comley, Miss Frances Smiley, J. H. Markland and Miss McCrane, of Bordentown.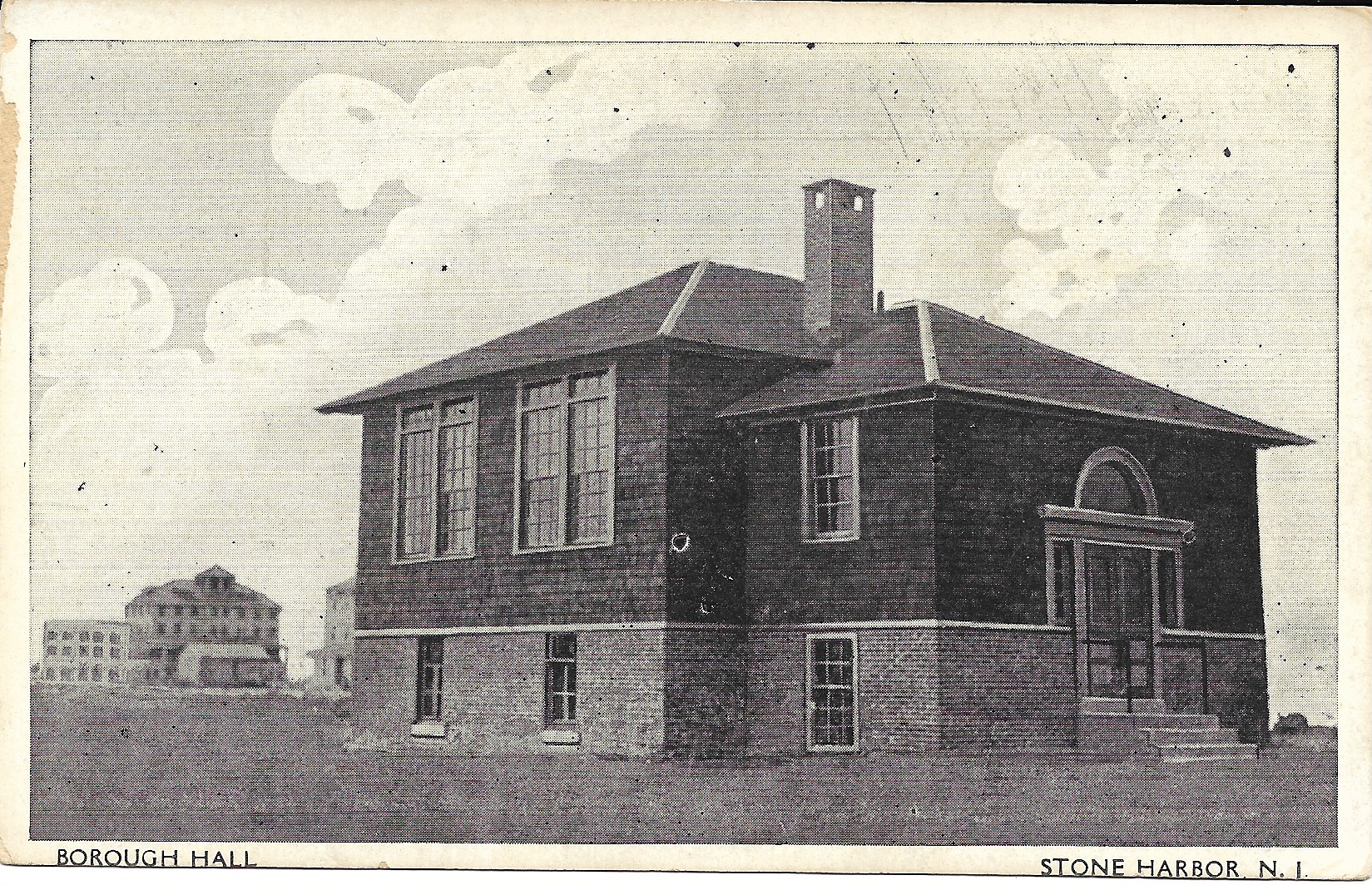 With regard to the reference cited above as to the "new law creating a borough form of government," another relevant vintage post card is presented at this point. While the building shown here in 1912 was actually Stone Harbor's first public school house, in 1914 the school would be repurposed and devoted to the meetings of the Borough Council.
While the aforementioned article also makes mention of a "handsome block of stores and apartments to be erected" at Third Avenue and 96th Street, there are far too many post cards to present for this significant building initiative. However it can be said that the construction of the Shelter Haven Hotel in 1912 stands out and was certainly a vital part of that early building phase of stores and apartments. Many of you will recall what that iconic and long-enduring hotel situated on the Shelter Haven Basin looked like.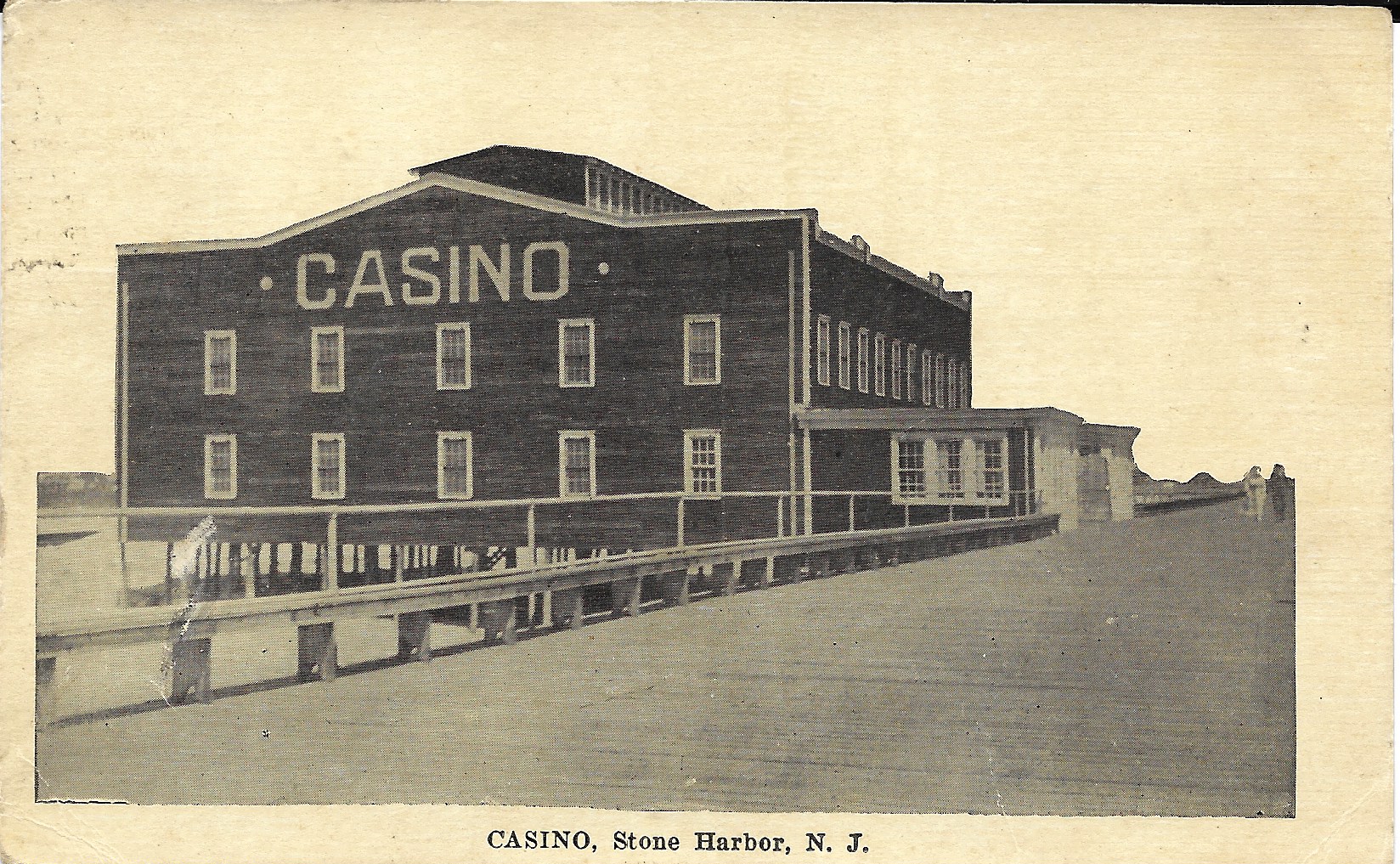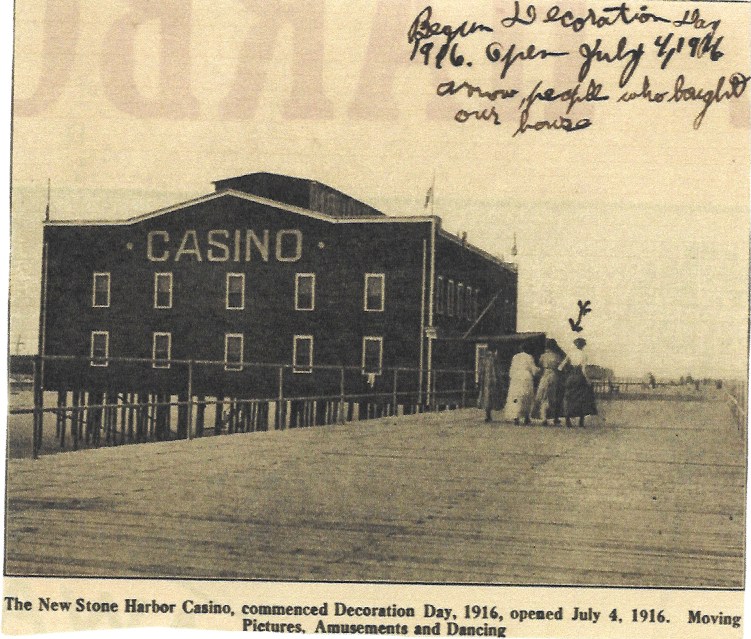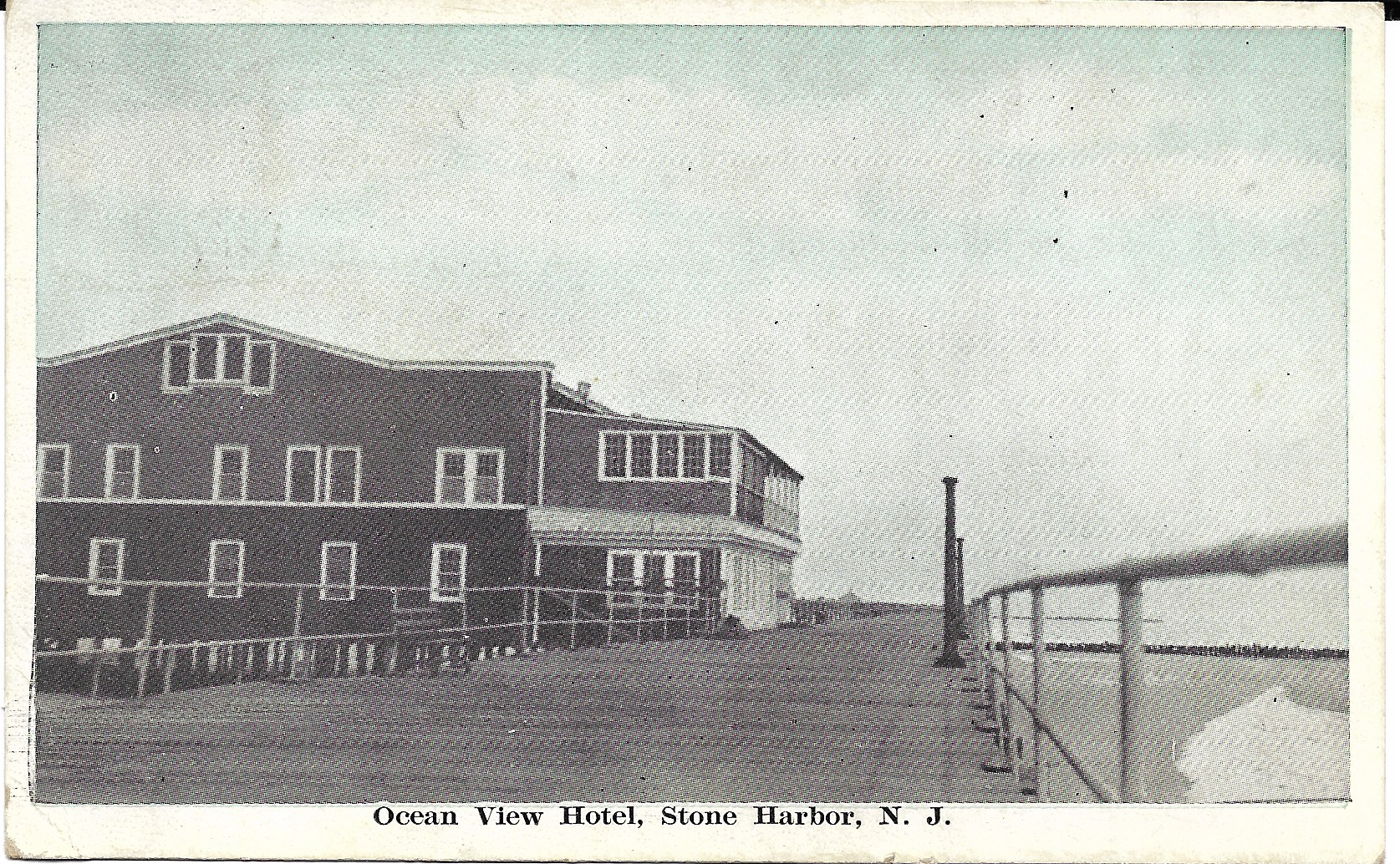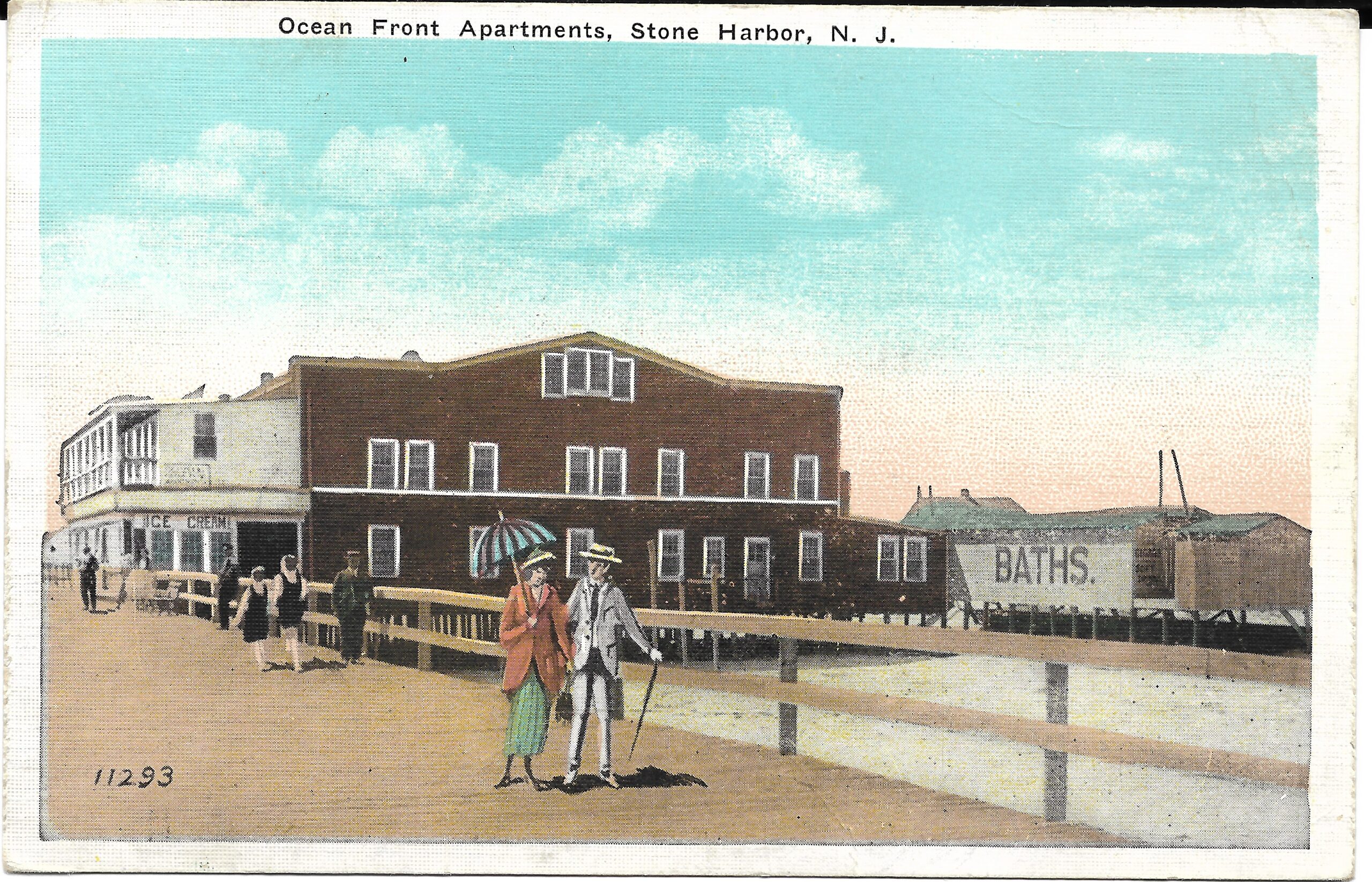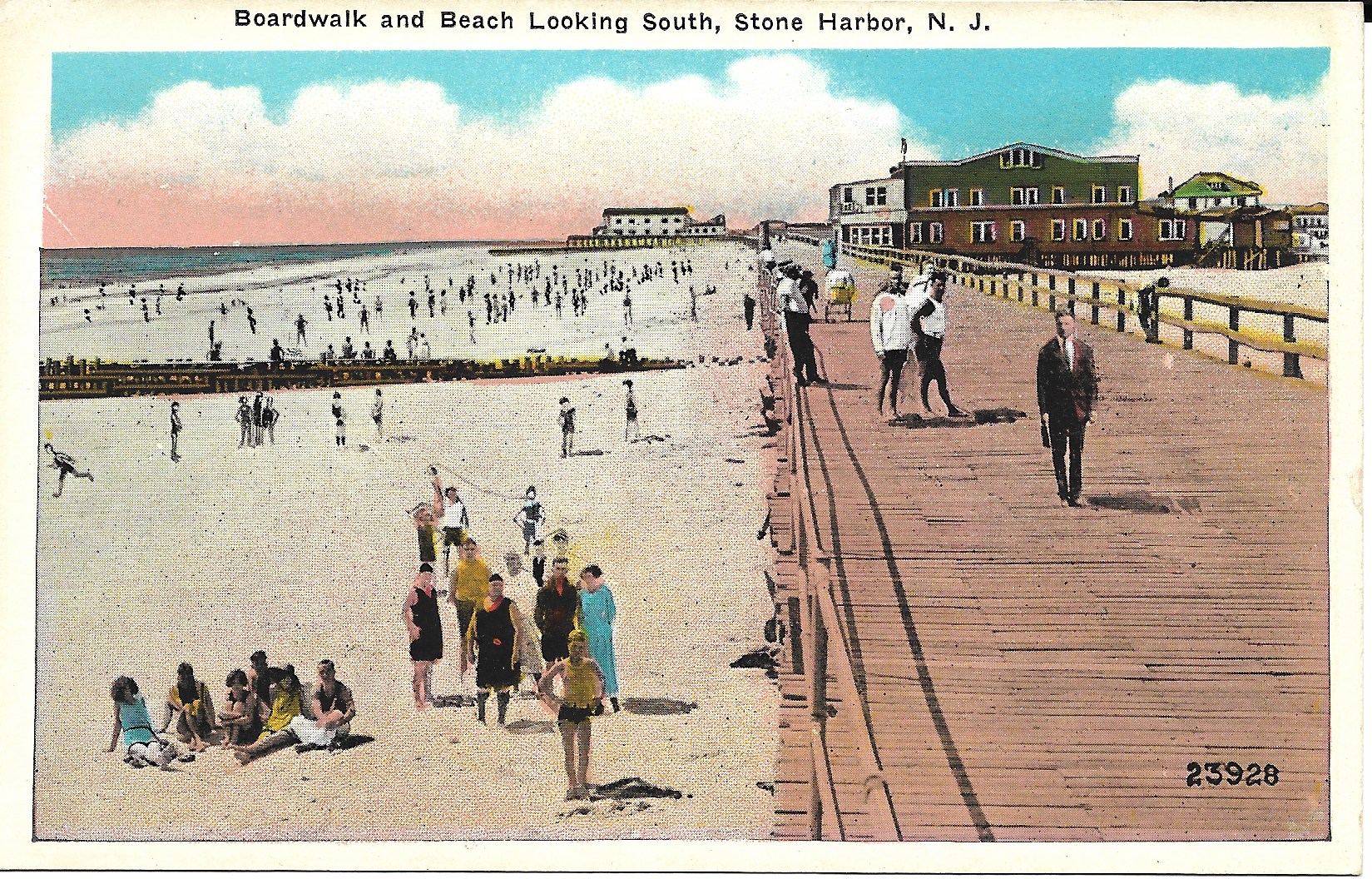 Next, mention is also made in the featured 1914 article about the Stone Harbor Amusement Company that "is erecting a casino at Third avenue and the Ocean front" that will feature hot and cold baths and even dancing on the second floor. Displayed here are 4 beautiful post cards and 1 photograph all featuring a most distinctive looking building originally called the Casino which was located directly on the boardwalk. Shortly afterward the Casino would become known as the Ocean View Hotel, then later was called the Ocean Front Apartments, and finally became a rooming house. The photo of the Casino on Decoration Day, 1916, opened on July 4, 1916 was provided compliments of the Stone Harbor Museum archives. The caption indicates moving pictures, amusements and dancing were all provided at the popular Casino at least for a short period of time. One point of additional interest is the Casino actually survived the massive Atlantic Storm of 1944 while the adjoining boardwalk did not. While the Casino's life would be extended yet another 18 years beyond the '44 hurricane, it would however eventually succumb to the destructive forces of the storm of 1962. Alas, yet another Stone Harbor landmark disappears.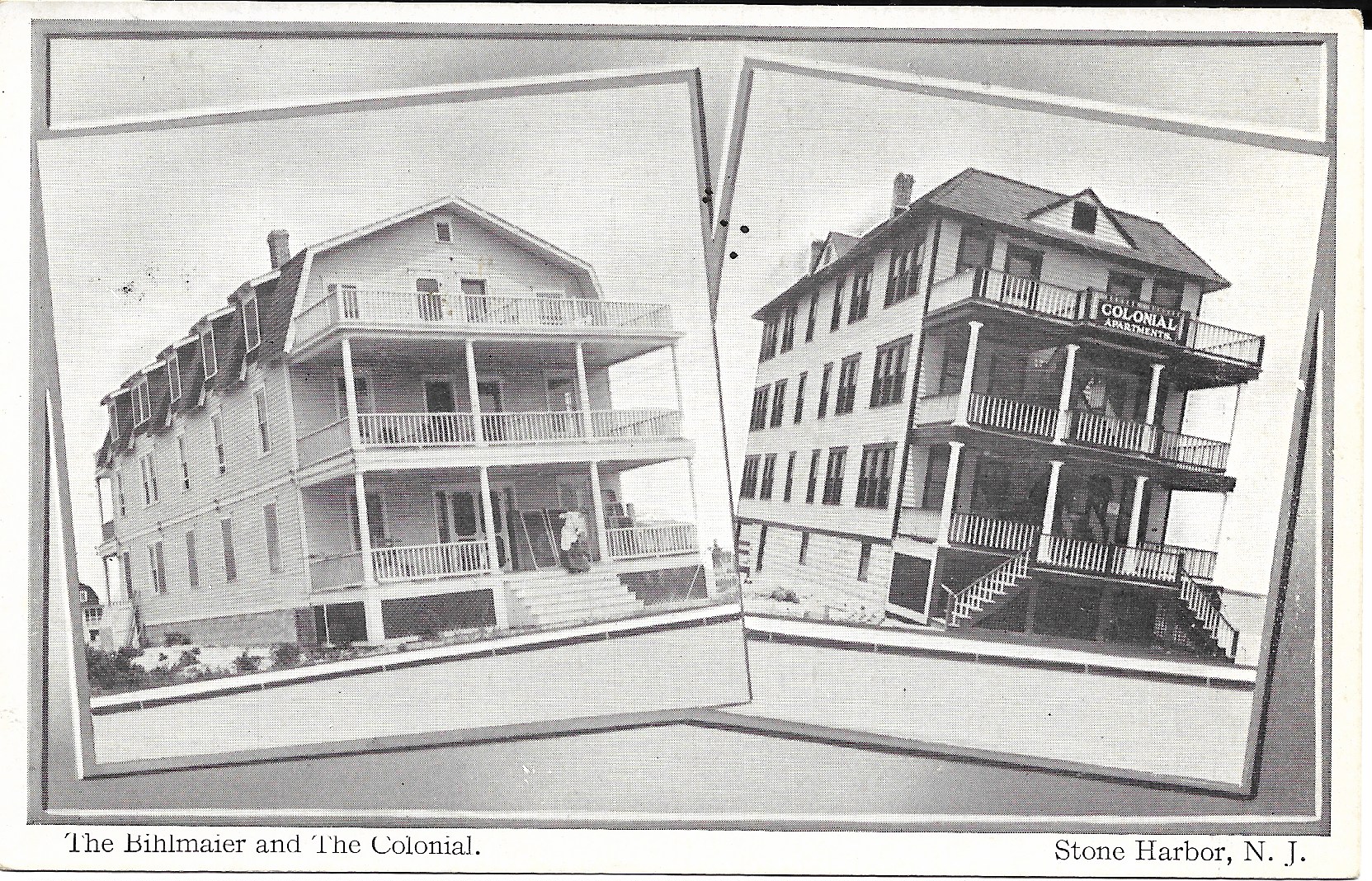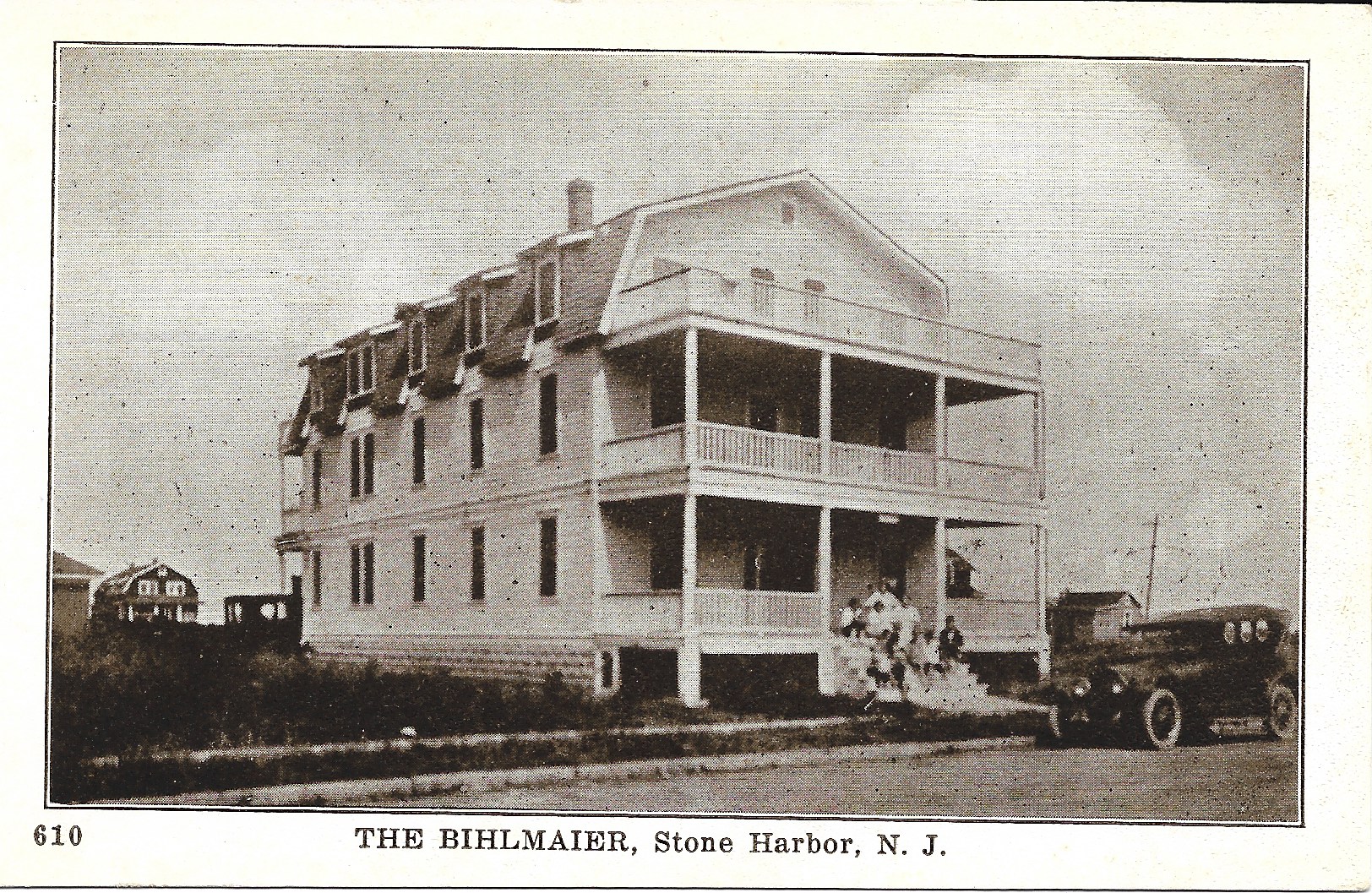 Lastly, the featured article mentions that at the time of April 19, 1914, a "twenty-five room hotel in the Yacht Club district is well under way" and I suspect that it could possibly be referring to a very large building undergoing construction at that time called "The Bihlmaier". The Bihlmaier was a three-story Victorian beach house that would become an Apartment house situated at 8811 Third Avenue (Ocean Drive). If any of our readers believes that the twenty-five room hotel mentioned in the article was perhaps at another location in the Yacht Club vicinity, please let me know your thoughts on this matter because it is entirely possible the Bihlmaier was built in the early 1900s and pre-dated the 1914 reference. Understandably, we must come to recognize that sometimes determining accurate, definitive or even precise historical facts of yesteryear is like trying to nail currant jelly to the wall. In actuality, sometimes it's just not so easy to nail down the facts!
Next week, an interesting and most informative advertisement that appeared in a July 13, 1919 edition of The Philadelphia Inquirer will be presented for your consideration along with some more choice Stone Harbor post cards. Without a doubt the utilization of picture post cards enables us to step back in time and savor some aspects of Stone Harbor's past. That is precisely the purpose of these very articles!